Flyers re-sign Kimmo Timonen for one year, $6 million
The Flyers are expected to sign Kimmo Timonen, who turns 38 next month, to a one-year extension worth $6 million.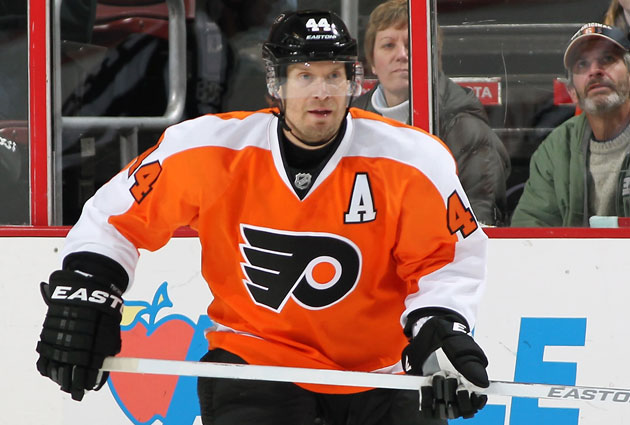 Timonen has one goal, four assists this season. (Getty Images)
More NHL: Scores | Standings | Odds | Fight-O-Meter | League Leaders | Rumors
The Philadelphia Flyers were staring at the possibility of defenseman Kimmo Timonen becoming a free agent after this summer, and given the current state of their defense, that's not something they can really afford.
On Thursday night the team announced that it has re-signed Timonen to a one-year contract extension through the end of the 2013-14 season. He will make $6 million.
"Kimmo's presence on the ice for us and in our locker room is invaluable," said Flyers general manager Paul Holmgren in a team statement. "We look forward to him continuing his all-around play for us."
That's a lot of dough for a defenseman, particularly at Timonen's age. (He turns 38 next month.) In a vacuum, it reeks of an overpayment. But you can't look at everything in a vacuum, nothing is that clean.
As mentioned above, the Flyers don't have the greatest depth in the world on the blue line. Not to say Kurtis Foster has been atrocious this season, but the fact that they signed him to play after he was out of the game for a bit is a sign they aren't terribly rich back there.
Further, it's not like there's a ton of risk. In a one-year contract not much will go wrong and as long as the Flyers have the money to pay him, what's the real harm? I suppose the only real concern is the fact that the Flyers will be facing a salary cap issue with it decreasing next season, but Timonen's deal is a slight rollback in salary, a drop of $330,000. Not a lot, but it's something.
Timonen is hardly done, either. This season for the Flyers he has been playing more than 22 minutes per game and has a goal and four assists to show for it. He has averaged roughly 40 points per season since going to Philly in 2007-08. For a guy who plays almost as many minutes on the PK as he does on the power play, that's not bad.
Let's put it this way: would the Flyers be in better shape or worse shape if they didn't sign Kimonen? Probably worse, unless his contract somehow prohibits them from bringing in anybody else.
That all fails to mention the veteran presence that Timonen brings to the team, for those who value such things. He's an alternate captain on the team for a reason.
For more hockey news, rumors and analysis, follow @EyeOnHockey and @StubitsCBS on Twitter, subscribe to our YouTube account and like us on Facebook.
Vegas isn't being quiet about its hot start to the NHL preseason

The blue-liners are set for another big push, but Edmonton's rise is hard to ignore in the...

Meanwhile, the Devils' Brian Boyle isn't sweating his recent cancer diagnosis
Limited-time Warriors-colored jerseys are apparently on the way in January

The 32-year-old forward tells the media he expects to be back on the ice for the Devils op...

It seems it's all as wild as it sounds, with Canadian actor Zack Ward heading a 'West Coast...