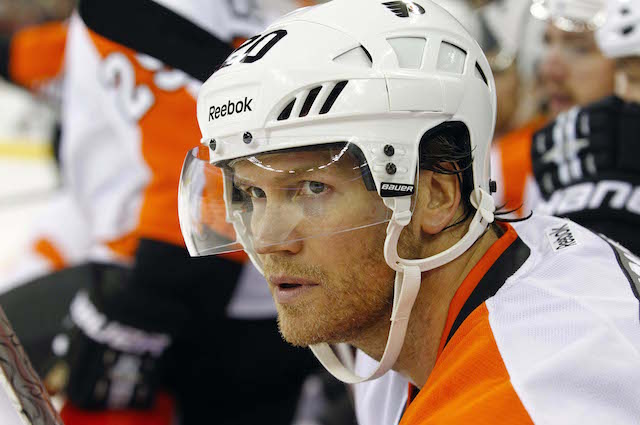 Chris Pronger has not played a game in the NHL since the 2011-12 season. He will never play a game in the NHL again. And not only is he an employee of the NHL at the moment (he works in the department of player safety), he is likely to be part of the upcoming Hockey Hall of Fame class.
And on Saturday afternoon, he was traded by the Philadelphia Flyers. 
Pronger is still under contract for two more years, and that contract still has some pretty significant salary cap ramifications. The Flyers were able to move that remaining contract, as well as defenseman Nicklas Grossmann, to the Arizona Coyotes in exchange for forward Sam Gagner and a conditional draft pick (either a fourth-round draft pick in 2016 or a third-round draft pick in 2017).
The purpose of this deal is simple: The salary cap. That's it. There is nothing else that matters here. 
Even though Pronger is only owed $575,000 per year over the next two years in actual salary, his contract is still worth $4.9 million against the salary cap. This is a big deal for the Flyers, at least in the offseason, because they entered the summer with less cap space than any other team in the league.
It's a big deal for the Coyotes because they entered the offseason needing to add $18 million in cap space just to reach to reach the salary floor. Taking on Pronger's contract, as well as the $3.5 million Grossman makes, helps them accomplish that.  When you factor in Gagner's outgoing $3.2 million salary cap hit the Coyotes (who had discussed the possibility of a buyout when it comes to Gagner's contract) were able to add more than $5.2 million in cap committments to their payroll for this season for a minimal financial investment.
Whatever either team wants to say about this deal (and Flyers GM Ron Hextall already admitted it was a cap deal), and whatever contributions Grossman and Gagner might make on the ice for their new teams this season are secondary to the salary cap impact of this trade for both sides.
It helps clean up the Flyers' salary cap situation and gets the Coyotes closer the floor. 
That's it. That is all it was about. 
Pronger, one of the most dominant players of his era, spent three years with the Flyers after he was acquired in a trade with the Anaheim Ducks prior to the 2009-10 season. Concussions issues forced his career to unofficially end.
He had to waive a no-trade clause for the deal to go through on Saturday.
When you factor in Pronger's deal, as well as buyouts (Mike Ribeiro) and retained salary (Keith Yandle trade) the Coyotes have more than $9 million in cap space going to players that will not play for them next season.