Former Avs enforcer Scott Parker says coach Bob Hartley 'was a bully'
Former Avalanche enforcer Scott Parker isn't interested in the lawsuit vs. the NHL, but he's not fond of how he was treated by old coach Bob Hartley.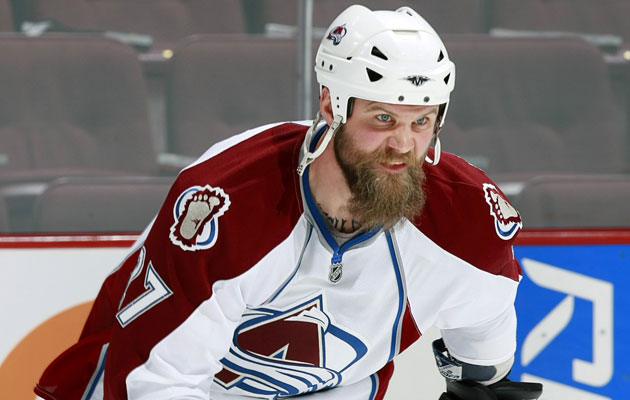 More NHL: Scores | Standings | League Leaders | Odds | Injuries | Power Rankings
Enforcers in the NHL have it rough; they are asked to fight for a living at any time and their bodies endure a lot of punishment. Pretty much every guy will tell you they know what they're getting into and have little issue with the injury dangers that come with the territory.
Sometimes it's what happens after injuries occur when the problems arise. Recently a collection of former NHL players came together to file a lawsuit against the NHL claiming in part that not enough was done by the NHL to keep players out of harm's way when they shouldn't play.
Many saw this as an indictment against former coaches as much or more than anybody else, having their guys play even if they weren't 100 percent. Don Cherry for one defended himself from this claim on this week's Coach's Corner, saying he would never do that.
Former Colorado Avalanche enforcer Scott Parker isn't one of the players in the lawsuit and he isn't interested in joining. Still, what he had to say recently about former Avs coach (and current Calgary Flames bench boss) Bob Hartley won't be brought up in the league's defense any time soon.
Parker, speaking to the Denver Post, is not too fond of his former coach in Colorado, a coach Parker says was a major bully.
"He was a junior B goalie trying to tell me how to fight. He was always just degrading me. Not to be a [wimp], but he was a bully," Parker said. "And he could be because he was in a position of authority. What was I supposed to do as a rookie? Go tell him '[expletive] you'? I did that stuff at the end of my career, but at the beginning of my career I was just a chess piece to him."

Parker, who estimates he suffered 20 to 25 concussions, said there were several times when he was so banged up he told Hartley he needed a night off, or at least a game off from being asked to fight.

"He would call me a [expletive], say that Hershey [the Avs' former minor-league affiliate] would be my next stop, where I'd be 'smelling chocolate fumes all day long.' I remember I thought I had a broken foot and told him about it, and he called me a [expletive] and said Hershey would love me," Parker said. "Nobody needed to question my commitment to doing my job. But I was just constantly belittled by Bob Hartley. I really have no respect for the man."
For his part, Hartley declined comment to the Post on what are some pretty ugly accusations. But 1) this was a long time ago; Parker was a rookie in 1998-99, and 2) Parker isn't doing anything but sharing the story. This has nothing to do with the legal action against the NHL in any way, just interesting to see in lieu of that suit.
Parker played 308 NHL games from 1998-99 through 2007-08, playing for the Avs and Sharks in his career. The California native finished with seven goals, 14 assists and 699 minutes in penalties.
The Rangers go with a darker blue and old-fashioned lettering for the outdoor game

It's time to hook your favorite NHL fan up with some Black Friday deals

The Lightning have Steven Stamkos to thank, and the Blues should be extra grateful for Brayden...
The Sabres will face the Rangers at Citi Field on New Year's Day in these sharp threads

SportsLine's Mike McClure, a DFS pro with more than $1M in winnings, gives optimal lineup...

Without the star power of the NHL, America is banking on big contributions from some AHL, KHL...