Four free agent signings that could be steals this season
Teams like Minnesota, and even Carolina, spent big money this summer in free agency (and trades), but there were a few teams that may have been able to find some bargains in what was yet another shallow free agent pool.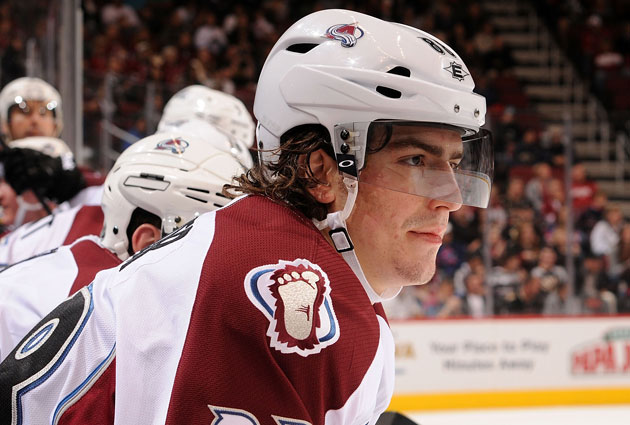 The Florida Panthers are taking a low-risk, high-reward gamble on young forward Peter Mueller. (Getty Images)
Trying to enter the free-for-all that is NHL free agency can sometimes be a losing proposition for a general manager. There are only a small number of impact players available at each position every summer and all 30 teams are trying to fill their needs from that limited pool of talent.
This, of course, can lead to some huge salaries and cap hits that teams may very quickly come to regret.
The biggest names to get signed this summer were obviously players like Zach Parise and Ryan Suter in Minnesota, Alexander Semin in Carolina, and Shane Doan whenever he decides what he's going to do and where he's going to play out the rest of his career.
Whether or not those contracts are worth it over the long haul (or in the case of Semin and his one-year deal, the short-term) remains to be seen.
But while teams like Minnesota, and even Carolina, spent big money this summer there were a few teams that may have been able to find some bargains in what was yet another shallow free agent pool.

Wojtek Wolski
Washington Capitals (one year, $600,000)
After signing a one-year contract with the Washington Capitals worth just $600,000 this summer, Wojtek Wolski will be playing for his fifth different team since the start of the 2009-10 season. He's one of those guys that seems like he's been around for an eternity (especially since he's played for 16 percent of the teams in the NHL over a three-year stretch), but when you look at his bio you see that he's not only just 26 years old, but that he's also had some very productive seasons in recent years. And in certain situations he isn't that far off from some of the guys that have commanded huge salaries this summer.
Let's just take a quick look at his point production during even-strength situations over the past three years and compare it to the three highest profile free agents of the summer: Zach Parise, Alexander Semin, and Shane Doan.
Free Agent Forwards Even-Strength Performance 2009-2011
Player
ES PTS/Game
ES PTS/Minute
Contract
Wojtek Wolski
.527
.0391
1 year, $600,000
Zach Parise
.613
.0382
13 years, $100 milllion
Alexander Semin
.618
.0432
1 year, $7 million
Shane Doan
.484
.0319
Still unsigned
Not bad. Obviously there are other areas (defense, special teams, injuries, etc.) that have to be considered when evaluating a player and winning hockey games, but when it comes to actual offensive production during 5-on-5 play he's compared pretty favorably to the bigger names (and bigger contracts) signed this summer. And that's not a small contribution.
All things being equal (like salaries, of course) I wouldn't take him straight up over any of the players on the list above. But it's a salary cap league and not everybody has the extra cap space to throw 13 years and $100 million at a player like Zach Parise (or potentially four years and $30 million at a soon-to-be 36-year-old Shane Doan).
You need to find value, and the Capitals took an extremely small risk to get what could be a large reward by giving Wolski, who doesn't turn 27 until February, $600,000 for this season. If comes in and gives them 40-50 points and contributes in shootouts it will be an incredible steal.

Daniel Winnik
Anaheim Ducks (two years, $3.6 million)
The Ducks made a couple of moves that I liked this offseason, including the addition of Bryan Allen to their blue line, signing him away from the Carolina Hurricanes. Another move that kind of snuck in under the radar: the two-year, $3.6 million deal they were able to agree to with Daniel Winnik.
He's not a flashy addition by any means, and he's not going to add a ton of offense, but he's one of the best defensive forwards in the NHL and has shown in the past that he can not only play tough assignments and minutes, but that he can also hold his own in those situations and help keep the play moving in the right direction.
Perhaps even more importantly for Anaheim: He's also a top penalty killer.
The Ducks penalty kill was middle of the pack last season (16th) and has been an area of weakness in recent years, not finishing higher than 12th in the NHL since their Stanley Cup season back in 2006-07. This past season during four-on-five play Winnik was on the ice for just 4.42 goals against per 60 minutes of shorthanded team, a mark that placed him fourth among forwards.

Peter Mueller
Florida Panthers (one year, $1.7 million)
Last summer the Florida Panthers were one of the most active teams in the free agent and trade market wildly spending money in an effort to not only reach the salary floor, but to also rebuild a franchise that hadn't made the playoffs in a decade. Some of the contracts were a bit questionable, but the Panthers were able to win their first ever division title and took the eventual Eastern Conference champion Devils to a seventh game before losing in double overtime on an Adam Henrique goal.
Things have been a little quieter this summer in Florida with the biggest move being the addition of defenseman Filip Kuba to replace Jason Garrison after he signed a large deal with the Vancouver Canucks. The other notable move: signing forward Peter Mueller to a one year, $1.7 million contract after he wasn't tendered a qualifying offer by the Colorado Avalanche..
The talent is there with Mueller, and when healthy so is the production, but there remains the lingering concerns about the concussions and injuries that have helped to derail his promising career to this point.
If all of that is behind him and he's able to stay on the ice and get some top-six minutes (which seems to be the initial plan in Florida) he could provide some much-needed offense for a Panthers team that finished last season 27th in the NHL in goals.
There's no doubt that it's a gamble. But given the lack of depth in free agency and the talent and upside that Mueller brings to Florida, it seems like one that's worth taking for the Panthers.

Steve Sullivan
Phoenix Coyotes (one year, $2.6 million)
Once again the Phoenix Coyotes were in a situation this summer where they had to replace key players on a shoestring budget.
Last summer it was goaltender Ilya Bryzgalov, this summer it was the loss of veteran forward (and their leading scorer from last season) Ray Whitney who signed a two-year deal with the Dallas Stars.
Enter Steve Sullivan, yet another smaller, fast, and smart veteran that should be able to give the Coyotes some bang for their buck. I wrote about Sullivan's potential impact in Phoenix last week and while he shouldn't be expected to come in and replace all of Whitney's offense and lead the Coyotes in scoring, he should be a great addition for what was one of the worst power play units in the NHL last season, especially after what he was able to do for Pittsburgh in a similar role last season.
For more hockey news, rumors and analysis, follow @EyeOnHockey and @agretz on Twitter and like us on Facebook.
Saturday's showdown will serve as a rematch of one of the NHL's first-ever regular season...

Stacia Robitaille says Donald Trump told her in an elevator that she was coming home with...

Vladislav Yeryomenko was the Teddy Bear Toss goal scorer for the Calgary Hitmen
The Golden Knights are finally getting their No. 1 goalie back after a 25-game absence

Washington has won four straight, and the Kings are also on a tear right behind the Lightn...

The NHL says it's only interested in expanding to Seattle, but here's a look at all the moving...