Friday Top-5: Kings most likely to bounce back in 2015-16
Every Friday the Eye On Hockey staff will do a top-5 ranking on some NHL-related subject. This Friday we look at five teams that missed the playoffs in 2014-15 and have the best chance to make it back in 2015-16.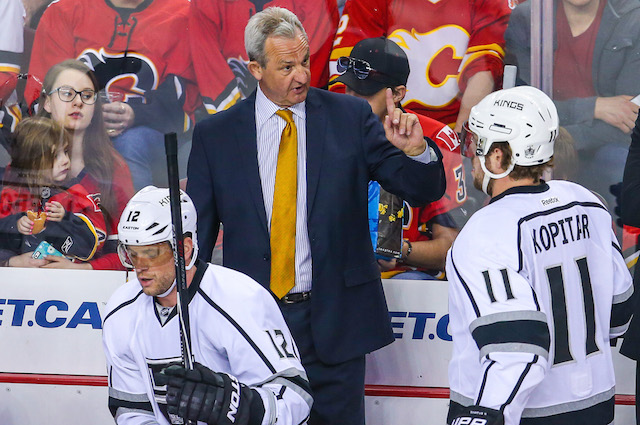 Every Friday during the offseason the Eye On Hockey staff will do a top-5 ranking on some NHL-related subject. This week, we look at five teams that missed the playoffs during the 2014-15 season that have the best chance to make it back to the postseason in 2015-16. 
Even though it's only the middle of July we already have a pretty good idea as to what most of the rosters around the league will look like this season.
There are still a few trades to be made (Patrick Sharp?) and a handful of free agents that might be able to help somebody still floating around (Christian Ehrhoff, Cody Franson, Alexander Semin, Eric Fehr), but with most of the big player movement already taken care of, teams are starting to take shape for the 2015-16 season. 
When it comes to figuring out which non-playoff teams have the best chance to bounce back, one of the things I like to look at every summer is how much the teams actually need to improve from the previous year. Not necessarily in terms of their points in the standings, but in the number of goals they score and the number of goals they allow. Goal differential is the key thing to look at.
Most playoff teams tend to finish the regular season with a goal-differential of at least plus-10 (some do finish below that, but not many) and teams that reach that mark over the past 10 seasons have made the playoffs more than 96 percent of the time (124 out of 129). So if you look at outscoring your opponents by at least 10 goals over the course of the season as your bare minimum to make the playoffs, you can get a pretty good idea as to how much your team really has to improve from one season to the next.
And when you look at the list of non-playoff teams from a year ago, you can easily spot a few teams that need to improve by such a ridiculous amount that you can probably already count them out. Those teams, of course, are the Edmonton Oilers (minus-85) Arizona (minus-102), Buffalo (minus-113). All of them added top prospects at the top of the draft. Buffalo went a couple of steps further and will be adding two established top-line forwards (Ryan O'Reilly and Evander Kane) and a goaltender (Robin Lehner) to its roster, but it's probably not enough to improve them by more than 120 goals in one season. They are getting closer. But not they are not there yet.
Keep in mind, no team saw an improvement of more than 64 goals this past season (the Islanders, after adding Jaroslav Halak, Mikhail Grabovski, Nikolai Kulemin, Nick Leddy and Johnny Boychuk, improved by exactly 64 goals) and only five improved by more than 50 goals. 
You can also probably scratch off teams like New Jersey (great goaltender and promising young defense, but a weak group of forwards) and Toronto (obvious rebuilding phase) that probably are't going to be pushing for playoff spots either. The Boston Bruins were extremely close this past season, and they have been one of the busiest teams in the league this offseason, but did they actually do anything to improve their roster?
If anything, they seem likely to take another step back, at least in the short-term. 
So which five teams have the best shot to get back?
1) Los Angeles Kings: The rare team to miss the playoffs the year after winning the Stanley Cup And it wasn't like the Kings were bad in 2014-15. They finished the season with a plus-15 goal differential, better than three teams that actually made the playoffs, including one in the Western Conference (Anaheim). They were once again one of the best defensive teams in the league, finishing the seasn fourth in goals against while allowing the fewest shots per game. They were also by far the best possession team in the league with a 55 percent Corsi percentage (the second best team was Chicago at 53.6). They struggled to score goals, but that's nothing new for them, even in the years they won the Cup.
It was pretty much business as usual for the Kings.
So what did them in?
How about a league-worst 3-15 record in games decided after regulation, including a 2-8 mark in shootouts. For a team that missed the playoffs by only two points, that's pretty much what it all comes down to, and I'm not covinced they are going to be that bad in those games again this year. It's almost impossible.
They should not only be back in the playoffs, they should still be a top contender. 
2) Dallas Stars: Following an offseason that saw them add Jason Spezza and Ales Hemsky to a roster that already had Tyler Seguin, Jamie Benn and Valeri Nichuschkin there was a ton of hype around the Dallas Stars heading into the 2014-15 season, especially after they made the playoffs in 2013-14. A slow start to the season, that saw them win just nine of their first 17 games, proved to be too much to overcome in the tough Western Conference, even with a strong finish to the regular season.
The defense seemed to improve significantly following the trade for Jason Demers and the arrival of prospect John Klingberg, but goaltending was a season-long problem that played the biggest role in the team's disappointing season. Only the Edmonton Oilers finished the season with a worse save percentage than the Stars' .895, and they're hoping a duo of Kari Lehtonen and Antti Niemi can help fix that. Lehtonen was a big part of the problem in '14-15, but it was so out of line from his previous career performance that he could be due for a bounceback season. Between him and Niemi you have to think the Stars will be able to get at least league average goaltending. They will just be paying a ton of money for it. 
If they would have received average goaltending, or pretty much anything more than what they received last seasom, they probably would have crusied into the playoffs with that offense which was one of the best in the league (and should only get better with a healthy Nichushkin after he was limited to just eight games).
3) Columbus Blue Jackets: It's very simple. When the Columbus Blue Jackets were healthy, they were very good. They just weren't healthy all that much. No team was decimated by injuries this past season as much as the Blue Jackets were, and the list was pretty much endless. Brandon Dubinsky. Artem Anisimov. Matt Calvert. Boone Jenner. Fedor Tyutin. Ryan Murray. Sergei Bobrovsky. All of those guys missed at least 20 games, and that doesn't include the handful of game that Nick Foligno, Scott Hartnell, Cam Atkinson and Jack Johnson missed.
Overall, they lost 393 man games due to injury, more than any other team in the league. 
Their defense still isn't great, but they have an outstanding goalie and a very deep, talented group of forwards that is only going to get stronger with the addition of Brandon Saad following a seven-player trade with the Chicago Blackhawks. Add him to a team led by Ryan Johanson and that is one of the better under-25 duos in the league. 
4) Florida Panthers: Definitely a team on the rise.
They have a great mix of quality veterans (Brian Campbell, Jaromir Jagr, Jussi Jokinen, Roberto Luongo) and an extremely impressive group of young players that includes Aaron Ekblad, Jonathan Huberdeau, Aleksander Barkov, Nick Bjugstad, and Brandon Pirri, all of whom are under the age of 24. Other than Pirri, none of them are going to be older than 23 on opening night. 
And don't underestimate the impact Jagr can have on this team. Once he arrived from New Jersey before the trade deadline his game took off again (probably because he was no longer being anchored down by the Devils' offense) as he finished with 18 points in 20 games and helped form what turned out to be an incredible line with Barkov and Huberdeau that nobody could seem to match up with. 
This is a sneaky talented team that wasn't that far off from the playoffs a year ago and the bottom Eastern Conference playoffs spots are always up for grabs. 
5) San Jose Sharks: There really isn't any way to sugarcoat it. This team was a mess this past season. A steaming, stinking, rotten mess.
They are taking a pretty big gamble that Martin Jones, a goalie with 34 career starts in the NHL and one that is coming off of a season with a .905 save percentage, can be their long-term answer in net (they gave up a first-round pick and signed him for $9 million over three years). I'm not quite sure how that is going to play out for them. But I'm also not convinced a team that still has Joe Thornton, Patrick Marleau, Logan Couture, Joe Pavelski, Tomas Hertl, Brent Burns, Marc-Edouard Vlasic and now Paul Martin can be that bad again. 
This will also be a pretty good test for coach Peter DeBoer as we try to figure out what type of coach he is. His career record of 217-200-77 and only one playoff appearance in six full seasons behind an NHL bench says not great. But he's also had some pretty bad rosters at his disposal, and other than the 2011-12 Devils team that he took to the Stanley Cup Final (where it lost to the Los Angeles Kings in six games) this might be the most talented roster he has ever had in the league. 
CBS Sports HQ Daily Newsletter
Get the best highlights and stories - yeah, just the good stuff handpicked by our team to start your day.
Please check the opt-in box to acknowledge that you would like to subscribe.
Thanks for signing up!
Keep an eye on your inbox for the latest sports news.
Sorry!
There was an error processing your subscription.
The U.S. and Russian presidents exchanged sports memorabilia at their Monday summit in Fin...

Emery, 35, spent time with the Senators, Flyers, Ducks and Blackhawks

The 33-year-old veteran goalie signed a three-year, $21 million extension to stay in Vegas
Chicago frees up immediate cap space to use in another deal, but it comes at a price

Hellebuyck, a restricted free agent, has a deal that will be worth $37 million

The new Maple Leafs star penned an essay explaining the struggle of making a decision in free...