Game 7 between Kings, Blackhawks sets TV ratings records in US
A record number of viewers tuned in for Game 7 of the Western Conference finals on Sunday night with NBCSN setting records nationally and in both Chicago and LA.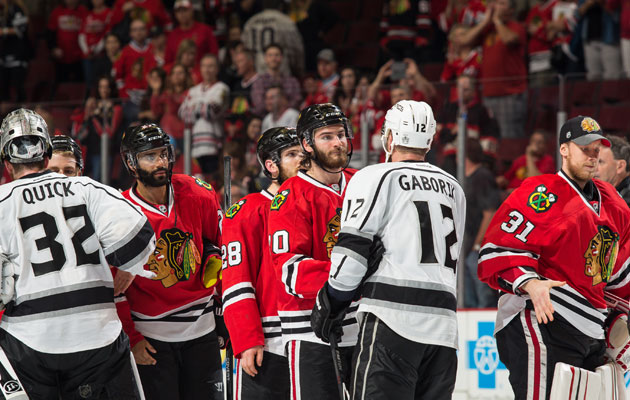 More NHL Playoffs: Schedule, TV listings | Expert Picks | Bracket | Scores | Odds
Game 7 of the Western Conference Finals between the Kings and Blackhawks had the feel of a Stanley Cup Final clincher with the quality both of the games and the teams competing. Viewers on television apparently felt the same.
In what has become a trend the NHL has to be downright giddy about, NBC Sports Net set new records for viewership on Sunday night. It seems that we say this every offseason now in the NHL, showing the sport's popularity is only continuing to rise.
Specifically the NHL's American TV partner set records for viewership in both of the markets involved in the game (Chicago and LA) as well as setting a new national rating, beating out even Stanley Cup Final games that aired on NBCSN that included last season's Original Six showdown between the Blackhawks and Bruins.
With 3.17 o'night rating, last night's LA/Chi Gm 7 ranks as NBCSN's best NHL o'night ever, surpassing last year's Chi/Bos SCF Gm 3 (3.10)

— NBCSportsPR (@NBCSportsPR) June 2, 2014
The record NBCSN ratings in L.A. (4.8) & Chicago (22.7) for last night's Conf Final Gm7 surpass SC Final gms on NBCSN in those markets.

— NBCSportsPR (@NBCSportsPR) June 2, 2014
Chicago really loves its Blackhawks, holy cow. Keep in mind that rating doesn't account for people watching the game at the arena or how many people were watching in groups, at the local sports bar, etc. NBC is going to miss Chicago in the Final.
But don't be fooled by LA's low-looking rating, that's a strong number. Many laughed at the fact that Buffalo had a 7.8 rating for the game but given the size of LA's market, that 4.8 rating represents a large number of eyeballs, close to 300,000 and just the same as Chicago, that has no way of monitoring group viewings or watch parties.
No doubt the NHL's best-case scenario from a ratings standpoint in the Cup Final would have been the Rangers against the Blackhawks but Kings-Rangers should put up strong numbers given they are the two biggest television markets in the NHL. Plus there's that whole allure of LA vs. New York.
Saturday's showdown will serve as a rematch of one of the NHL's first-ever regular season...

Stacia Robitaille says Donald Trump told her in an elevator that she was coming home with...

Vladislav Yeryomenko was the Teddy Bear Toss goal scorer for the Calgary Hitmen
The Golden Knights are finally getting their No. 1 goalie back after a 25-game absence

Washington has won four straight, and the Kings are also on a tear right behind the Lightn...

The NHL says it's only interested in expanding to Seattle, but here's a look at all the moving...