Game 7 Preview: Will home ice hold up once more in Caps-Rangers?
Home teams are a perfect 6-0 in the first-round series between the Capitals and Rangers. Will that hold once more with Game 7 in Washington?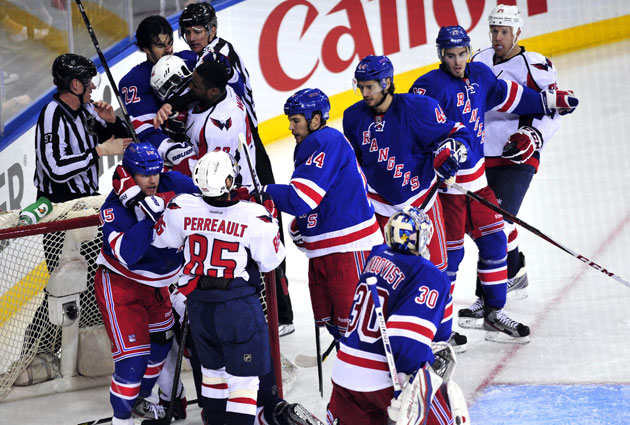 More NHL Playoffs: Scores | TV Schedule | Expert Picks | Odds | Mock Draft | Rumors
Home is where the hope is. That's not going to be the official slogan in the Washington Capitals locker room or anything, but it might as well be.
Through six games of the first-round series between the Rangers and Capitals, home-ice advantage has held completely to form. Each home team has been just a bit better in its own arena, even if only slightly. Each of the last five games has had a one-goal margin, so the drama has been there even if the action necessarily hasn't.
Slowly but surely this series has been reverting to the form of last year's second-round matchup, where goals were as scarce as ethics inside the Beltway.
It wasn't until Game 6 when this series started to get an extra edge to it, a bit of nasty. The game ended with a scrum in the boards while Henrik Lundqvist was left alone to celebrate his shutout. It made for a pretty funny scene, quite honestly.
After the feuding was done on the ice, the frustrations were flying in the locker room. The Capitals were upset with what they felt was a slew foot from Derek Dorsett on Mike Green. There were other calls they weren't happy with either, as the Rangers had five power plays to their zero in Game 6. But that was Game 6; it's done.
That griping won't do the Caps any good in Game 7, though, even if it did have some merit. It does add an extra layer of some tension between the two teams, but that will already exist in a loser-leave-town game such as this.
When you boil it all down this series has been about the goaltenders -- both Lundqvist and Braden Holtby have been as good as you could ask from them -- and not necessarily the lack of production from the stars. It has trended in a way the Rangers like with a lot of shot-blocking and low-scoring games; it's just that Holtby has been up to the task.
That said, you can't ignore the lack of star-power performances. Drawing the majority of the flak have been Rick Nash and Alex Ovechkin, who are both not producing as expected. However, it's not like their games have been bad. Ovechkin in particular had a strong showing in Game 6; he just can't beat Lundqvist right now. Not many can. Same goes for Nash. He hasn't been as physical as they would like to see in New York, and he has been a bit too quiet, but he hasn't been horrible either. If they keep playing their games it should turn around for them. There would be no better time for that to happen than Monday night.
The best way to get Ovechkin going would be on the power play, where he had half of his goals this season. And with that, we're back at full circle. Special teams will be critical. Game 6 was the first time this season that the Caps didn't have at least one power play in a game. That won't be repeated in Game 7, I wouldn't think.
All the other intangibles seem to eventually even out. No team really has more experience in these situations. Both have played a lot of Game 7s in recent seasons, including one against each other last year. The only intangible that isn't even is the home ice.
New York has known all along that it would have to win at least one game in DC. So far the Rangers are 0 for 3 and have just one shot left.
Rangers will win if: They continue to stay out of the penalty box. The Caps are at their most lethal when they are on the man advantage, and it's no coincidence that they have started keeping the Caps off the scoreboard in the past few games when they haven't been taking penalties. This shaped up to be a special-teams series from the beginning, and it will be once again in Game 7. As for the Rangers, they win the special teams if there aren't any special teams required.
Capitals will win if: They can finally get that strong start they've been looking for. When the Capitals get going in their own building they are tough to slow down. They really feed off their home crowd. With the way Holtby has been playing, they don't need a lot. Give him a lead and watch him work. They also must keep their composure and stay out of the box. While the Rangers have been impotent on the power play, that's two minutes the Caps will spend defending.
Prediction: I took the Capitals before this series began, and I'm not going to change my mind now. Home ice has meant everything in this series, and that will matter again in this one. Of course it will still be tight. I'll predict a 2-1 Capitals win, probably in overtime again.
It's time to hook your favorite NHL fan up with some Black Friday deals

The Lightning have Steven Stamkos to thank, and the Blues should be extra grateful for Brayden...

The Sabres will face the Rangers at Citi Field on New Year's Day in these sharp threads
SportsLine's Mike McClure, a DFS pro with more than $1M in winnings, gives optimal lineup...

Without the star power of the NHL, America is banking on big contributions from some AHL, KHL...

Lincoln Financial Field will play host to the annual outdoor game on Feb. 23, 2019