Gary Bettman's income cracked $8 million mark in 2011-12 season
In the final season before the lockout stagnated the NHL, commissioner Gary Bettman surpassed $8 million in income.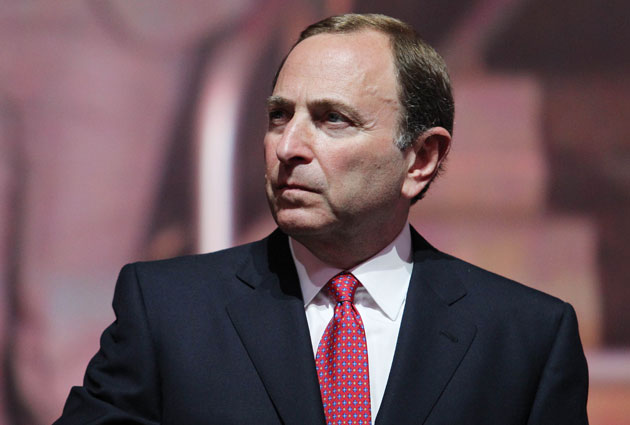 More NHL offseason: Rumors | Top 50 Free Agents | Buyout Tracker | Trades | Transactions
For years the NHL has been trumpeting rising revenues across the league and with rising revenues come rising salaries for company employees. There is no more high-profile (or higher on the food chain) company employee than NHL Commissioner Gary Bettman. Put two and two together and you have a raise for Bettman.
In the league's latest tax filing, which covered the 2011-12 season, Bettman's salary cracked the $8 million mark at $8,306,744 according to Chris Botta of SportsBusiness Journal.
Bettman's base salary for the 2011-12 season was $6,395,521. Payment defined as other compensation was $1,816,628. He also received $65,795 in deferred compensation and $28,800 in benefits.

Bettman's salary has more than doubled over a period that has seen the league's total revenue increase from $2.1 billion in 2003-04 to $3.2 billion for the season of this latest tax filing. In the lockout-canceled season of 2004-05, Bettman made $3.7 million.
Surely that's going to sit well with hockey's legion of fans that simply adore Bettman and shower him with cheers every time he makes a public appearance.
Just keep in mind that salary was for the last full season before the lockout, it's going to be a while yet before we see what kind of "damage" the lockout did to Bettman's bottom line then. You'll recall that Bettman made it be known that he wasn't taking a salary during the lockout, presumably because he already had a money tank like Scrooge McDuck that he could swim in.
As frustrating as it might be to see the commissioner that hockey fans will swear is far and away the worst in sports not only making such a good salary but it going up every year, what else should we expect? As long as the league revenues go up why wouldn't his salary go up, they're all tied together. Even still, Botta notes that Bettman is still well behind the commissioners of the other three major sports in the US/Canada.
Botta has the salaries for some other NHL employees as well. As you might guess, Bettman's second-hand man Bill Daly was next with a total compensation of $3,263,004 while Colin Campbell made $1,684,698, or nearly half a million more than his son Gregory that same NHL fiscal year.
Stacia Robitaille says Donald Trump told her in an elevator that she was coming home with...

Vladislav Yeryomenko was the Teddy Bear Toss goal scorer for the Calgary Hitmen

The Golden Knights are finally getting their No. 1 goalie back after a 25-game absence
Washington has won four straight, and the Kings are also on a tear right behind the Lightn...

The NHL says it's only interested in expanding to Seattle, but here's a look at all the moving...

The NHL says it is only looking toward Seattle for the next expansion team