Giguere rips Avs for being 'more worried about their Vegas trip'
Avs goalie Jean-Sebastien Giguere has seen enough of the losing and went off on his team for being 'more worried about their Vegas trip.'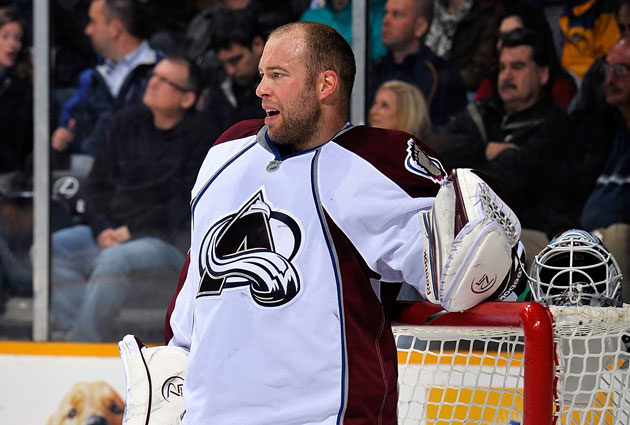 More NHL: Scores | Standings | Odds | Fight-O-Meter | League Leaders | Rumors
The Colorado Avalanche are buried in the snow. They have lost five in a row, nine of their last 10 and are three points clear at the bottom of the NHL after losing 3-1 to the Calgary Flames at home on Monday night. Again, they lost to the Flames.
This did not make for a happy Jean-Sebastien Giguere. At all.
Giggy, who has seen his fair share of locker rooms over the years, was just a little frustrated after the game when talking to reporters and he got it off his chest. Longtime Avs beat writer Adrian Dater with the quotes he referred to as some of the mast damning he's ever seen from an Avs player.
"Some guys are more worried about their Vegas trip at the end of the season than playing the games, than playing every minute of the games," Giguere said. "Quite frankly, I don't care about your Vegas trip right now."

"It's embarrassing. I'm embarrassed to be here right now. It's not even funny."
Oh, but he wasn't quite finished there yet, either.
"I don't know what it is. I've been around for 15 years in this league and I don't know what it is. I don't know why we seem like we don't care at points. I don't know, I don't know we seem like, you know -- some guys are fighting to show that they belong in the NHL, some guys are fighting for contracts. And it's just embarrassing, the way we, you know, the energy we have in the room and the way we approach practices and the way we approach this game. It's not how you're going to win any games in this league. I mean, this is a team [Calgary] that we can beat if we set our minds to it, and every day is the same story. I don't know what to say. I'm beyond words right now."
Seems like he found plenty of words to talk about it to me.
I'm not in that dressing room so I can't comment as to whether Giguere is on point or not, but judging by the way the team has looked on the ice, I wouldn't bet against him. The Avalanche are not built to be world-beaters or anything, but they aren't this bad, are they? There is some talent there in Matt Duchene, Gabriel Landeskog and P.A. Parenteau, etc., enough to win some games, right? Not if they're planning what they'll do on the Strip next month.
Fair or not, a lot of this speaks to the coaching too and head man Joe Sacco. His seat was already burning hot and so his fate was probably sealed before the loss to Calgary, but in case there were any lingering doubts this ought to do it. A team's preparation and lack thereof will almost always land squarely on the shoulders of the coach.
Sometimes these things need to be said, a team needs the reality check. Perhaps it will go over well, there's always a chance. More likely, though, it's going to be an awkward practice rink for the Avalanche on Tuesday.
But the good news in all of this is that the Avs are doing what they need to if they want to secure the best odds in the upcoming NHL draft lottery to be able to select Seth Jones, who got into hockey in part because he lived in Denver and his dad was able to talk to Joe Sakic.
Then again, if he or whoever else the Avs draft is coming into a, for lack of a better word, toxic environment, it might not make much difference.
Former Lightning standout will be guarding the net in style in 2017-18

Devils are still in rebuilding mode, but they have reason for hope thanks to young additio...

Buffalo is in the midst of contract extension talks with Jack Eichel, and the payout could...
Los Angeles isn't rushing to sign the 45-year-old forward any time soon

The University of Denver star and Hobey Baker Award winner is drawing interest

Intrigue is high in Arizona after a wild offseason, but expectations should still be tempe...