GMs Yzerman, Rutherford, Shero say it's time to re-evaluate fighting
Jim Rutherford says fighting 'has to go,' Ray Shero says the league needs to look at it and Steve Yzerman wants game misconducts. The mood is changing.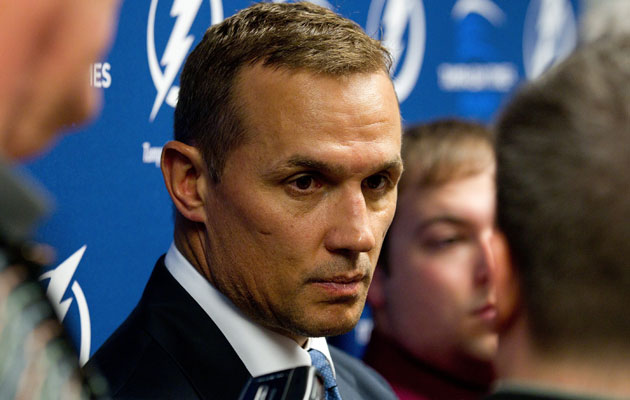 NHL previews: Atlantic Division | Metropolitan Division | Central Division | Pacific Division
Is the stance on fighting in the NHL beginning to change? The short answer is yes.
As of now the overwhelming majority of critics of fighting in the sport have come from people outside the sport, specifically media members. Last year a whopping 98 percent of players had no appetite for seeing fighting removed from the game. That says a lot.
However the men in charge, the GMs are starting to sing a different tune. At least a trio of them who went on the record with Darren Dreger of TSN. The strongest statement came from Hurricanes GM Jim Rutherford: "We've got to get rid of fighting, it has to go."
There isn't much ambiguity in that statement and certainly goes against the current that we've seen in hockey since, well, pretty much forever. But Rutherford wasn't alone, Lightning GM Steve Yzerman is on the same wavelength as Rutherford.
"Yes, I believe a player should get a game misconduct for fighting," Yzerman told The Dreger Report. "We penalize and suspend players for making contact with the head while checking, in an effort to reduce head injuries, yet we still allow fighting.

"We're stuck in the middle and need to decide what kind of sport do we want to be. Either anything goes and we accept the consequences, or take the next step and eliminate fighting."
Considering Yzerman is one of the greatest players to ever lace up his skates, that carries a lot of weight coming from him. No offense to Rutherford or Penguins GM Ray Shero who also said there's a need to re-evaluate this to Dreger, but hearing it from Yzerman means a lot (yes, I'm assuming he's not in favor of an anything goes approach on the ice). It pre-emptively takes away the argument of "you don't know hockey" when an anti-fighting arugment is presented.
Besides, he makes a very salient point about trying to reduce the amount of head shots that players take while keeping fighting in the game. The two messages do not co-exist.
This is a big moment in the debate that will never die. Having people inside the game, guys in charge of building teams, making this argument will only increase the conversation about fighting's place in the game, or increase the questioning of its place at least. It's not going to lead to a swift removal of pugilism from the sport next year or anything, but it's the first real statement of going against the tradition and history of the game.
For the record, another prominent voice stood up on the side against fighting in hockey, one Scott Bowman.
I support views of Steve Yzerman Ray Shero and Jim Rutherford on their opinions for Addressing most Fighting Issues Poll all Players

— scott bowman (@coachwsb) October 2, 2013
It's only the second day of the NHL season so this is going to become a tiring story all season long, but hearing three general managers, each with Stanley Cup success in one way or another, stand up against fighting in the game it's a worthwhile addition to the conversation. Maybe that George Parros injury will help change things after all.
Former Lightning standout will be guarding the net in style in 2017-18

Devils are still in rebuilding mode, but they have reason for hope thanks to young additio...

Buffalo is in the midst of contract extension talks with Jack Eichel, and the payout could...
Los Angeles isn't rushing to sign the 45-year-old forward any time soon

The University of Denver star and Hobey Baker Award winner is drawing interest

Intrigue is high in Arizona after a wild offseason, but expectations should still be tempe...