Goal issues for Penguins, Ducks a symptom of larger NHL problem
Some of the NHL's best and most talented teams are struggling to score goals this season. It's a symptom of a larger problem in the NHL.
Some of the NHL's best and most talented teams have struggled to score goals through the first few weeks of the 2015-16 season and it's causing some concern not only in those cities, but also around the league.
Before scoring four goals on Saturday night in a 4-0 victory in Toronto, the Pittsburgh Penguins, a team that has two of the best players in the world and acquired one of the top goal-scorers over the summer, had only 20 goals in their first 10 games. Sidney Crosby still only has five points in 11 games (with all five points coming in only two games) and the team is still averaging less than two-and-a-half goals per game even after Saturday's offensive outburst.
The Anaheim Ducks, a team that was a Game 7 loss away from being in the Stanley Cup Final just last spring, finally won their second game of the season on Sunday night when they beat the Nashville Predators. They still only have 14 goals in 11 games. There was a brief period where a number of individual players in the NHL had more goals than their entire team.
Even though they had to say goodbye to several key players after their third Stanley Cup triumph in six years, the Chicago Blackhawks are still one of the most talented teams in the NHL and should continue to be a serious Stanley Cup contender in 2016. They have only 24 goals in 11 games, and before their four-goal effort in a loss to Minnesota over the weekend, had only 20 in their first 10 games.
The team they just beat in the Final, the Tampa Bay Lightning, also one of the highest scoring teams in the league last season, had an eight-game stretch where they scored only 16 goals before scoring four in a victory against the Carolina Hurricanes on Sunday.
These are not only teams that are expected to be Stanley Cup contenders, they are teams that have some of the best, most talented hockey players in the world.
So why have they had so much trouble to find the back of the net this season?
Let's start with the fact that it's not just them.
1) Goal scoring is still close to an all-time low
When teams with as much talent as the Penguins, Ducks, Blackhawks and Lightning struggle to score, even if it's for only 10 games, it's usually a cause for concern because it's not what we expect from them. We see rosters with Sidney Crosby, Evgeni Malkin, Steven Stamkos, Corey Perry, Ryan Getzlaf, Jonathan Toews and we expect them to be able to score four or five goals every night, no questions asked. Sometimes when you watch, follow (or even cover) one particular team more than others and see their struggles in isolation it's easy to lose sight of what's happening on a league-wide level and think that whatever is ailing the team closest to you doesn't happen to anybody else.
But it does.
When talented teams hit those goal-scoring ruts, it's not necessarily because they're not as good as you might think or because they're doing anything wrong. It's usually nothing more than a symptom of a much larger problem in the NHL.
Nobody is scoring.
Not only is the NHL's average goals per game near an all-time low (it's at 5.34 per game so far this season, which would be one of the lowest averages in the modern era), but the gap between the highest-scoring teams and the lowest-scoring teams in the league is smaller today than it has ever been.
During the past five seasons, the average gap between the highest and lowest scoring team was only 94 goals per season. Between 1989 and 1994, it was more than 150 goals per season. In the early 1980s, it was closer to 180 per season.
This is simply the product that the NHL has created, and it has not only lowered the expectations for the best players in the league, it has turned games into low-scoring, relatively low-event games. There is no room to operate during 5-on-5 play, the situation where majority of most games are played, and goaltending performance is at an all-time high across the league due to the size and skill of the players at the position, and the fact it's coached better than it has ever been. Just about every team in the league has an outstanding starter (and in many cases, a more than capable backup).
Put it all together, and you have 28 or 29 evenly matched teams (there's always one team that is significantly worse than everybody else) that are playing to a 2-1 or 3-2 score every night while the best players in the league struggle to reach even 90 points over a full season.
Which brings us to this ...
2. Every team has a lengthy stretch during the season where it can't score
You think a team like the Penguins or Blackhawks going 10 games and scoring only 20 goals is uncommon?
It's not.
Consider this from the 2014-15 season: 29 of the NHL's 30 teams had at least one 10-game stretch -- and just about every team had more than one -- at some point during the season where they scored 20 goals or fewer. That's an average of two goals per game, which is the same rate the absolute worst offensive teams in the league score at (Buffalo was the NHL's worst goal-scoring team last season at 1.87 goals per game. Only one other team -- the Arizona Coyotes -- was below 2.15).
Half of the league's teams had at least one 10-game stretch where they scored fewer than 19 goals.
That's a significant chunk of the season where every team is getting shut down, and the fact that it's something that regularly happens to every single team, no matter how good or bad they are, only magnifies just how difficult it is to consistently generate offense in today's league.
Because most of those stretches didn't happen in the first 10 games of the season, they slip by without anybody noticing because it gets lost like a needle in a haystack. But when it happens in the first month of the season, it's going to be a huge story because there is nothing else around it and it's going to be there for everybody to see with one quick glance at the stat sheet.
You can be certain that there is going to come a point this season where the teams that are filling the net right now, like the Dallas Stars and Montreal Canadiens, are going to run into a wall and not score. Even the Stars, the highest scoring team in the NHL at the end of last season, had a 20-goal-in-a-10-game stretch. You can also be certain that teams like Pittsburgh and Anaheim are going to start scoring goals in bunches, probably sooner rather than later, before hitting another slump later in the season.
Sometimes it's an injury issue and a team loses a couple of top players at the same time. Maybe the rest of the league catches on to what a particular team is doing systematically and adjusts to it. Coaching and defensive structure plays a bigger part in the game now than ever before, and eventually teams are going to construct a way to shut the best players down.
Sometimes, because of the quality of goaltending in the NHL right now, teams just run cold offensively no matter what they're doing or how many shots or chances they are able to generate.
3) This is the game NHL coaches and general managers want
And it's not great for fans.
I remember covering a game in Pittsburgh a few years ago that ended with the Penguins beating the Winnipeg Jets 8-5. The goaltending wasn't great, the game was played at a frantic back-and-forth pace with both teams exchanging chances, and it was like something out of the 1980s. Fans loved it. Both coaches hated it.
It's not that the NHL is short on talent right now. It's not. The league is full of extremely skilled and creative players who are capable of putting up huge numbers -- if given the opportunity.
You have some of the best pure goal scorers to ever play in the NHL in Alex Ovechkin and Steven Stamkos. Along with Sidney Crosby, they are generational talents, the likes of which you do not see very often.
Players like Tyler Seguin, John Tavares, Erik Karlsson, Evgeni Malkin, Vladimir Tarasenko and Claude Giroux could have been capable of doing incredible things statistically had they been born into a different era.
But because of the way game is called and coached today, they never really get the opportunity to fully shine.
Outside of a small handful of teams -- Dallas, Tampa Bay, Chicago, maybe or one or two others -- everybody wants to play a safe, structured game where every player gets the puck deep and makes the "safe" play. Don't risk a turnover. Don't make a high-risk play with the puck. Get it deep and play below the goal line.
Skill players are handcuffed not only by clogged up and obstructed neutral and offensive zones, but in many cases by their own coaches who want to see every game end with the same score.  That's why you not only see every game ending with two teams scoring only four or five goals, but why only one player during the past two years has topped 90 points in a single season and why the 100-point scorer is disappearing from the league.
It's understandable as to why this happens because winning is, and always has been, the bottom line (and it should be), and it's a league where defense wins. But it has created a product that has kept the best players in the world from playing to the best of their abilities, and it's making goals a rare event no matter how much talent a team has on its roster.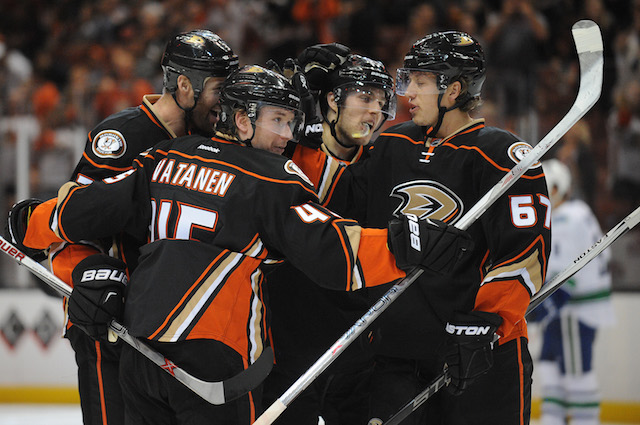 Saturday's showdown will serve as a rematch of one of the NHL's first-ever regular season...

Stacia Robitaille says Donald Trump told her in an elevator that she was coming home with...

Vladislav Yeryomenko was the Teddy Bear Toss goal scorer for the Calgary Hitmen
The Golden Knights are finally getting their No. 1 goalie back after a 25-game absence

Washington has won four straight, and the Kings are also on a tear right behind the Lightn...

The NHL says it's only interested in expanding to Seattle, but here's a look at all the moving...