Gregory Campbell is done signing photos of his broken-leg shift
Gregory Campbell was widely lauded for his shift after breaking his leg but he's done glorifying it, no longer signing photos of that shift.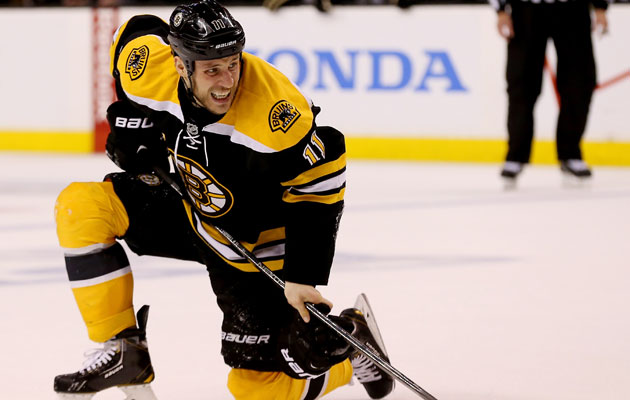 More NHL offseason: Rumors | Top 50 Free Agents | Buyout Tracker | Trades | Transactions
During last season's run to the Stanley Cup Final, Bruins forward Gregory Campbell was a national name as people marveled at his fortitude in finishing out a shift after suffering a broken leg when blocking a shot while killing a penalty in Game 3 of the Eastern Conference finals against the Penguins.
The act was sensationalized and commemorated and Campbell himself was almost canonized, the celebration of his act was so widespread. Of course it also meant that Campbell was done for the remainder of the playoffs and as he was so quick to point out, it was something any other player would have done as well.
That didn't stop the admiration of the play and people seeking Campbell's autograph on photos of that broken leg. At first Campbell was willing to sign them but no more as he told DJ Bean of WEEI.com.
"I'd rather get attention by helping the team win and raising the Cup rather than getting hurt and breaking my leg," he said Thursday night, hours after participating in captains practice for the first time. "… For me it was more of a discouraging moment that I had to overcome."

In fact, Campbell felt so uneasy about the celebrity that accompanied his injury that he decided this summer to not sign any autographs on the image. Fliers for an autograph signing in Braintree last month even included a message: "Please note: Campbell will not sign any photos related to his injury."

"I did a few, and then I started thinking about it. I don't want to glorify it," Campbell said. "It's over. The play's over, and I want to move on and focus on what's really important -- that's playing. I don't want to make something out of that play and make it into something bigger than it was. It was a blocked shot that happens countless times in a game and series and things like that, so I was just trying to do what I had to do to help this team."
Well done by Campbell, he's putting his money where his mouth is, so to speak. By refusing to sign the picture he's doing all he can to not glorify it, even if it might be a career-defining moment for the fourth-liner.
Indeed it was an inspirational shift but that doesn't mean it was a good shift for Campbell because as you'll recall HE BROKE HIS LEG. Imagine people coming up to Clint Malarchuk asking him to sign photos of his bleeding neck or something. I don't think it would be a positive experience for him either.
Truth is, it was a hockey play, like so many other blocked shots we see every game -- especially when John Tortorella's teams play. This one just happened to have a serious injury involved and Campbell did his job, what he gets paid to do. To glorify it anymore is not something any hockey player would want; it was something they would have all done.
On the other hand I can see where fans would like a picture of the incident signed by Campbell. It was inspirational, some would even say heroic. As I said, it was a career-defining moment whether Campbell wants it to be or not. People will remember him for it.
Maybe in time his attitude will change and he'll reconsider the signing ban. But for right now he's not going to do it and I can't really blame him. He wants to move on and forget about it.
Of course, the people who actually did get him to sign photos of him with the broken leg have themselves something with a little more value today. So good news for them, I guess.
If you somehow forgot what we're talking about here, this is what happened on June 5, 2013.
The league's highest-paid player and Hart Trophy winner says his Penguins counterpart is No....

Defense is better and motivation shouldn't be lacking, but the Red Wings are still too cap...

The 45-year-old free agent is taking things patiently as September approaches
The playoff drought might not end immediately, but something is brewing in restocked Buffa...

Former Lightning standout will be guarding the net in style in 2017-18

Devils are still in rebuilding mode, but they have reason for hope thanks to young additio...