Griffin Reinhart sent back to juniors by Isles despite desire to stay
Griffin Reinhart wanted to stay with the Islanders this season even if it meant little playing time but the team sent him back to juniors on Wednesday.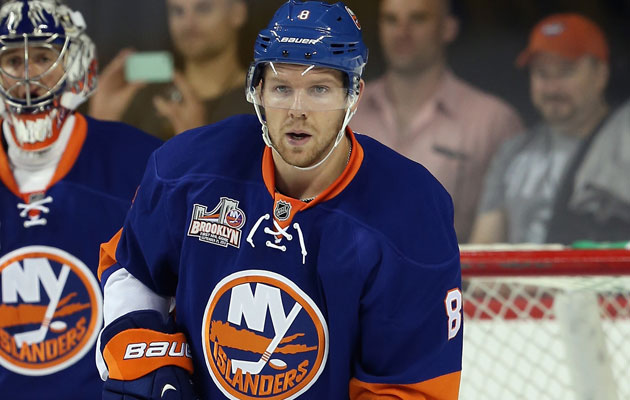 More NHL: Scores | Standings | League Leaders | Odds | Injuries | Power Rankings
It was a small surprise that defenseman Griffin Reinhart made the New York Islanders out of training camp this season. Still, he won't play a game for the Isles.
After three games in which the fourth-overall pick in the 2012 draft didn't play, the Islanders decided to return him to the WHL Edmonton Oil Kings on Wednesday, meaning his entry-level contract will slide back another season before it kicks in.
Reinhart had a nice showing in the preseason, scoring a goal and an assist for the Islanders. The problem was there wasn't really a spot available for him to play on the Isles' blue line and even though there's little he can learn or prove back in juniors, getting the chance to play there was deemed better than watching games from the press box for the majority of the season.
If the Islanders had no real intention to play Reinhart in games anyway, why did they bother putting him on the roster to start the season? Well don't discount the benefit of seeing the NHL up close for a few games. Also don't forget he had the chance to practice with the team the entire time he was up even if he wasn't playing in games.
It might have been frustrating for Reinhart not playing -- as he admitted -- but the Islanders are usually always an organization that's patient with prospects. At this point, it's a sensible move for the Isles, especially if they don't see him getting minutes for them on the ice. Though Reinhart would have preferred to stay up and practice with the big team if nothing else.
"So I think just practicing here -- even if I was just practicing here all year, and playing a few games -- I'd learn more from these guys than going back to junior," Reinhart said (via New York Post)
Besides, it's not all bad for Reinhart. Not only will he likely get to have plenty of fun being better than the players around him for another season in the WHL, but he should now have nothing stopping him from playing in the World Junior Championships for Canada this winter in Sweden.
NHL players are still disappointed they won't be going to skate in PyeongChang

With Artemi Panarin in the mix and a Vezina winner headlining the defense, Columbus can be...

The league's crackdown on faceoff infractions and slashing penalties isn't without some cr...
Joffrey Lupul spent last season on long-term IR but seems to be saying he's healthy

Early playoff trouble has been evident, but the Wild tout an offense capable of making another...

Why walk with skate guards when you can rollerskate instead?