Guarantee? Claude Giroux says Flyers will even series in Game 4
The Flyers are down 2-1 to the Rangers after a 4-1 loss in Philly on Tuesday night. That led to Claude Giroux stating that the Flyers will make this a 2-2 series going back to New York.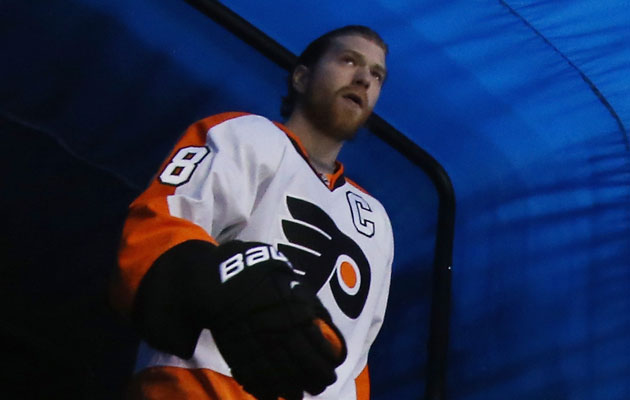 More Playoffs: Schedule, TV listings | Expert Picks | Bracket | Scores | Odds
When the Philadelphia Flyers got off to a putrid start after missing the playoffs last season, it seemed pretty bold of captain Claude Giroux to guarantee the Flyers would make the playoffs.
They started the season 1-7-0 and couldn't score to save their lives. They changed out coaches from Peter Laviolette to Craig Berube and at first it didn't seem to make a difference.
Yet here we are in late April and the Flyers are still playing, having made the playoffs just as Giroux said they would. "We'll take it here game-by-game and we will make the playoffs." That's what he said and that's just what the Flyers did.
So perhaps you should pay heed to Giroux's prophetic powers, especially now that he has made another guarantee. This one came after the Flyers' loss on Tuesday night at home to the Rangers to give New York a 2-1 series lead.
Claude Giroux: "We'll be ready for Game 4. We're going to tie up this series and go back to New York."

— Adam Kimelman (@NHLAdamK) April 23, 2014
So Mark Messier it's not, but there's not a whole lot of ambiguity in that statement, is there? Giroux stated plain as day they are going back to Broadway with a 2-2 series.
Giroux himself can have a lot to say about that. He has been involved in games in this series but his offense has not been there. In three games he has two assists and just two shots on goal. He is their leading scorer and as he goes so go the Flyers. His numbers help explain why the Flyers have five goals on Henrik Lundqvist (one goal was an empty-netter) in three games so far.
Of course the goaltending will have something to say about it too. Ray Emery played well in Game 2 to give some sense of security for Steve Mason to properly recover from an injury but he was pulled from Game 3 for Mason. Now whether Mason is fully ready or not, it looks like he'll get his first true action of the series for Game 4.
No pressure, Flyers.
The NHL said the Flyers defenseman was 'reckless' and used 'excessive force'

'How you gon' do that hockey?'
The puck didn't go in the net but the skater did!

Another sign that Houston is a potential destination for an NHL relocation

The two teams combined for 111 penalty minutes and five ejections