Gustav Nyquist leading Wings drive to keep playoff streak alive
Nobody in the NHL is hotter right than Red Wings forward Gustav Nyquist. He is scoring at a crazy pace and it might just be enough to keep the Wings' streak alive.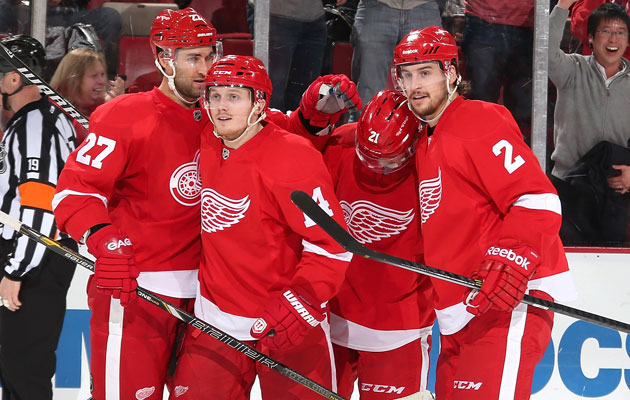 More NHL: Trades | Scores | Standings | League Leaders | Odds  | Power Rankings
If the Detroit Red Wings make the playoffs despite their injury riddled roster, it will extend their incredible streak of consecutive postseasons made to 23.
If the Detroit Red Wings make the playoffs it will be in very large part because of forward Gustav Nyquist, he of the 40 career NHL games prior to this season, going on an absolute tear.
If the Detroit Red Wings make the playoffs should Nyquist deserve Hart Trophy candidacy?
Should he and would he are two different propositions. The answer to if he would get said candidacy (legitimately) is very likely a no. Players who appear in fewer than 60 games in a season are at a major disadvantage for a few reasons, one of which is that it puts you behind the eight ball in the stat categories.
But what if you can hardly tell by the goals scored when it's all said and done?
What Nyquist is doing right now is remarkable. Every game lately that you look at the Red Wings box score, you see Nyquist's name with a goal behind it. Literally every game. Nyquist has scored in six consecutive. In half of those games he scored twice, including Detroit's only two goals on Tuesday night in Columbus. Take it back to his last 24 games dating to Jan. 20 and Nyquist has 20 goals, which has accounted for about 30 percent of all Red Wings goals. As I said, remarkable.
You know which players have had runs like this to end seasons recently? Alex Ovechkin and Corey Perry are two examples. Something they had in common is their torrid paces down the stretch helped push their teams into the playoffs, especially in Ovechkin's case last season. Oh yea, they have another thing in common too; they each won the Hart. It pays to get hot at the right time.
Again, it's very unlikely he'd even be one of the finalists but the argument is there. This Red Wings team has been decimated by injuries. Since Nyquist has taken this score every night approach it's like the Red Wings took their own, different approach; lose one player to injury every night. That one isn't as good of an idea as Nyquist's.
When it comes to man games lost this season, the Wings are second in the league only to Pittsburgh. Very few players have been immune in Detroit, including the big guys Henrik Zetterberg, Pavel Datsyuk and Johan Franzen.
Only three players have played in 70 games this season with the Red Wings; Niklas Kronwall, Kyle Quincey and Drew Miller. That's it. Talk about decimated.
Given their injury woes and not incredibly high expectations coming into the season, it wasn't a terrible surprise to see the Red Wings below the playoff cut line. It wasn't long ago it was getting close to calling the Red Wings done, things were starting to look that dire.
Thanks to Nyquist (and some thanks are in order to Toronto) they aren't below that cut line anymore. For now at least.
Is Nyquist riding some incredible puck luck right now? Absolutely. His shooting percentage is at 19.2 percent which, unless your name is Steven Stamkos, is not even remotely sustainable. But it doesn't have to be over the long term, just for another couple of weeks. Players ride hot streaks all the time, the question is how long can they stay hot.
And yes, plenty of Nyquist's run is luck. It's not a slight to say he's been lucky, fortune favors the prepared, after all. Just check out this goal in Columbus last night and you'll understand why they call it puck luck.
Nyquist's story is a familiar one in Detroit. The Swede was a late-round draft pick (fourth to be exact) in 2008. The Red Wings have been patient with him, keeping him in the AHL for more seasoning. He's another in the mold of the Ken Holland Special. Only this season the Red Wings were forced to run out of patience and call him up. He was more than seasoned.
What's funny is that Nyquist, even with his great speed, has never been a massive goal scorer. In 47 NHL games this season he has more goals than he has scored before at any level in a season. That includes the past two years in the AHL when his max was 23 goals in 2012-13 in 58 games. He was a point-per-game player in the AHL over three seasons but almost half of that production came on the assists. Nyquist: Goal Scorer wasn't really on his resume but the Wings will take it.
Detroit's run spurred on by the Goose might not lead to any personal accolades for himself but it could help catapult Mike Babcock into the Jack Adams conversation. In our recent Awards Watch list, Babcock didn't crack the top five. That was probably a mistake, how he has guided the Wings through all their issues this season has been impressive, some are calling it one of his best coaching jobs ever. It's going to be very difficult to break past Jon Cooper and/or Patrick Roy but he might be doing enough that he'll enter the race enough to be a finalist.
More importantly, maybe Babcock and Nyquist are doing enough to keep the Red Wings' streak alive.
Los Angeles isn't rushing to sign the 45-year-old forward any time soon

The University of Denver star and Hobey Baker Award winner is drawing interest

Intrigue is high in Arizona after a wild offseason, but expectations should still be tempe...
Players are set to give personalized messages for Adidas' former hockey equipment brand

The 40-year-old center is returning to the Wild after a successful run in Pittsburgh

Edmonton locks up its 21-year-old RFA a month after McDavid's historic extension