Halak, Hitchcock had 'heated discussion'; what do Blues do in net?
Jaroslav Halak and Blues coach Ken Hitchcock had a 'heated discussion' before Game 4. It begs the question; what do the Blues do from here?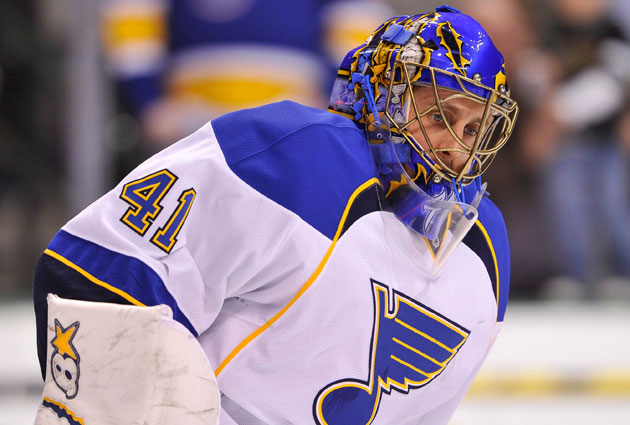 More NHL Playoffs: Scores | TV Schedule | Expert Picks | Odds | Mock Draft | Rumors
For two seasons now, the St. Louis Blues have been trying to play a stable of goaltenders enough to keep them all happy. It seemed to work pretty well last season, when Jaroslav Halak and Brian Elliott combined to win the Jennings Trophy.
But it can be hard to keep everybody happy when there is only one net to defend.
Jeremy Rutherford of the St. Louis Post-Dispatch reports that, before Game 4 of their recent six-game loss to the L.A. Kings in the playoffs, Halak and Blues coach Ken Hitchcock had "a heated discussion."
The fact that a coach and a player had a heated disucssion isn't really that big of a deal. That happens probably a lot more often than everybody is aware of. They're professionals who all want to win; that's going to happen.
"The stuff with Jaro -- that's an every day occurrence," Hitchcock said on Sunday. "If he wasn't pissed and disappointed, I'd be surprised."
It's the why that's a bit more interesting. Rutherford reports that the frustration from Halak didn't necessarily stem from not playing in the postseason but not playing before the postseason, when his health improved.
Whatever the reasoning, it seems there is a little trouble brewing in the St. Louis net. Not only do you have these two, but rookie Jake Allen was good in his appearances this season when Halak was injured and Elliott was struggling. The kitchen is getting crowded with cooks.
I'm sure if Halak were to speak on it, he would deny there's a problem and that really could be the case. I'm not saying it's not. But remember when he was in Montreal, he wanted out because he saw Carey Price was going to get more action and he wanted to start. It's only natural to wonder if he is feeling the same thing now.
Even if Halak is OK with this situation, the Blues still face a decision in net. They don't have to make it yet because both Halak and Elliott are signed through next season, but Allen showed that he could play in the NHL right now. It's not a bad problem to have -- you'd rather have too much goaltending than the other way around -- but it is something that GM Doug Armstrong has to evaluate. With three goalies capable of playing in the NHL for next season (assuming Allen is re-signed; he's an RFA), a decision has to be made one way or the other, either by parting ways with one or sticking an NHL goalie in the AHL.
Armstrong admitted on Sunday that perhaps they are getting to that point without actually saying as much.
GM Doug Armstrong says the #stlblues goaltending situation with Halak, Elliott and Allen is "cloudy."

— Jeremy Rutherford (@jprutherford) May 12, 2013
Halak played just 16 games this season limited mostly by injuries. It was his worst career season, at least in terms of save percentage. He had an .899 percentage with a 2.14 goals against average while going 6-5-1. He has one season remaining on his contract that has a $3.75 million cap hit.
The Oilers' young star remains seriously unfair

David Kelly, a Toronto-born hockey analyst, has strong advice for Edmonton vs. Chicago game...

Gary Bettman says otherwise, for the time being, but Houston could be primed for a team
Here's what you might have missed across the NHL on Wednesday night

Ovi breaks down doors in Virginia

Winger also says he will no longer raise a fist during the anthem after his protest started...