Half of NHL playing to 100 percent capacity, twice as many as NBA
The NHL doesn't have an attendance issue. Half of the 30 teams are playing to at least 100 percent capacity this season, almost twice as many as in the NBA.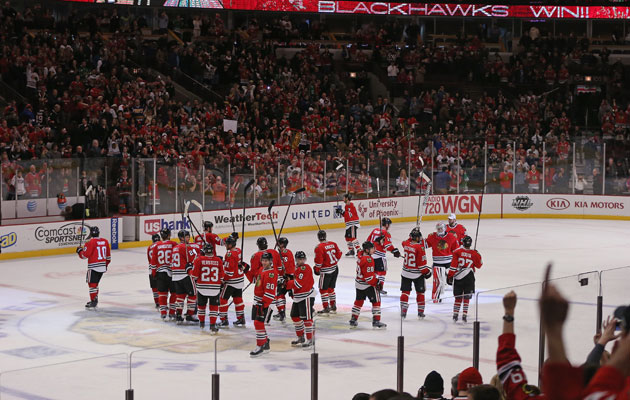 More NHL: Scores | Standings | League Leaders | Odds | Injuries | Power Rankings
When it comes to watching live sports, many people will agree that nothing beats hockey. It can be tough for some to watch and follow on television but in person? It's excellent. From the board-rattling hits to the juice that a scrap gives the crowd and simply the speed of the game, hockey is a great spectator sport.
Perhaps that's why the NHL can boast better attendance numbers this season than its calendar counterpart, the NBA. The two leagues run almost congruently from start to finish and that leads to comparisons from time to time. This is one the NHL will enjoy.
According to the latest attendance records, the NHL is averaging more sellout crowds than the NBA.

Throughout the 2013-14 season, 15 NHL markets have averaged at least 100 percent capacity in their home stands: The Detroit Red Wings, Chicago Blackhawks, Montreal Canadiens, Philadelphia Flyers, Toronto Maple Leafs, Calgary Flames, Vancouver Canucks, Pittsburgh Penguins, Washington Capitals, Minnesota Wild, Los Angeles Kings, New York Rangers, Boston Bruins, San Jose Sharks and Winnipeg Jets.

...

The NBA, on the other hand, has only eight markets averaging at least 100 percent capacity this season: The Chicago Bulls, Dallas Mavericks, New York Knicks, Miami Heat, Golden State Warriors, Los Angeles Clippers, Oklahoma City Thunder and Houston Rockets.
It's hard to complain about a league doing poorly when half the teams are playing to an average of 100 percent capacity or greater this season. Not bad for a sport that many fans said they were going to swear off after another lockout last year.
Certainly it helps to have seven franchises in Canada where hockey is the national pastime but note that 10 American hockey markets are saying they've sold out every game. That alone is more than the NBA's list.
This doesn't mean that the NHL's popularity is greater than that of the NBA, TV ratings will tell a much different story, but it at least shows that hockey continues to grow, particularly in the States. Hopefully this doesn't encourage the NHL and NHLPA to think they can continue the lockout pattern every seven or so years because the fans won't quit coming.
S/t Nina Falcone
The North American love affair with Edmonton's superhuman center continues to grow

The defending Western Conference champion Predators are also heating up early in the year

The Oilers' young star remains seriously unfair
David Kelly, a Toronto-born hockey analyst, has strong advice for Edmonton vs. Chicago game...

Gary Bettman says otherwise, for the time being, but Houston could be primed for a team

Here's what you might have missed across the NHL on Wednesday night