Hard to blame Jay Feaster -- too much -- for Jarome Iginla return
In return for Jarome Iginla, the Calgary Flames received two mid-level prospects and a first-round pick. Should Jay Feaster be blamed?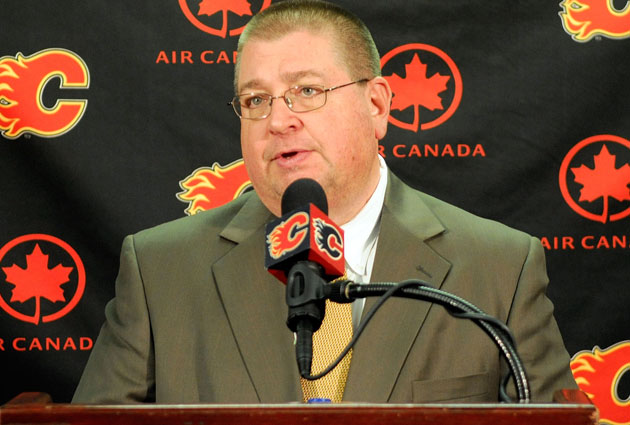 More NHL: Scores | Standings | Odds | Fight-O-Meter | League Leaders | Rumors
If there was anything to take away from the press conference on Thursday, in which Jarome Iginla said goodbye to the Calgary Flames, it's this: He's the nicest guy in the NHL.
However, there's another big takeaway and that is, it's not Flames GM Jay Feaster's fault. Entirely.
He has been criticized on this deal at almost every turn, and I completely understand that. He received two mid-level prospects and a first-round draft pick that will be so low it might as well be a second-rounder, all for a sure-fire Hall of Famer who still has some good seasons left. It looks bad.
But you can see Feaster was limited in what he wanted to do. And what he could do.
This isn't to blame Iginla for hamstringing Feaster. He was given a no-trade clause by the Flames years ago, and it was his right to use it. So do not begrudge him that one bit; that's why players seek such clauses. With that said, you could see this is what Iginla wanted, not necessarily what Feaster wanted.
More on NHL
Analysis

Related links
All of those reports on Wednesday night that Iginla was going to Boston? It's not that they were completely baseless. It's just that the important final ingredient was Iginla saying yes to the deal, and he didn't. Instead, he chose Pittsburgh.
"It's really hard as a player to pass up the opportunity to play on a team with Sid [Sidney Crosby] and [Evgeni] Malkin," Iginla explained, proving he's as smart as he is nice.
The point is, it had to have become clear to Feaster that he was working pretty much with one trade partner. There is only so much that you can do then because the option of holding on to Iginla seemed like it no longer existed. The Flames couldn't afford to go to the offseason with nothing in return for Iginla and then watch him walk as an unrestricted free agent.
Now, could Feaster have done better given the circumstance? Probably, but not by much. He didn't have a lot of leverage at that point. Though Iginla did say Thursday that Feaster approached him a little more than a month ago about possibly trading him if the Flames were out of the race. So he did have time to work on it.
If you wanted to blame Feaster for not doing a deal sooner -- like, say, last season -- then you could be on to something. By holding onto Iginla this long diminished what Calgary could get in return. So perhaps that was a missed boat.
But how much of that can you put on Feaster? Trading away the face of the franchise and an iconic player isn't something most GMs have the free power to do; those things have to go through the big shots, especially in an organization with an owner who is at least somewhat involved like Murray Edwards is.
Does it stink to see Iginla leave Calgary? Absolutely. Did the Flames get a great return for him? Time will ultimately tell, but it sure doesn't look like the trade that brought the fresh-faced Iginla to Calgary in December 1995 when it traded away a future Hall of Famer in Joe Nieuwendyk.
Either way, it's an important step for the Flames because it signals they are finally ready to move forward. This roster isn't going to get it done, and Feaster has finally begun to do something about it. From Calgary's perspective, that's perhaps the most important part of this deal, more important than the prospects and pick that the team got in return.
It's always easy to point the finger and blame Feaster; he takes a lot of heat in Calgary (I'd say rightfully so ... Dennis Wideman and that kind of cash?!), but perhaps this one is tough to blame him for. Within reason, that is.
The expansion Golden Knights officially moved into first place in the NHL on Sunday

The former Boston Bruin was the first black player to play in the NHL

Inclement weather led to the Charlotte Checkers and Bridgeport Sound Tigers playing in front...
The NHL chose the Detroit rocker as its All-Star Game entertainment and not everyone is th...

NHL fans from all over seem to agree on one thing: Hating Kid Rock

The team tweeted on Monday that Shaw would be re-evaluated in 7-10 days