Henrik Lundqvist owns the Washington Capitals ... per Wikipedia
Henrik Lundqvist has shut the Capitals out in three straight games. You could say he owns them and on Thursday, Wikipedia backed that up.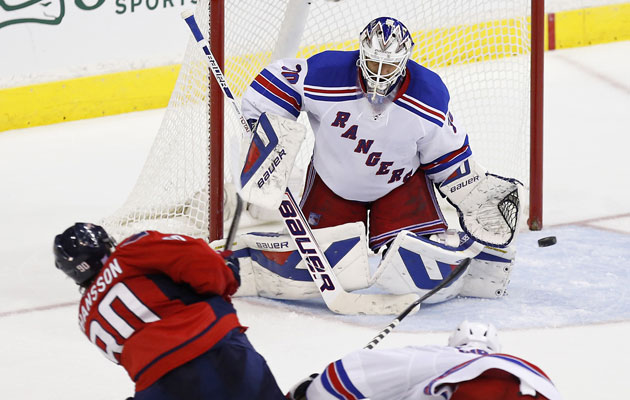 More NHL: Scores | Standings | League Leaders | Odds | Injuries | Power Rankings
Sometimes if you check Wikipedia at just the right time, you might see a jokester getting a few minutes of fun before the editing police come along. Thursday was one of those days.
On Wednesday night in Washington, the struggling New York Rangers came to town led by Henrik Lundqvist and left DC with a 2-0 shutout of the Caps. Given how the Rangers had been playing prior to visiting the Caps that might come as a surprise, but Lundqvist has had the Capitals' number.
The shutout marked the third consecutive game that the Capitals failed to score a goal on Lundqvist, dating back to last postseason. So you might say that Lundqvist "owns" the Capitals and if we verify that on Wikipedia, why yes, yes he does.
OK, so not really, that honor still belongs to Ted Leonsis (the link will no doubt be corrected soon). But you have to admit, it was pretty good of some nefarious Rangers fan out there. Not quite as funny to me as the "Can You Hear Us?" chant at the Garden a few years back but not far behind.
When it comes to rivalries, the Rangers and Caps aren't way up there but it's not a bad battle, especially considering they continue to meet in the playoffs every season, it seems. And what good is a rivalry without a prank every once in a while?
The decision would likely be met by anger from some fans, but it could also make sense

Toronto shoots to the No. 1 spot, just ahead of the Chicago Blackhawks

The Penguins' standout is at it again
Gary Bettman all but reverses course from his September comments on anthem demonstrations

The 'Washington Post' says many teams have stopped booking stays at Trump-owned properties

New Jersey has the long-term promise; Vegas is nothing like an expansion pushover