Henrik Lundqvist's new deal a risk Rangers had to take
The New York Rangers signed Henrik Lundqvist to the richest deal for a goaltender on Tuesday. It's risky but not too risky.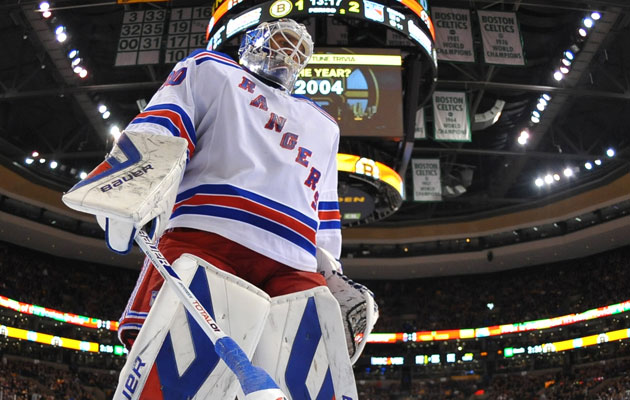 More NHL: Scores | Standings | League Leaders | Odds | Injuries | Power Rankings
Through all of the noise and clutter of big-time contract negotiations, one truth always remained evident: Henrik Lundqvist was going to stay with the New York Rangers . He knew it, GM Glen Sather knew it and everybody else across the league knew it too.
Even for such a sure thing, though, the cost of doing business was mighty high for the Rangers. As in eight years and $59.5 million in a contractual commitment high.
Perhaps the first thing that's going to pop out to people is the annual salary that King Lundqvist is going to carry in his new deal that will take effect starting next season. He will have an $8.5 million salary cap hit next to his name. If that sounds high it's because it is high, higher than any goaltender by $1.5 million (Pekka Rinne and Tuukka Rask both carry $7 million cap hits). It will be higher than all but a very select few of players in the league at any position (salary information courtesy of Cap Geek).
Top salary cap hits
Player
Team
Term
Cap hit

Alex Ovechkin

Washington Capitals

13
$9,538,462

Evgeni Malkin

Pittsburgh Penguins

8
$9,500,000

Sidney Crosby

Penguins
12
$8,700,000

Corey Perry

Anaheim Ducks

8
$8,625,000
Henrik Lundqvist
Rangers
7
$8,500,000
That's it, that's the entire list of players (right now) who will carry higher salary hits next season than Lundqvist.
Let's set something straight here; Lundqvist is as deserving as any goaltender in the NHL as being the highest-paid in the game. Somebody has to have that distinction and given that Lundqvist has won a Vezina Trophy (2011-12) and been named a finalist another time as well shows he's as worthy of that title as anybody.
Still, that's an awful lot of money to give a goaltender who, while not having a bad season by any stretch, is having his worst season in five years. His .917 save percentage and 2.51 goals against average are just pretty pedestrian in the NHL right now. However he has the track record to back him up (he thrived under John Tortorella) with a .920 career save percentage, a career that's more than 500 games in. He has meant so much to the Rangers over the years and this contract further validates that.
It doesn't change the fact that the Rangers will be spending more than $9 million on their goaltending next season, however. Yes, the salary cap is going to rise but even if it goes up to $70 million next season, for example, you're still talking about close to 13 percent of the Rangers' cap space being allocated to goaltending, the vast majority of that to Lundqvist alone. As good and valuable as Lundqvist is and has been, that's still a good chunk of New York's resources tied up in that one position. The percentage of the burden that Lundqvist carries on the cap will go down as the cap rises but that won't mean his contract won't remain awfully high, perhaps too high.
One thing we're seeing in the NHL this season is that goaltending is being made to look easy across the league. I don't want to simplify it too much because stopping pucks at the NHL level is nowhere near an easy task, but players who most hockey fans had never heard of before this season have been playing well all across the league including Cam Talbot for the Rangers.
It feels almost akin this season to the fluidity surrounding running backs in the NFL; there are people who believe they are nearly interchangeable. It's an important position but teams don't often draft running backs high. The same can be said for goalies in hockey; outside of the Marc-Andre Fleury s of the world, goalies rarely go in the first round, let alone atop the draft.
The other aspect of this contract for the Rangers, maybe the one that's more troublesome than the high cost in terms of dollars, is the length. The old stereotype about goaltenders being odd is played out but the stereotype of goaltenders being a bit flakey isn't, especially as they age.
Lundqvist is just coming off a long-term deal with the Rangers but that contract carried him through his prime. This new contract? It will take Lundqvist through his 30s and almost until he's 40 years old. There are goalies who have played well late into their careers and seeing as how he's one of the better goalies in the game and has been for years now, Lundqvist could do the same, Lundqvist has a solid foundation and track record. Still, giving long-term deals to goalies (any position for that matter) is a risky proposition.
Some other goalies to receive deals of seven years more in the past few years? Roberto Luongo , Jonathan Quick, Ilya Bryzgalov , Rick DiPietro and Fleury (Rinne and Rask, too). Those all looked like pretty safe bets when they were signed but haven't turned out that way. The Vancouver Canucks tried trading Luongo but his contract was immoveable, Quick's numbers have fallen dramatically since he signed his deal, Fleury is always scrutinized in Pittsburgh and was benched in the playoffs and then Bryz and DiPietro? Well they both had their contracts bought out last summer.
Having said all of that, it's hard to argue with a lot of the logic involved here for the Rangers. This is a team that's built to win now and securing a goaltender like Lundqvist who will remain a top goaltender for a few years yet, at least, is worth the potential downslide on the back end of his deal. Lundqvist wasn't going to sign short-term so if they wanted to keep him, this is what it was going to require. Trying to imagine what the deal will look like in 2019 doesn't have much bearing on what the Rangers feel they should be able to do in 2013, 2014 or 2015; compete for a Cup. They had to pay this price, there was little option besides it.
This new contract for Lundqvist was the obvious deal, the deal that had to get done. It was going to be costly but the cost of seeing Lundqvist playing for another team would have been higher. Lundqvist didn't want to leave and the Rangers weren't going to allow it. It was the right deal to all but ensure Lundqvist will be a Ranger for his entire career. It just doesn't mean it is a great deal -- unless you're Henrik Lundqvist, of course.
Players are set to give personalized messages for Adidas' former hockey equipment brand

The 40-year-old center is returning to the Wild after a successful run in Pittsburgh

Edmonton locks up its 21-year-old RFA a month after McDavid's historic extension
Even with a new coach and added veteran help, the Canucks have a long road ahead

Unlike expansion teams before them, the Knights have enough talent to entertain right away

Brian Lawton says he 'would not be surprised' if Boston deals its young star to end contract...