Henrik Sedin to sit Tuesday game, end ironman streak 679 games
Henrik Sedin will miss his first Canucks game in more than 10 years on Tuesday when he'll sit because of injuries after 679 straight games.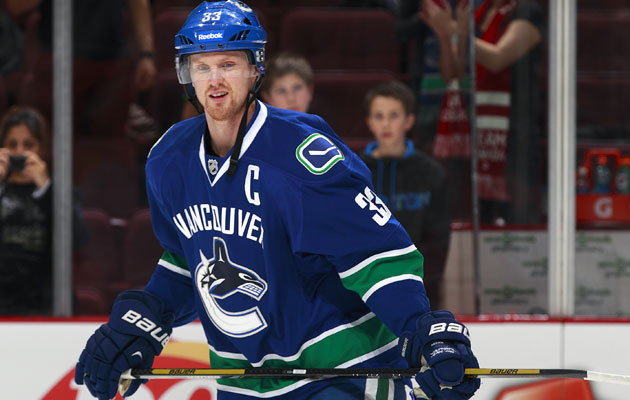 More NHL: Scores | Standings | League Leaders | Odds | Injuries | Power Rankings
Henrik Sedin is day to day right now as Canucks coach John Tortorella put it on Saturday, which normally wouldn't be big news. However it's going to result in Henrik sitting out Tuesday's Canucks game in Edmonton, which is much bigger news.
Sullivan up for press conference. Confirms that Henrik Sedin will not play in Edmonton.

— Vancouver Canucks (@VanCanucks) January 20, 2014
Why is that? Because Henrik has played in every single Canucks game going back to the 2003-04 season, a stretch of 679 straight games of being in the lineup. It's a remarkable show of durability (not bad for somebody labeled as soft) that is one of the longest ironman streaks in hockey history, only a few behind another active streak; Blues defenseman Jay Bouwmeester is at 683 games and counting.
You might recall that last season Henrik played a total of 22 seconds in a game the Canucks were resting players for the postseason just so his streak could remain intact. Clearly it was a streak that meant something.
So you know that Henrik must be pretty dinged up right now to take the game off and end his streak. He has been laboring a bit on the ice recently, dealing with a hand injury and now a rib issue. In that game on Saturday against the Flames that interrupted a full-scale brawl, Henrik didn't finish the second period, leaving the game early because of the discomfort.
Henrik leads the Canucks this season with 40 points (9-31=40) in 50 games, just one point more than his twin brother Daniel Sedin. For a team that has hit a serious rut and has struggled to score lately, this might seem like bad timing but the hope has to be that one or two games off will get Henrik back to 100 percent and that can help boost the slumping scoring.
With the streak over maybe it will allow Henrik the ease to take the occasional day off if/when needed down the line.
The team tweeted on Monday that Shaw would be re-evaluated in 7-10 days

The Montreal forward was hospitalized after taking a Zdeno Chara slap shot to the head

Tampa Bay is still No. 1 and Vegas is still up there, but a few others are finally catching...
Army filed an opposition to the use of 'Golden Knights' on the last day that it was permitted...

The NBC rinkside reporter is hoping to return in time for the 2018 Olympics

Here's who wade the cut for the 2018 NHL All-Star Game on Jan. 28 at Amalie Arena in Tampa...