Henrik Zetterberg game-time decision for Red Wings in Game 4
Henrik Zetterberg could be taking the ice with the Red Wings for Game 4. Their captain will take warmups with the team and is a game-time decision.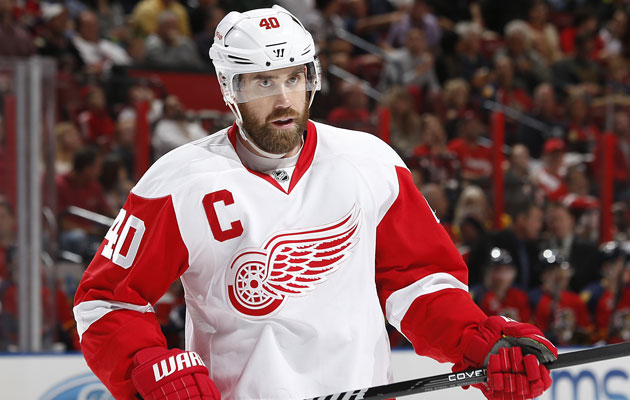 More Playoffs: Schedule, TV listings | Expert Picks | Bracket | Scores | Odds
The Detroit Red Wings might finally get their captain back on Thursday night.
Out since the Olympics, Red Wings center Henrik Zetterberg has been targeting a return in the playoffs but since he had surgery on his back after leaving Sochi, it seemed like any return would have to wait until possibly the second round.
But optimism picked up when Zetterberg practiced with the team on Wednesday and then again on Thursday morning, he was out there back on the top line in the morning skate. He's still not confirmed in but you can put him on the roster sheet in pencil at this point.
Babcock on Zetterberg: "The doctors decide, not me. I'm hopeful but, who knows? We'll know at gametime. After warmup."

— Craig Custance (@CraigCustance) April 24, 2014
UPDATE: Henrik Zetterberg is in the lineup for the Red Wings for Game 4.
It's not a point of no return but it would seem the chances are pretty good Zetterberg will play if he's going to go as far as to take warmups with the team. Especially considering the Wings don't have Daniel Alfredsson -- he should be back for Game 5 -- that would be a major lift.
That's if Zetterberg is able to get right back to his old self, of course. Before he was injured, Zetterberg was Detroit's leading scorer and despite missing the final two months, he still finished near the team lead in points with 48 in just 45 games. Ideally he said he would like to have some practices before returning but the playoffs don't provide ideal timelines like that.
"That would be optimal. But at the same time it's tough to find good practices in the playoffs," Zetterberg said Wednesday. "You don't practice. You only play games. So one of these days you just have to make a decision.
"The conditioning you'll get when [you] play games. It's tough when you're skating on your own because you won't get the same thing. Once I feel good enough to see if I'm cleared that's probably when I'll be playing games. I'm going to have still go through a few more steps before I have that conversation."
The Red Wings go into Game 4 at Joe Louis Arena down 2-1 in the series to Boston, having scored just two goals in three games against Tuukka Rask and company. If Zetterberg can get back in and play at the level we've come to expect of him, it's such a huge boost for a team dying for offense.
One other lineup change that coach Mike Babcock is making for the game; Tomas Jurco is out with Todd Bertuzzi replacing him. The Wings want to get a little more net-front presence on both ends.
The University of Denver star and Hobey Baker Award winner is drawing interest

Intrigue is high in Arizona after a wild offseason, but expectations should still be tempe...

Players are set to give personalized messages for Adidas' former hockey equipment brand
The 40-year-old center is returning to the Wild after a successful run in Pittsburgh

Edmonton locks up its 21-year-old RFA a month after McDavid's historic extension

Even with a new coach and added veteran help, the Canucks have a long road ahead