Heritage Classic weather: Rain/snow mix to keep roof closed
The rain/snow mixture in Vancouver is going to move the outdoor Heritage Classic inside as the BC Place roof will remain closed.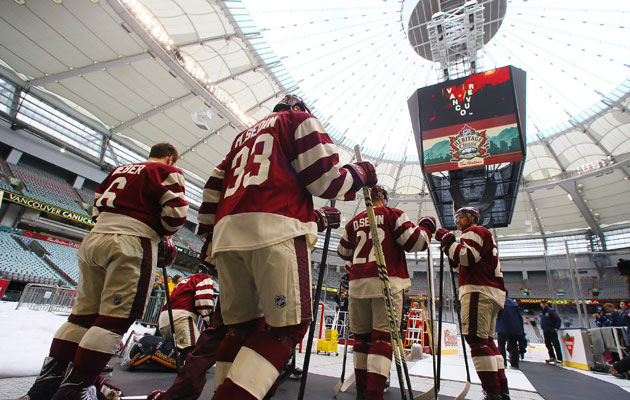 More NHL: Scores | Standings | League Leaders | Odds | Injuries | Power Rankings
That big outdoor game in Vancouver on Sunday, the Heritage Classic between the Canucks and Ottawa Senators? It will be an indoor game.
People in Vancouver woke up to some rare snow showers on Sunday and seeing how this is the Pacific Northwest (is it the Southwest in Canada, just the West?), the preciptation isn't likely to go away. That means the roof to BC Place won't open and the action will be indoors.
According to Weather.com, the game-time temperature for the 1 p.m. PT contest is going to be 37 degrees with a 40-50 percent chance of a rain/snow mix. As the game progresses, the chance for rain/snow only increases.
Snow is OK and even a little rain doesn't hurt (but not much) in these hockey games as we have seen but it might not fly in Vancouver. BC Place has a retractable roof that exposes the playing surface but it also has equipment hanging over head like a giant video screen.
It's not going to feel like previous Heritage Classics such as the one we saw in Calgary but whether the roof is open or closed, it will feel like a Stadium Series game and the unusual visuals that come along with that. The elements won't be involved but there will still be three times as many fans as normal.
Washington has won four straight, and the Kings are also on a tear right behind the Lightn...

The NHL says it's only interested in expanding to Seattle, but here's a look at all the moving...

The NHL says it is only looking toward Seattle for the next expansion team
The 33-year-old defenseman hopes to help find a cure for serious head injuries in athletes

Chicago becomes the latest NHL club to earn an evaluation of $1 billion or more

The city council has approved a $600 million redevelopment project for KeyArena