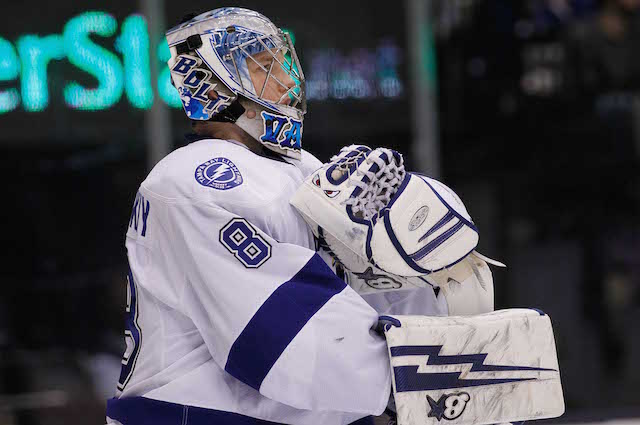 When it comes to the NHL Draft, fifth-round draft picks don't typically have much value. If a team selects a player who even makes it to the NHL, let alone becomes a useful player, it's probably a successful pick.
But there are always exceptions. Sometimes a team finds a player who overcomes the odds and becomes a regular in the NHL. Maybe even a core player to a championship team.
The Tampa Bay Lightning, through a series of trades over several years, managed to turn a 2003 fifth-round pick into their goaltender of the future and the 20-year-old rookie who has already recorded one win in the Stanley Cup Final and had to start Game 4 on Wednesday night (and may have to start Game 5 on Saturday) -- Andrei Vasilevskiy.
Here is how it all happened.
This is an NHL trade chain.
---
During the Lightning's Game 4 loss in Chicago on Monday, former NHL goalie and current analyst Darren Pang tweeted about how the Lightning ended up with Vasilevskiy as a result of a series of trades in 2012 that saw them trade forward Steve Downie to the Colorado Avalanche for defenseman Kyle Quincey, and then turn around and trade Quincey to the Detroit Red Wings for the 2012 first-round pick (No. 19 overall) that was used to select Vasilevskiy.
All of that is true, and it is definitely a fascinating sequence of trades.
But it's not where Vasilevskiy's journey to Tampa begins.
For the start of this chain, you have to go all the way back to Jan. 7, 2002, when the Lightning sent a 2003 fifth-round draft pick to the Florida Panthers in exchange for defenseman Dan Boyle, a trade that turned out to be an incredible steal, not only for what Boyle produced in Tampa Bay, but the way it is still paying off for the team.
Here is the entire chain, which has grown to include nine draft picks (including three first-rounders going through Tampa Bay), more than 15 players and even helped Tampa Bay win the Stanley Cup and appear in another Eastern Conference finals along the way. Really.
So let's break this down to individual trades.
Jan. 7, 2002: The Lightning started the chain of events by trading the aforementioned 2003 fifth-round pick to the Florida Panthers (who used the pick to select Martin Tuma) in exchange for Boyle.
Boyle would almost instantly go on to be one of the most productive defenseman in the NHL and was a key part of the Lightning's 2004 Stanley Cup win, playing more than 20 minutes per night and recording 10 points in the playoffs. During his time with the Lightning he scored 66 goals and recorded 187 assists, and during his five full seasons with the team only seven defensemen in the NHL recorded more points. Tuma never appeared in an NHL game and most recently played professionaly in Austria during the 2012-13 season.
Following the 2007-08 season, Boyle was traded to the San Jose Sharks.
July 4, 2008: After several successful years in Tampa Bay and just after signing a long-term contract extension, Boyle was traded, along with veteran Brad Lukowich, to the San Jose Sharks for a package that included defensemen Matt Carle and Ty Wishart, a 2009 first-round draft pick, and a 2010 fourth-round draft pick.
This trade led to several more trades in the future.
The first-round draft pick acquired in the Boyle trade was packaged along with defenseman Filip Kuba and forward Alex Picard and sent to the Ottawa Senators on Aug. 29, 2008, for defenseman Andrej Meszaros, a player the Lightning were convinced was going to be a star for the team for several years (this was when Tampa Bay ownership and management was ... a little crazy). So much so that they ended up signing him to a six-year, $24 million contract. He would only play two very disappointing years with the team before he was traded to the Flyers for a 2012 second-round pick.
The Lightning would later package that pick with another second-round pick, a third-round pick, and goalie Sebastian Caron to send to the Nashville Predators for goalie Anders Lindback, prospect Kyle Wilson, and a 2012 seventh-round draft pick which they used to select Nikita Gusev.
The first-round draft pick acquired in the Boyle trade would change hands two more times and ultimately end up with the Anaheim Ducks, who used the No. 26 overall pick to select Kyle Palmieri.
Wishart was traded to the New York Islanders on Jan. 2, 2011, for veteran goalie Dwayne Roloson, who would help lead the team to the 2011 Eastern Conference finals, where they would lose 1-0 in Game 7 to the eventual Stanley Cup champion Boston Bruins. Roloson finished the season with a .912 save percentage in 34 games with the Lightning before posting an extremely impressive .924 mark in the playoffs. He would play one more season with the Lightning before retiring.
Nov. 7, 2008: Carle would only play 12 games in Tampa before he was traded, along with a third-round draft pick, to the Philadelphia Flyers for forward Steve Downie, defenseman Steve Eminger and a 2009 fourth-round pick (used to select Alex Hutchings, who never played an NHL game). After four seasons with the Flyers, Carle ended up returning to the Lightning as a free agent in 2012, signing a six-year, $33 million contract. He is still a member of the team.
Eminger would later be traded to the Florida Panthers on March 4, 2009, in exchange for defenseman Noah Welch and a 2009 third-round draft pick. The Lightning would then use that third-round pick, as well as their second-round pick (No. 32 overall) to acquire the Detroit Red Wings' first-round pick (No. 29 overall) in 2009. The Lightning used that pick to select Carter Ashton, while Detroit used the No. 32 and No. 75 picks to select Landon Ferraro (No. 32) and Andrej Nestrasil (No. 75). Ashton never played a game for Tampa Bay and was traded to the Toronto Maple Leafs on Feb. 27, 2012, for Keith Aulie. On Feb. 6, 2015, Ashton was traded back to Tampa for David Broll and a conditional seventh-round draft pick in 2016.
And then there is Steve Downie.
Feb. 21, 2012: Downie was a really productive player during his time in Tampa Bay and played some of his best hockey for the team, including a career year in 2009-10 when he set personal bests with 22 goals and 46 points. But in February 2012 he was part of a three-team trade that saw him go from Tampa Bay to Colorado in exchange for defenseman Kyle Quincey.
Immediately after acquiring Quincey from the Avalanche, Tampa Bay sent him to the Detroit Red Wings in exchange for a 2012 first-round draft pick, the No. 19 overall pick.
That pick was used to select ... Andrei Vasilevskiy.
So far the pick looks to be a pretty big success for the Lightning as Vasilevskiy is one of the top goaltending prospects in the NHL and has enormous potential. And they owe it all to a 2003 fifth-round draft pick that was turned into one of the best defenseman in franchise history (Boyle) and is still helping the organization more than a decade later.
Even though the 2003 draft was perhaps the deepest and best in NHL history, it's hard to imagine any team has been able to get more mileage out of a fifth-round pick that year, especially when you consider only six players taken in that round have appeared in more than 100 games to this point, while only one of them (Lee Stempniak) has scored more than 100 goals.