How many goals for Scott Hartnell in 2012-13?
Scott Hartnell's career year in 2011-12 has placed some high expectations on him for 2012-13.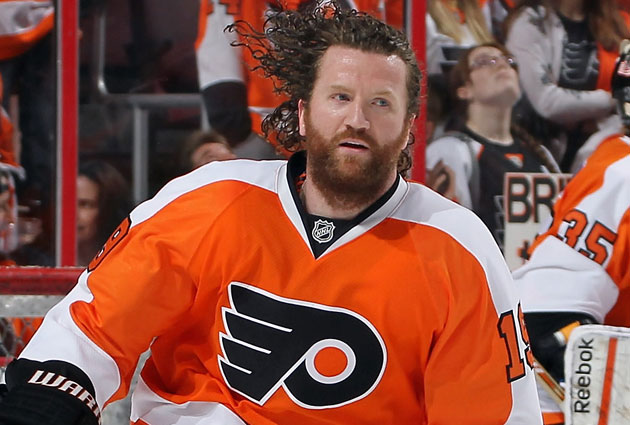 Will Scott Hartnell be able to come close to matching his career year from 2011-12?. (Getty Images)
Attention fantasy hockey players: this one is probably for you.

Scott Hartnell's career year during the 2011-12 season not only helped him land a long-term contract extension with the Philadelphia Flyers this summer, it's also helped raise expectations for the upcoming season. Because, after all, why can't a guy repeat his best performance?

Hartnell, a huge part of what was one of the highest scoring teams in the NHL last season, finished with a career-high 37-goal, 67-point season and shattered what had been his previous career best totals in nearly every category.
The Flyers rewarded him with a six-year, $28.5 million contract. A lot of what Hartnell provides goes beyond just his production (he's physical, and the type of guy that's going to get under the skin of his opponent), but it's still an expensive deal. Especially for a guy that's 30 years old and has scored more than 25 goals just one other team in his career.
It's not unreasonable to expect that production to decline a bit this season.

On Tuesday NHL.com released its preseason fantasy hockey rankings for left wingers for the upcoming season. One of the biggest surprises has to be Hartnell checking in with the No. 3 spot, behind only Pittsburgh's James Neal and Vancouver's Daniel Sedin, and ahead of players like Alex Ovechkin, Loui Eriksson, Rick Nash, Ilya Kovalchuk, Bobby Ryan and Zach Parise, just to name a few.

Here is where he finished the 2011-12 season among all left wingers in the the top categories:
Scott Hartnell: 2011-12 Ranks Among Left Wingers
Player
Goals
Assists
Points
Shots
Plus/Minus
PPG
PIM
Scott Hartnell
3rd (tied)
23rd
9th
15th
8th
2nd
4th
Obvoiusly that's pretty strong the whole way across the board.
But again, this was during what was obviously a career year in just about every major category. The only category shown above that Hartnell didn't at least match his previous career high in last season was penalty minutes. Frankly, that seems like it's probably the only category he should be expected to match this season.
Looking at from a goal-scoring perspective Hartnell had a great opportunity last season playing alongside Claude Giroux and Jaromir Jagr for the majority of the season. While Jagr's production fell off a bit during the second half of the season he was still one of the Flyers best forwards with the puck and a skilled playmaker, and certainly made things easier for his linemates at even strength and on the power play. That obviously includes Hartnell.
That line is going to have a bit a different look this season now that Jagr has moved on to Dallas, and it's expected that talented youngster Jakub Voracek will slide up into his spot. Voracek's a good player, but he doesn't have Jagr's ability to get the puck up the ice and through the neutral zone, or his playmaking ability (even at this point in Jagr's career) so a little bit of a dropoff there seems reasonable. 
There's also the likelyhood that Hartnell's 15.9 percent shooting percentage (also a career high) drops this season. Even if Hartnell manages to reach 200 shots this season and shoots at a 13 percent clip, which is where he's been in previous years as a member of the Flyers, you're looking at somewhere in the area of 24 goals.
So we'll set the over/under for Scott Hartnell goals in 2012-13 at 24.5. Does he top it?
For more hockey news, rumors and analysis, follow @EyeOnHockey and @agretz on Twitter and like us on Facebook.
Los Angeles isn't rushing to sign the 45-year-old forward any time soon

The University of Denver star and Hobey Baker Award winner is drawing interest

Intrigue is high in Arizona after a wild offseason, but expectations should still be tempe...
Players are set to give personalized messages for Adidas' former hockey equipment brand

The 40-year-old center is returning to the Wild after a successful run in Pittsburgh

Edmonton locks up its 21-year-old RFA a month after McDavid's historic extension