How much has goalie pad reduction affected NHL scoring?
With nearly a full season to judge from, we can see the impact of the goalie pad reduction in the NHL. Hint: It did pretty much nothing.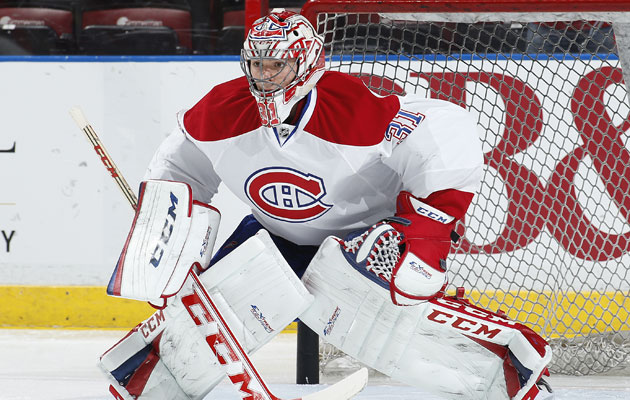 More NHL: Trades | Scores | Standings | League Leaders | Odds  | Power Rankings
The never-ending crusade to increase scoring in the NHL zeroed in on a target before this season, thinking it had found one way to bring back more scoring to the sport. That target was goaltender equipment, specifically the size of it.
For years, the goal totals in the NHL had been trending down and to the thinking of some that meant so was the excitement. Goals are good for business, so hockey needed more of them. Numerous ways to achieve said desire have been bandied about including the idea to simply make the nets bigger but the idea to scale back goaltending equipment was deemed a good starting spot and perhaps the least evasive of all the options.
Even though it did meet some pushback from goalies claiming potential injury concerns with less protection, the league and NHLPA went through with the changes. It wasn't a whole lot but the maximum size of pad length from knee to thigh was cut from 55 percent to 45 percent, which averaged out to around two inches per pad. In theory this would open up the five hole by four more inches.
Considering how often shooters try to find that five hole between the pads, an increase in scoring was the anticipated result, or at least the result the decision-makers were hoping for.
Now with nearly a full season complete we can say it hasn't happened.
Again, the changes to the equipment were not substantial, but a couple of inches you figured could have at least a small impact on scoring rates in the league, even a miniscule one. Scoring is up ever so slightly this season but it is in no thanks to the goaltenders.
Last five seasons
Season
Goals per game
Average shots per team
Save percentage
2009-10
2.84
30.2
.911
2010-11
2.79
30.3
.913
2011-12
2.73
29.7
.914
2013
2.72
29.0
.912
2013-14
2.76
30.0
.913
Info via Hockey-Reference.com.
As you can see, on the whole this season doesn't really look much different than any of the previous three, certainly in no substantial way. The only reason goals are up ever so slightly over last season is because teams are averaging one shot more per game. Put more pucks on net and more will go in.
This isn't to suggest that the NHL made a pointless move in reducing pad length and whatever future moves they take in scaling down goaltending equipment such as changes to knee pads. Whether or not it produced an impact doesn't change the fact that goalies had some room to spare on those pads anyway. It wasn't a complete waste of time and effort, even if the numbers might lead one to that conclusion.
Fact of the matter is goalies are better now than they've ever been. If you see a goaltender with a save percentage of .913, the league average, it almost induces a "meh." There are 24 goalies in the NHL who have appeared in at least 25 games with save percentages above that.
Contrast that to 1985-86 in the NHL's scoring heyday when Bob Froese led the NHL with a save percentage of .909, one of only two goalies to even be above .900, and it makes matters clear how far we've come. John Vanbiesbrouck won the Vezina and finished fifth in Hart Trophy voting that season and he had a save percentage of .887. So yes, goaltending has improved substantially.
That's what makes it tough to try and bring the scoring back in the NHL with only small measures at a time, the skill and size of goalies today is only getting bigger and better. Comparatively speaking, shots per game aren't down much from even a couple decades ago and they are certainly higher than the dead-puck era. That wouldn't appear to be the problem but if you want more goals, finding a way to generate more shots is as good of an approach as any.
Or, you know, just making the nets bigger. The 'tenders minding the nets are much bigger and so their equipment has followed suit. Why shouldn't the goals be next in line?
The former Boston Bruin was the first black player to play in the NHL

Inclement weather led to the Charlotte Checkers and Bridgeport Sound Tigers playing in front...

The NHL chose the Detroit rocker as its All-Star Game entertainment and not everyone is th...
NHL fans from all over seem to agree on one thing: Hating Kid Rock

The team tweeted on Monday that Shaw would be re-evaluated in 7-10 days

The Montreal forward was hospitalized after taking a Zdeno Chara slap shot to the head