How the Los Angeles Kings Corsi'd their way to the NHL's elite
More NHL teams are using analytics when it comes to building a roster. The Los Angeles Kings seem to have really taken advantage of them.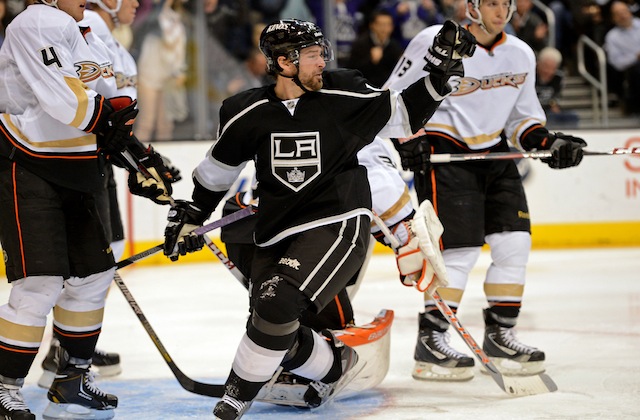 More NHL offseason: Rumors | Top 50 Free Agents | Buyout Tracker | Trade Tracker
When compared to the other three major North American sports, the statistical analysis movement in the NHL is still very much in its infancy. Some teams are much further along and a lot more invested in it than others. The Los Angeles Kings, the 2012 Stanley Cup champions, seem to be one of the clubs on the leading edge when it comes to utilizing them under general manager Dean Lombardi.
A growing number of teams in the league (if not all of them) have some sort of analytics person or staff on their payroll. A few have openly talked about their usage in recent years, while others are far more secretive about it.
It's one thing to simply talk about the value of analytics; it's something else entirely to actually put them into use and make them a part of your team's roster construction. The Kings seem to be doing just that, and it's not hard to see if you dig a little bit into their roster moves over the years.
When talking about analytics in hockey, the most basic category/philosophy that has an extremely high correlation to winning is puck possession. 
One of the best tools for measuring possession that we have at our disposal right now is Corsi, a plus-minus metric named after Buffalo Sabres goalie coach Jim Corsi that simply counts total shot attempts (goals, saves, misses and blocks) for and against. It's named after Corsi because he helped develop it while looking for a way to measure the workload that his goalies had to face. The thought was that every shot attempt -- whether it's on net, wide or blocked -- resulted in some sort of action from the keeper.
It proved to be far more valuable than just a measuring stick for how many movements that a goalie was required to make during a game.
Studies have shown that Corsi is a pretty accurate representation for offensive-zone time.
Naturally, having a lot of offensive-zone time usually leads to more goals and more wins. Teams that score high on possession metrics like Corsi make the playoffs far more often than teams that don't, while most of the recent Stanley Cup champions have been among the best teams in the league when it comes to attempting more shots (four of the past six champions finished the regular season in the top four in their championship season when it comes to Corsi).
Over the past couple of years, almost no team in the league has been better than the Kings when it comes to controlling the puck. They've steadily improved each season. Six years ago, the Kings were 28th in the NHL in Corsi percentage (the percentage of shot attempts that belonged to them during 5-on-5 play). In the five years that followed, they've finished (in order) 11th, 16th, 10th, second and first.
They made the playoffs in each of the last four seasons, won the Stanley Cup two years ago, and followed that up by reaching the Western Conference finals this past season where they lost to the eventual champion Chicago Blackhawks (another dominant possession team) in six games.
That improvement when it comes to possession and their rise to the top of the NHL isn't a fluke. And it's probably not a coincidence. It seems that nearly every roster transaction that they've made over the past four or five years has had at least one or two common denominators. For the most part, the Kings seem to value certain qualities when it comes to players whom they're looking to acquire.
When Lombardi took over as general manager, he talked about the influence that Michael Lewis' bestselling book Moneyball had on him and how it would relate to his work with the Kings. Moneyball had a huge impact on baseball and was a lightning rod for heated discussion (that still exists) as Lewis highlighted Oakland A's general manager Billy Beane and his quest to find undervalued commodities in baseball who could help his team compete against significantly richer teams.
"I was thinking about a lot of this stuff even before Moneyball came out," Lombardi said back in 2006, via Surly and Scribe. "It requires almost a cultural change, to get your staff thinking a certain way, and that's what we're working toward.
"We've put a lot of time and thought into this, and now we're going to see if it works. This is one of those things where we're going to end up going down paths that don't work. But we're going to find the right one, and we're not going to get frustrated along the way."
It seems that the Kings did, in fact, find the right path.
For one, nearly every player whom the Kings have acquired since 2008 has posted strong individual possession numbers and has a history of being used against tough competition.
Players like Jeff Carter, Mike Richards, Dustin Penner, Justin Williams, Jarret Stoll, Brad Richardson, Ryan Smyth, Jeff Halpern, Alexei Ponikarovsky and Simon Gagne. Some of those players spent more time than others with the Kings and played varying roles, but they all excelled in the same areas before the Kings acquiring them. Carter and Richards were obviously big-name additions but had seemingly worn out their welcome in Philadelphia, mostly due to off-ice reasons than their ability to play against top competition and drive play.
The rest of the players on the above list probably weren't guys who, at that particular point in their careers, other teams were beating the doors down trying to acquire. Or that would have caught the eyes of some teams or analysts based on their goal and point totals.
We talked about Williams during the playoffs after he stole the show in yet another Game 7 and how the Kings were able to buy low on him a few years back. That move is still paying off today as Williams remains one of the most underappreciated players in the league.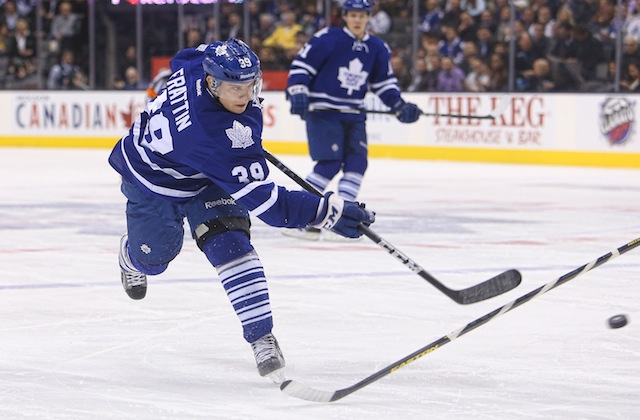 Matt Frattin, the player who seems to have been overlooked in this past offseason trade that sent Jonathan Bernier to Toronto, is another player who fits the mold of a typical Kings acquisition. He's young, cheap and though hasn't put up huge goal or assist totals, he's coming off a season that saw him post great possession numbers while playing relatively tough minutes. He seems like the type of player who could be a contributor in Los Angeles even if he goes relatively unnoticed in the box score.
Combine those players with a core that already included Anze Kopitar, Dustin Brown and Drew Doughty as well as a quality farm system that produced useful depth players on the cheap, and you have the foundation of a powerhouse team.
While the Kings have made a habit out of acquiring big possession players who play tough minutes against top players, the players whom give up tend to be the exact opposite. Nearly every player whom the Kings have traded since 2008 had posted lesser possession numbers and was used primarily against weaker competition before their trades. Players like Jack Johnson, Mike Cammalleri, Patrick O'Sullivan, Wayne Simmonds and Kyle Quincey.
The Cammalleri trade following the 2007-08 season was an interesting one. He was 25, was extremely productive but had been playing relatively sheltered minutes. He was starting a lot of his shifts in the offensive zone, playing against weaker competition at even strength and getting a ton of power-play time. He had one year remaining on his contract and was going to be due a big pay raise.
The Kings, seemingly selling high on an asset that might soon become overvalued, traded him to Calgary for a couple of draft picks. He would have one more big year and turned that into a huge contract with Montreal the following summer. He has been in a steady decline ever since, and now at the age of 30 is back with the Flames. Calgary has spent the offseason trying to trade him and his remaining contract without being able to find a taker.
Even with the success of teams like the Kings when it comes to building a team strong on puck possession, there are still detractors. In some ways, the NHL is at the same point that Major League Baseball was 10 years ago when it comes to analytics. Not only in how understood they are and how often they're used but also in terms of the criticism from both inside the game and out of it.
A couple of weeks ago, not long after the Toronto Maple Leafs went on a spending spree that saw them sign Tyler Bozak and David Clarkson to controversial contracts, forward Joffrey Lupul created a bit of a buzz on Twitter when he said that contracts in the NHL aren't awarded for Corsi but for an equal value of skill and depth at a certain position and that you shouldn't "look at this like Moneyball."
To some degree he's right, at least on the first part. Teams aren't handing out contracts based only on Corsi. And when restricted free agents head to arbitration, puck-possession metrics probably aren't the focal point of the argument. But that doesn't mean teams aren't utilizing the numbers. In a win-at-all-costs industry in which millions of an owner's dollars are at stake, general managers would be crazy not to look for any sort of advantage or market inefficiency that they can find in an effort to win. And, despite what the loudest critics will tell you, a growing number of teams at every level are incorporating analytics into their player evaluation and roster contstruction.
It's something that's starting to happen not only at the NHL level but at the lower levels as well.
Kyle Dubas, general manager of the Sault Ste. Marie Greyhounds of the Ontario Hockey League, appeared on TSN 1050 in Toronto this week and talked about how his team, which is trying to compete against significantly bigger programs, utilizes analytics (right down to tracking shots, zone entries and scoring chances for not only his team but for the rest of the league as well) in an effort to find an edge.
He put a strong emphasis on possession.
"I look at advanced analytics as just another avenue to broaden the way that we look at the game, in a way that maybe we can find some inefficiencies with the way that teams evaluate players," Dubas said. "I don't look at it as the be-all and end-all. I don't look at it as being right 100 percent of the time.
"The basic eye test will show, for me, that the best teams have the puck more. They create more offense. They're in their own zone far less than other teams and, therefore, when you're in that position, you're more likely to score. So if you can find a way to measure that, it would be fantastic."
(You can listen to the entire interview by clicking here.)
Of course, those metrics already exist, and it's not going to be long until they become a bigger part of the game and the way that it's viewed, analyzed and perhaps even played.
When discussing the trade for forward David Perron last week, Edmonton Oilers general manager Craig MacTavish talked about how their numbers guys loved what he was able to do on the ice in St. Louis from a possession standpoint.
"Our analytics guys -- they love this guy," MacTavish told Bob Stauffer of Oilers Now, via the Edmonton Journal. "He's right up there in terms of controlling the play and shots for and against differential. So it will be a good test for our analytics guys. They have him with some of the game's elite."
You wouldn't have heard an NHL general manager say something like that 10 years ago. Or perhaps even five years ago.
MacTavish isn't alone.
When he was hired by the Dallas Stars, new coach Lindy Ruff talked about how he has become interested in analytics and was very active with them over the years in Buffalo, while teams like Chicago, Tampa Bay, Vancouver, Nashville, Carolina and Pittsburgh have all been linked in some way to analytics.
The biggest counter-argument to any sort of statistical analysis in sports is that, by using numbers as part of the process, you're ignoring more subjective aspects of the game like leadership, effort, chemistry and everything that makes a player tick as a person. That's not the case at all, of course. No team is going to try to construct a roster based on any one number. Or even a combination of numbers. They're simply trying to add more information to the process and find any sort of advantage that they can. The numbers help you keep track of what actually happened. They perhaps give you a reason to go back and look at a player again to look for something that you might have missed.
In some ways, this was the one negative to Moneyball and the use of analytics in sports. Maybe not the book itself, but the reaction to it. The book wasn't necessarily about statistics or on-base percentage or firing old scouts who spent meetings spitting tobacco into paper cups and replacing them with super computers.
It was about finding valuable assets that other teams in the leagues were overlooking.
At that time in baseball, it was on-base percentage. If Lewis had written the book in 2012, the undervalued asset would have been something entirely different.
In today's NHL, the undervalued asset just might be puck possession and Corsi. If a player doesn't score a lot of goals, it's easy for him to get overlooked. But there are so many more events that happen in a hockey game other than scoring goals that it is possible for a player to be a positive contributor without scoring 25 or 30 goals.
That's one of the reasons why the Kings have been able to piece together a powerhouse team of players who seemed to sneak under the radar. It's probably why players like Mikhail Grabovski and Tom Gilbert could be bargains for somebody at this point in free agency. It's why Penner might give the Ducks more on-ice value than some are expecting next season. It's probably why the Maple Leafs are strong candidates to be a disappointment next season despite their playoff appearance in 2013.
It took baseball a while, but the game is to the point now where a statistic like OPS, something that was a foreign concept to most baseball fans 10-15 years ago, is a staple on every television broadcast and in every stadium in the league. Metrics like WAR and WHIP become a part of the discussion for the MVP and Cy Young awards.
It's only a matter of time until something like Corsi reaches that point in hockey. It's not there yet, but it's going to happen.
CBS Sports HQ Daily Newsletter
Get the best highlights and stories - yeah, just the good stuff handpicked by our team to start your day.
Please check the opt-in box to acknowledge that you would like to subscribe.
Thanks for signing up!
Keep an eye on your inbox for the latest sports news.
Sorry!
There was an error processing your subscription.
The Mighty Duck is back ... sort of

The U.S. and Russian presidents exchanged sports memorabilia at their Monday summit in Fin...

Emery, 35, spent time with the Senators, Flyers, Ducks and Blackhawks
The 33-year-old veteran goalie signed a three-year, $21 million extension to stay in Vegas

Chicago frees up immediate cap space to use in another deal, but it comes at a price

Hellebuyck, a restricted free agent, has a deal that will be worth $37 million