How the New York Islanders returned to the playoffs
The New York Islanders are back in the playoffs for the first time since 2006-07. Here is how they did it.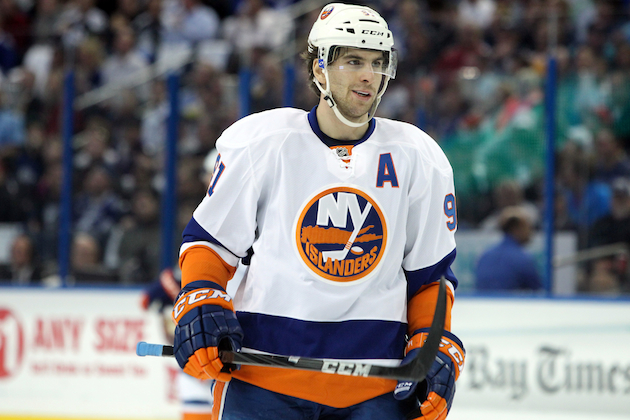 More NHL: Scores | Standings | Odds | Fight-O-Meter | League Leaders | Rumors
Let's be honest, there probably weren't many people outside of the New York Islanders or their fan base who would have picked this team to make the playoffs in 2013.
Not after five consecutive fifth-place finishes in the Atlantic Division. Not after five consecutive seasons with fewer than 80 points in the standings.
Thanks to the point they earned on Tuesday night in a shootout loss in Carolina and the Winnipeg Jets' regulation loss in Washington, the Islanders did what seemed to be impossible four months ago and clinched their first playoff spot since the 2006-07 season, ending what was one of the longest current playoff droughts in the NHL.
Here's how they did it.
John Tavares went from a good, young player to an MVP contender
Before the 2009 draft there was an actual debate as to who the Islanders would select with the No. 1 overall pick -- John Tavares, Matt Duchene, or Victor Hedman.
The other two guys are excellent players, but it's clear now the Islanders made the right selection. His production has improved every season he's been in the NHL and he's always been one of the best young players in the league, but this season he became one of the best players in the league.
And he has to be a top contender for the Hart Trophy.
Nearly every teammate he's played with sees his production skyrocket when he's on the ice with them, and along with Matt Moulson helps form one of the most prolific goal-scoring duos in the league.
The good news for the Islanders? He's probably just now entering the prime of his career.
Lubomir Visnovsky

showed up and made a big impact

The New York Islanders needed defensive help this offseason and made a bold move at the draft, trading for Lubomir Visnovsky.

The problem? They weren't actually sure if he was going to show up due to him filing a grievance because he thought a previous no-trade clause in his contract was still valid.

As it turns out, it wasn't, and if Visnovsky wanted to play in the NHL he would eventually have to report to the Islanders. Not only did he do that, he ended up making a huge impact and even signed a contract extension with the team before the trade deadline.

Entering Tuesday's game in Carolina, he had scored three goals to go with 11 assists this season but is also one of the Islanders' best puck-moving defensemen and one of their best players when it comes to driving the play in the right direction. With Visnovsky on the ice this season during 5-on-5 play, the Islanders outshot their opponents by an average margin of 30-20 per 60 minutes and outscored them by more than a full goal (3.27 to 2.15).

Of the 10 Islanders who saw the most ice time with Visnovsky this season, eight of them had better numbers when playing with him as opposed to when they were on the ice without him.

That's a guy who's making a difference.
Garth Snow is a pretty good general manager
And he probably doesn't get enough attention for it.
He's assembled a playoff team on a budget that's been so tight he actually had to trade for Tim Thomas, a player who is probably never going to dress for the Islanders in a move that was basically nothing more than shifting paper work and salary cap space from one team to the other, just to reach the NHL's salary cap floor this season.
Despite those financial restraints, he's managed to put together his team through the draft (Tavares, Travis Hamonic, Josh Bailey, Casey Cizikas), waiver wire pick-ups and under the radar free-agent signings (Moulson, Thomas Hickey, Evgeni Nabokov, Michael Grabner), and by signing his young star players to cap-friendly contracts that are probably going to end up being well below market value.
Tavares, Okposo, Grabner, and Frans Nielsen, one of the best defensive forwards in the NHL are all signed through the 2015-16 season at a combined cap hit of just a little over $12 million. Moulson, a player who has scored at a 30-goal pace over the past four seasons, is signed through next season at a cap hit of just over $3 million.
Perhaps my favorite move on that list was when he claimed Nabokov on waivers a couple of years ago. Nabokov had been playing in the KHL but ended up leaving his team in the first year of a four-year contract in an effort to return to the NHL. The Detroit Red Wings signed him to a contract, but because he had been playing overseas had to clear waivers before he could report to them. The Islanders, who were in desperate need for a goalie at the time, boldly put in a waiver claim for him when they were well out of the playoff race. He didn't instantly report to the team, but once he did prior to last season he instantly became their starting goalie and has been the No. 1 man ever since.
It's been a long time coming for Islanders fans, and they've had to watch a lot of bad hockey over the years to get to this point, but the organization has finally taken a big step in the right direction.
Some familiar faces are back, but a cap-strapped summer left Chicago a little shakier than...

The Pittsburgh Penguins will put politics aside and visit the White House out of 'respect'...

NBC will reportedly be devoid of NHL game broadcasts between Feb. 7-26
The Winnipeg winger suggests Trump is going after 'the principles the U.S. was founded on'

League gets excited about exhibition matches in Beijing and Shanghai

NHL players are still disappointed they won't be going to skate in PyeongChang