How the San Jose Sharks turned their season around
Pucks and Numbers is a weekly statistical look at what's happening around the NHL. This week: How a couple of trades and a position switch helped the San Jose Sharks turn their season around.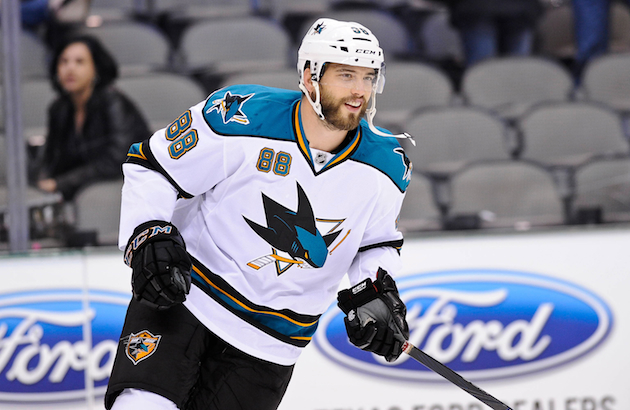 More NHL: Scores | Standings | Odds | Fight-O-Meter | League Leaders | Rumors
Pucks and Numbers is a weekly statistical look at what's happening around the NHL. This week: How a couple of trades and a position switch helped the San Jose Sharks turn their season around.
Even after their loss to the Columbus Blue Jackets on Tuesday night, the San Jose Sharks have been one of the hottest teams in the NHL over the past couple of weeks, moving all the way up to the No. 5 seed in the Western Conference.
In the weeks leading up to the NHL trade deadline the Sharks were teetering on the playoff bubble, struggling to stay in the top eight. When they started selling off veterans like Douglas Murray, Ryane Clowe, and Michal Handzus for draft picks it would have been easy to assume the Sharks were throwing in the towel on the 2013 season and that their championship window had officially closed.
Not so fast.
The Sharks have now won seven of their past nine games, earning at least a point in eight of them, and are once again looking like the team that put together seven straight wins to open the season. They've solidified themselves as a playoff team, and their championship window might still yet be cracked open.
So what happened to the Sharks over the past month that turned everything around?
Did the trades send some sort of message to the team and serve as a wakeup call? Perhaps. Or perhaps the players they sold off were doing more to hold them back than push them forward. Almost as if it was a case of addition by subtraction.
Let's start with Murray. For years he was one of the NHL's best and most feared shutdown, stay-at-home defenseman. A massive human being that played one of the most physical games in the NHL and was valuable part of the Sharks defense and penalty kill.
But over the past few years he's lost a lot of his skating ability and mobility, and it's left him a fraction of what he used to be as a defenseman. He's still huge, he's still physical, and he still does his part on the penalty kill. But his rapidly declining speed and skating ability has hurt his productivity at even strength, and by extension, hurt his team's productivity when he is on the ice.
On top of that, his role had been diminishing in San Jose. Even though he was still playing more than 17 minutes a night, he was no longer the guy they used against top lines. But he was still struggling, despite playing the more sheltered minutes.
Jonathan Willis at Hockey Prospectus addressed this, and Murray's declining play, earlier in the week:
Part of the reason the selloff failed to kneecap the Shark's playoff hopes was the fact that the players moved were mostly marginal contributors. Murray's ice time and quality of competition had decreased dramatically over the years; in a third-pairing role this season, the Sharks had been badly outplayed with him on the ice.
But how badly were they outplayed? 
Not only were the Sharks being outplayed with him on the ice, nearly every player he spent time with over the past three seasons had seen their play drop when they were on the ice with him versus when they weren't with him.
Let's break out a couple of charts using data from hockeyanalysis.com.
The first image here takes a look at the 10 Sharks that spent the most 5-on-5 ice-time with Murray between 2010 and 2012. The chart on the left is the Sharks' Corsi percentage, which is simply the percentage of shot attempts (goals, saves, misses, blocks) that belonged to the Sharks. The chart to the right is the Sharks' Goals For percentage, which is the percentage of goals that belonged to the Sharks. As you can see, almost every player not only saw their production drop with Murray on the ice with them, it was in some cases a significant drop.

In 2013 the splits were even more lopsided in some cases.

Either it's a tremendous coincidence that every player that's seen significant ice time with Murray since the start of 2010 has seen their on-ice production drop when paired with him, or his game has dramatically declined.
That would be one hell of a coincidence.
The argument for Murray is that his job isn't to create offense and that he's simply there to block shots and clear the front of the net. This is the kind of defenseman that people love because their contributions are noticeable and are something you can point to and say, "that guy is sacrificing for the greater good of the team. That's a guy you win with."
There is value in that, of course. If you have a chance to deliver a clean, legal hit to your opponent and separate him from the puck, you should. If you have the oppurtunity to throw yourself in front of a shot to prevent it from reaching your goalie, go for it. That also makes highlight clips and it gets you noticed.
A defenseman that never blocks shots or hits people because he makes a clean breakout pass out of his zone or can get the puck out of danger by skating it out (Pittsburgh's Paul Martin comes to mind; or perhaps Minnesota's Tom Gilbert) isn't going to get as much attention or recognition because his skill isn't as noticeable and often times doesn't result in something that's going to show up on an NHL gamesheet.
But you still have to be able to help your team generate something and the play out of your own zone. Nobody wants to spend time defending in their own zone. That's where bad things happen. If you're allowing the other team to create chances and get shots, that means your team isn't. And the more chances you allow the other team to create, the greater the chance that team is going to capitalize and turn it into a goal. I think that's what was happening with Murray and the Sharks the past few years. His declining skating ability and puck moving ability was resulting in him losing races to pucks, getting beat one-on-one, and resulting in the Sharks giving up more chances and, ultimately, more goals.
What made it possible for the Sharks to do this was they already had a deep defense and were even able to get a similar (but perhaps better) version of Murray at the deadline (Nashville's Scott Hannan) for less than what they acquired for Murray. They received a second-round pick and another conditional pick from Pittsburgh and only gave up a conditional sixth or seventh round pick for Hannan. That's a win.
Handzus was essentially the forward version of Murray in San Jose where his teammates were performing better when he wasn't on the ice with them.
The only player San Jose traded that wasn't really hurting them was Clowe, even though he had yet to score a goal for the team. They traded him to the Rangers for second-and third-round picks in 2013 and a conditional second-round pick in 2014. They then replaced him with Raffi Torres, a similar player who they acquired from Phoenix for a 2013 third-round pick. The difference between Torres and Clowe is marginal at best and the Sharks ended up coming away with a better draft pick when all of the dust settled. Again, that's a win.
General manager Doug Wilson sold off veterans that had already given him their best hockey and added four draft picks (two second rounders, a third, and a fourth) to his 2013 draft and two the possibility for two more picks to his 2014 draft. And he ended up making his team better. It's one of the reasons I included the Sharks as one of the big winners of the deadline despite not landing one of the biggest names or making the biggest addition.
But it wasn't just shrewd moves by the front office that helped turn the ship around in San Jose.
Coach Todd McLellan had one of hs own when he decided to move defenseman Brent Burns to forward back on March 12 in an effort to boost the team's offense. It's a move that has worked out incredibly well.
Burns has been sensational as a forward, averaging nearly a point per game (six goals and eight assists in 16 games), while the Sharks are outshooting their opponents 118-82 (and outscoring them 13-9) during 5-on-5 play with Burns on the ice as a forward.
The Sharks history of postseason disappointment will still make people doubt them (even though what happened in 2008 or 2009 with a different roster has little to do with what will happen in 2013) when playoff time comes around but the Sharks are still going to be a dangerous team to face. They're a great possession team, they have a contender for the Vezina Trophy in goal, and they improved their team's chances at the deadline.
By selling.
It's time to hook your favorite NHL fan up with some Black Friday deals

The Lightning have Steven Stamkos to thank, and the Blues should be extra grateful for Brayden...

The Sabres will face the Rangers at Citi Field on New Year's Day in these sharp threads
SportsLine's Mike McClure, a DFS pro with more than $1M in winnings, gives optimal lineup...

Without the star power of the NHL, America is banking on big contributions from some AHL, KHL...

Lincoln Financial Field will play host to the annual outdoor game on Feb. 23, 2019