Hurricanes GM Rutherford puts Justin Faulk in Orr, Potvin, Housley territory
Carolina Hurricanes GM Jim Rutherford thinks highly of young defenseman Justin Faulk. Really, really highly.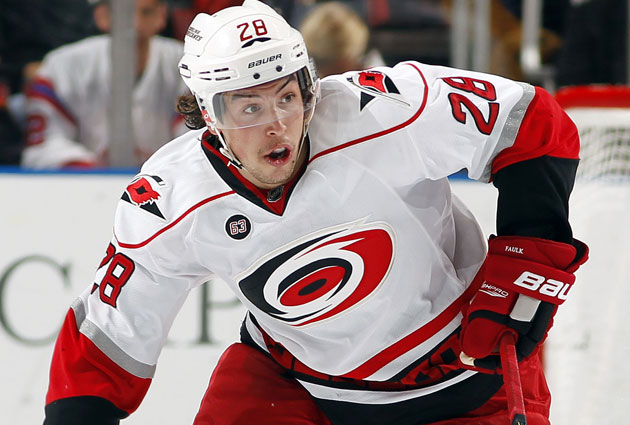 Justin Faulk has a bright future, that's for sure. (Getty Images)
The Carolina Hurricanes were busy this summer upgrading the roster, making an underwhelming one a very exciting one with the addition of Jordan Staal and Alexander Semin. That's great for scoring and all, but the cynics still point to the defense and see a major weakness.
It's a group that's very young and inexperienced. There are some good players there, sure, but they are a season or two away from being at the level the 'Canes need. Or at least that's what I thought.
After all, according to GM Jim Rutherford, the Hurricanes have a future Hall of Famer patrolling their blue line in Justin Faulk. Check out the company Rutherford thinks Faulk keeps (from NHL.com):
"Playing defense in the NHL is very difficult and playing at 19 years old is even more difficult. But as long as I've been around the game, even as far back as when I played, I've never seen anyone handle the position like Justin Faulk has as a teenager."

The organization is certainly holding out hope that Faulk is able to duplicate that effort in 2012-13 in order to create some measure of continuity along the back end.

"We've had defensemen come into the League like [Bobby] Orr, [Denis] Potvin and [Phil] Housley, who were great offensive players, but I've never seen a player play so well defensively and offensively at his age," Rutherford said. "I can't describe it well enough to tell [fans] what they're in store for having this great young player."
Say, those are some pretty good players. Rutherford was playing goal in the NHL at the same time as those guys were playing (he did overlap with Housley by one game in 1982-83) so he knows what kind of players they were. And Faulk plays as well as those guys did at both ends of the ice at age 19?
Considering there aren't many (if any) metrics to rate a defensive player's abilities from the 70s, let's just look at the offensive numbers here. Faulk just played his rookie season at 19, scoring 8 goals with 14 assists in 66 games. That's not bad.
Let's compare first to Orr. The Bruins' legendary defenseman, who some argue is the best player of all time, had 11 goals and 20 assists as a 19-year-old. Faulk doesn't seem too far behind until you realize Orr played only 46 games.
Potvin didn't play his first season until he was 20 so we'll have to go on that. As a rookie he had 17 goals to go with 37 assists in 77 games. Let's say that's the bar for Faulk next season (should there be one).
Lastly we have Housley. When he was 19 he was in his second season in the NHL and, well, he was a monster. In 75 games he had 31 goals -- a career high -- to go with 46 assists. That's 77 points to Faulk's 22.
With all that said, the game is different today than when those guys were playing. It was a higher-scoring league then than it is now so you have to give or take a little for inflation. Still, Faulk is lagging behind in those guys at this age, at least to my eyes. There's no shame in that, we're talking about three of the greatest to ever play the position.
Understand full well that Rutherford is pumping Faulk's tires here and some hyperbole can be expected, especially given the setting in talking to fans of the team. Undoubtedly, though, Rutherford thinks very highly regardless of if he truly believes Faulk is alongside those legends at this point in his career.
There's nothing saying Faulk won't turn out to be a star. In fact, all signs say he will, there is no denying that. But man, Rutherford sure isn't doing his young defenseman any favors by putting him in that kind of company. Talk about unreal expectations.
I know referencing players doesn't always equal a comparison. If somebody plays like Wayne Gretzky doesn't mean they are as good as Wayne Gretzky, they just attack the game the same. With that in mind I tried to look at Rutherford's remarks here in that light, that maybe he wasn't really saying what I thought he said. But it's hard to find any ambiguity in saying he's never seen a player play so well at this age.
If Rutherford is actually onto something, though, and Faulk really is a burgeoning superstar then maybe they are primed for some big things next season. My expectations are certainly raised now.
For more hockey news, rumors and analysis, follow @EyeOnHockey and @StubitsCBS on Twitter and like us on Facebook.
SportsLine's Mike McClure, a DFS pro with more than $1M in winnings, gives optimal lineup...

The NHL will be a no-show in Pyeongchang, and it could be the norm for future Olympics

David Kelly has nailed his past 15 NHL picks and 23 of 26 predictions
Tampa Bay has been a little too goalie dependent lately, but it remains the head of the pa...

It appears New York's leadership is waving the white flag on this current group

The NHL determined that Burrows' play was dirty, dangerous and inexcusable