Ilya Bryzgalov doesn't care about buyout talk; let's leave it at that
Ilya Bryzgalov doesn't care about the buyout talk around his name, which doesn't mean he doesn't care about being a Flyer.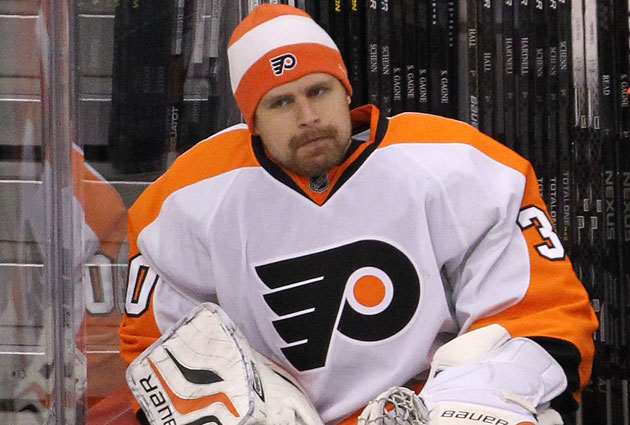 More NHL: Scores | Standings | Odds | Fight-O-Meter | League Leaders | Rumors
At this point, Ilya Bryzgalov might as well just shut his mouth for good because the guy can never say anything right.
Not that he is saying bad things, mind you; it's just that somehow his words are always put into a context that makes them seem bad. It's almost without fail for Bryzgalov, one of the more honest players in interviews. Even though he's been put through the ringer a few times having his words parsed, particularly in the last two seasons, he still remains pretty honest.
For instance, on Tuesday he was talking to the Courier-Post when he was asked about the possibility of a buyout this offseason. It's been a hot topic of conversation given the Flyers' crunch with the cap and Bryzgalov's underwhelming performance. So nothing wrong with gauging the temperature.
"To be honest, I don't care," he said. "Really, I don't care. I have no control on this, so why should I care?"

Bryzgalov was asked if he'd like to be a Flyer next season.

"You know, I have no control in this," he said. "I can't read the people's mind. I can't project things what they're thinking, that's why I'm not worried about things I can't control. I maybe want one thing and they want a different thing."
Nothing too bad, right? Perhaps the only flaw in Bryzgalov's words was not affirming that he wanted to remain a Flyer. But he said nothing to the contrary either, so I wouldn't take that as a no on grounds of not answering.
Yet this is how the story was played up:
Bryzgalov on staying a Flyer: 'To be honest, I don't care': on.cpsj.com/10IXA8X #Flyers

— Dave Isaac (@davegisaac) April 10, 2013
Having been an editor -- tough to believe sometimes, I know -- once upon a time, I understand the headline wasn't written by the author; it came from the editing staff. I also realize how important those words can be. I wonder if people read anything but the headline on some stories.
Point is, this is how stories get twisted. The above tweet with what I would describe as a misleading title was picked up by a lot of people, including Elliotte Friedman, CBC's insider, and he added the commentary that "this will go over well." That was then retweeted and seen by a lot more people. The game of telephone is on.
But best I could tell, Bryzgalov made no mention of caring whether or not he stayed in Philadelphia. It's possible he would hop on the first bus out of town. It's also possible he wants to stay there for the next decade. I don't know. What I do know is that he said he doesn't care about the rumors; didn't say anything about being a Flyer or not.
It's no big deal, and for most players it would just be glossed over. It's akin to a player who is on the trade block saying, "I don't pay attention to rumors; it's out of my control. All I can do is play hockey." That's pretty much what Bryzgalov said, a rather common sports cliche in similar circumstances.
Regardless of how his words sometimes get parsed and twisted, it's been a tumultuous two seasons in Philly. Heck, it's even being reported he didn't start on Tuesday night against the Islanders because he fell asleep in a meeting.
It all does make the amnesty buyout talk very real with Bryzgalov. The Flyers aren't really afraid to spend money, so paying the buyout money wouldn't be a big concern, you figure. Frankly, his play hasn't been good and warrants it being a conversation. It's just one that Bryzgalov has little input on because he is at the mercy of the decision-makers, specifically GM Paul Holmgren and his staff.
It probably would be best for everybody if Bryzgalov were bought out at this point; it just hasn't been the ideal pairing both had hoped for when he was traded to Philly and signed to an extension.
Bryzgalov's play on the ice has given people enough to criticize him for. We don't have to add any quotes out of context to the pile.
This will not leave your memory any time soon

Vegas isn't being quiet about its hot start to the NHL preseason

The blue-liners are set for another big push, but Edmonton's rise is hard to ignore in the...
Meanwhile, the Devils' Brian Boyle isn't sweating his recent cancer diagnosis

Limited-time Warriors-colored jerseys are apparently on the way in January

The 32-year-old forward tells the media he expects to be back on the ice for the Devils op...