Ilya Bryzgalov joining ECHL Las Vegas on training camp tryout
Ilya Bryzgalov is going to the ECHL to play with Las Vegas ... on a tryout basis. That's a long way from Philadelphia.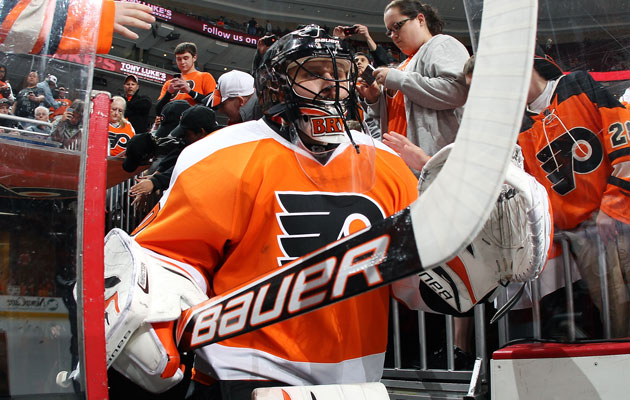 NHL previews: Atlantic Division | Metropolitan Division | Central Division | Pacific Division
Not only is former Flyers goaltender Ilya Bryzgalov heading to the ECHL to play with the Las Vegas Wranglers, he's doing so on a professional tryout.
It was shocking enough on Wednesday night when word surfaced that Bryzgalov was close to a deal with the Wranglers after failing all summer long to get a job elsewhere. But the fact that he's not going to Vegas on a guaranteed deal? Well that's something beyond shocking, whatever that might be.
The new comes via Stephen Whyno of the Canadian Press, who also reports that Bryzgalov has passed a physical..
Ilya Bryzgalov agrees to go to ECHL Las Vegas Wrangers' camp on tryout.

— Stephen Whyno (@SWhyno) October 3, 2013
How far the mighty have fallen, goodness me. Granted, there is absolutely no reason to expect that Bryzgalov won't get a contract with Las Vegas. If for nothing more than simply selling tickets, Bryzgalov should have no problem making the team. Playing wise he should be more than fine as well. He struggled at the NHL level, sure, but we're talking two steps below the NHL in the ECHL here. A guy who was making nearly $6 million last season has more than enough skill to succeed there.
The amazing thing about this is there doesn't seem to be a better city to fit Bryzgalov than Vegas. They go together like ice and skates. Really, we need to get a camera crew to follow him there because there should be no reason that the Wranglers would think about muting Bryzgalov like they did in Philadelphia near the end of his time there.
For Bryzgalov the reasoning is pretty simple; this gives him a chance to show what he can do to try and get an NHL job. You never know when injuries are going to pop up and teams need a backup. At least Bryz will be keeping himself in game shape, even if he shouldn't be tested anywhere near as much in the ECHL.
Sign up now, and your name can be under the Golden Knights' skates, too!

Pittsburgh coach Mike Sullivan says the team also respects players' right to protest

Some familiar faces are back, but a cap-strapped summer left Chicago a little shakier than...
The Pittsburgh Penguins will put politics aside and visit the White House out of 'respect'...

NBC will reportedly be devoid of NHL game broadcasts between Feb. 7-26

The Winnipeg winger suggests Trump is going after 'the principles the U.S. was founded on'