Ilya Bryzgalov leaving KHL team but why remains unclear
Ilya Bryzgalov is leaving his KHL team in Moscow. Is it a sign the lockout is ending soon or the team's call?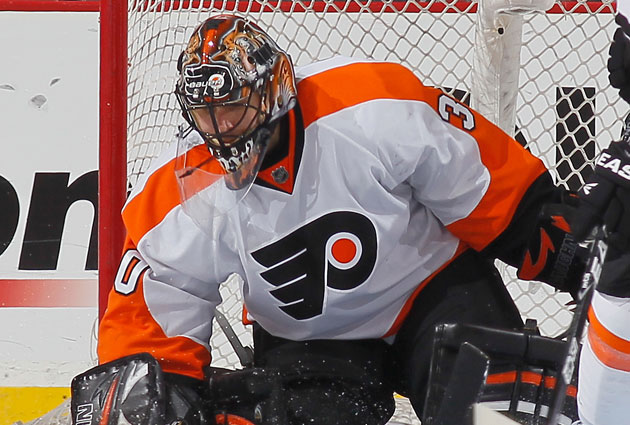 The next time we see Bryzgalov it will likely be in his Flyers gear. (Getty Images)
Ilya Bryzgalov signed with CSKA Moscow of the KHL when the lockout began and said he thought some players might like it so much that they would consider staying after the lockout ended. The Flyers netminder won't be one of them.
On Sunday it was announced that Bryzgalov was leaving CSKA after playing in 12 games. That bit of news is mildly intriguing, but many players have already left their temporary lockout teams. It's why he's leaving that's the interesting part.
Bryzgalov, who is hardly ever shy about saying what he thinks and is as good and honest a quote as you will find in the NHL, gave a pretty good reason as translated by Ruslan Salikhov of Russian Hockey Digest.
I should re-frase that - Ilya Bryzgalov: "I quit CSKA because lockout is ending"

— Ruslan Salikhov (@rushockey) December 30, 2012
Does Bryzgalov know something we don't know? Most likely the answer is no. The drop-dead date is just a matter of weeks away at this point and talks have rekindled between the NHL and the players in their attempt to reach a new CBA. Like many, Bryzgalov probably can't foresee the season being completely lost and is merely expecting the lockout to end.
Either that or Bryzgalov didn't say that at all. Considering he rarely tweets, when he does it draws a little more attention, particularly when it's an emphatic denial.
This article is complete BS, i did not make any comments like that:-)Bryz leaves Russia because "lockout is ending" philly.com/philly/sports/…

— bryzgoalie30 (@bryzgoalie30) December 30, 2012
So there could be another reason at play. Bryzgalov never seemed to be completely welcome in Moscow. He was a healthy scratch a few times and struggled some early in the season before finding his groove in the past few weeks and rounding into form. But by now we know what Bryzgalov is like -- he is the stereotypical "weird" goalie -- and apparently he rubbed Sergei Fedorov's CSKA organization the wrong way.
That's to say the decision wasn't Bryzgalov's but CSKA's. That's according to Slava Malamud of Sport-Express.
Bryzgalov has indeed worn out his welcome in CSKA. The move is the club's, not the goalie's. #Flyers to do something like this next?

— Slava Malamud (@SlavaMalamud) December 30, 2012
Most likely it's a bit of both reports. Almost everybody is expecting the lockout to end in the near future so both sides figured it might be best to part ways now. After all, the KHL will go on when the NHL returns and for a team like CSKA it might be best to move on now and remove whatever distraction an NHL player like Bryzgalov might have presented.
Then again, Pavel Datsyuk and Mikhail Grabovski are still with CSKA at this point, so maybe that's not it.
(Just for clarification's sake in case you were wondering, the second half of Malamud's tweet is referring to the possibility of the Flyers using an amnesty buyout on Bryzgalov.)
Whatever the reason, Bryzgalov is done with the KHL for now. He leaves having appeared in those 12 games with a 6-5-0 record, 2.13 GAA and .913 save percentage. He also had a chance to dress up like a cosmonaut so all in all it probably wasn't that awful of an experience.
Except for this. This was pretty awful (but hilarious).
For more hockey news, rumors and analysis, follow @EyeOnHockey and @StubitsCBS on Twitter and like us on Facebook.
SportsLine's Mike McClure, a DFS pro with more than $1M in winnings, gives optimal lineup...

The 38-year-old Luongo has been a longtime Parkland resident and is a father of two

This might be the new norm at the Winter Olympics, so here are three reasons why
It isn't a surprise to anyone, but an NBC executive acknowledged the ratings

The Blackhawks take a stand against racism by banning four fans from future home games

With Brian Elliott and Michal Neuvirth hurt, Philadelphia adds a big name to the net