Ilya Bryzgalov on time with Flyers: 'I will write the book'
When will we hear about what happened with Ilya Bryzgalov in Philadelphia? When he writes the book after signing with a team in a city that's like the North Pole.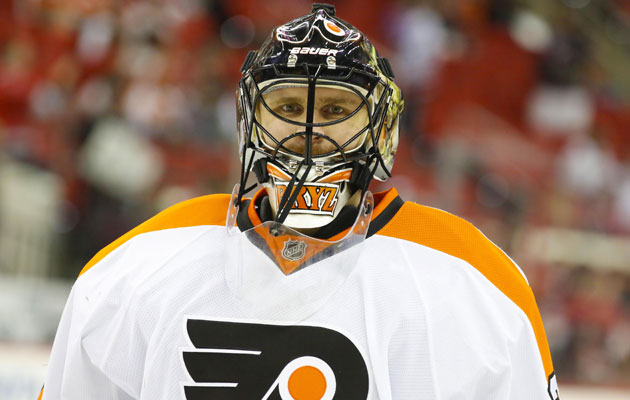 More NHL: Scores | Standings | League Leaders | Odds | Injuries | Power Rankings
When it comes to characters in hockey, there aren't many more colorful than goaltender Ilya Bryzgalov. From his early days with the Ducks to his well-chronicled and rocky time in Philadelphia, he has always been great for a quote or two. He was definitely the star of the HBO 24/7 series two years ago.
The highs and lows (that came mostly all in Philadelphia) are good enough for a soap opera almost, Still, Bryz isn't quite ready to talk about his time in Philadelphia and what went wrong. You'll recall that he had a monster contract that the Flyers elected to buy out this past summer after just two seasons. The word tumultuous barely does it justice.
Why isn't Bryzgalov going to talk about it? He explained to the Edmonton Sun.
"I just can tell you when the time right. I will write the book. You can read it then."
Bryzgalov can start working on a publishing deal already and pre-selling books well before he even begins, that would be close to a must-read. Suggested title: Humungous Big Career.
But perhaps no interview he has ever done was as memorable as the one he gave while a Duck in Edmonton early in his career. You know, the "Why you heff to be mad?" interview? Well in that famous media session he also referred to Edmonton as being like the North Pole with how miserably cold and snowy it was. It wasn't the biggest deal ever but not everybody was happy.
As you'd expect, that old interview popped up again this week when Bryzgalov signed with the Oilers. However he wanted the record set straight: Bryzgalov didn't actually call Edmonton the North Pole.
"I said it's LIKE North Pole. Didn't say it IS North Pole," said Bryzgalov.

"Saying LIKE North Pole and not the same as saying IS the North Pole. Is a little bit different.

"It was an interview which went on YouTube. People loved it," he added.
Indeed, Bryz, it is a little bit different. Very glad that is all cleared up now.
Bryzgalov will not be joining the Oilers right away. He is going to take a start or a few for AHL Oklahoma City to get back up to pace. After his worokouts with the Las Vegas Wranglers he hasn't seen a whole lot of live action so he will need a little bit of practice to get up to speed and challenge Devan Dubnyk, Jason LaBarbera and Richard Bachman.
The Pittsburgh Penguins will put politics aside and visit the White House out of 'respect'...

NBC will reportedly be devoid of NHL game broadcasts between Feb. 7-26

The Winnipeg winger suggests Trump is going after 'the principles the U.S. was founded on'
League gets excited about exhibition matches in Beijing and Shanghai

NHL players are still disappointed they won't be going to skate in PyeongChang

With Artemi Panarin in the mix and a Vezina winner headlining the defense, Columbus can be...