Ilya Bryzgalov releases statement on buyout, grateful for time in Philly
Ilya Bryzgalov's time as a Flyer is finished. He issued a statement saying he is grateful for his tumultuous time in Philly.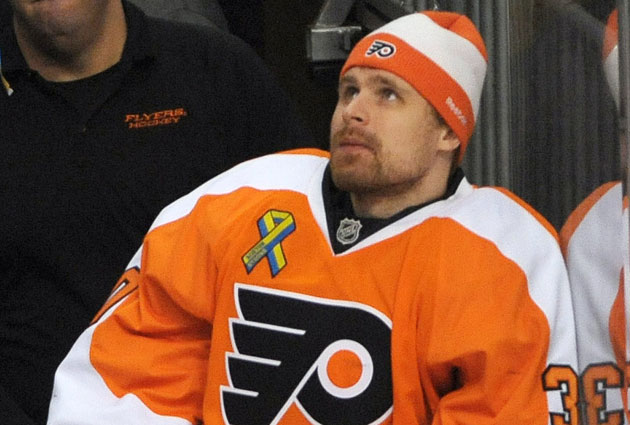 More NHL offseason: Rumors | Top 50 Free Agents | Top 50 Prospects | Mock Draft   
It's no secret that Ilya Bryzgalov went through some tough times as the goaltender for the Philadelphia Flyers, even if he was only there two seasons before the team announced they were going to buy out his contract. He had numerous dealings/criticisms both from and with the media, he heard plenty of displeasure from the fans and, if you believe the rumors, from his teammates and coaches.
You could say Bryzgalov is outspoken, and nobody would be able to tell you you're wrong. So it didn't take long for Bryzgalov to speak about his contract being bought out and, given his relationship with the media, he didn't do it in person.
Instead he released the following statement (via the Courier-Post of Cherry Hill, N.J.) with his agent Ritch Winter.
"As my family and I move forward to meet the new challenges ahead, I could not leave Philadelphia without publicly thanking Mr. Snider for the faith he showed in me when he committed to the long term contract that has secured my family's financial future and acknowledging his passion for the game of hockey. Jeniya and I really appreciate his faith in me and what he has done for our family. Mr. Snider has an amazing energy for the deals he does and for winning. Hockey fans in this area should consider themselves lucky to have the team they cheer for led by a man who is as passionate about winning and doing whatever it takes to win as Flyers' fans are. Getting to know Mr. Snider, has been a great experience. To see his passion for this game has been inspiring.

"I am grateful for teammates, to management and fans for the support I felt from so many of them through some very dark days and difficult situations. I have made many friends here -- on the team, in the organization, among the media and throughout the community. Don't ever think that I didn't appreciate the kind comments of support made in the media by teammates and management and in private by so many very nice people I met on the streets of Philadelphia and in the surrounding area.

"I appreciate this experience more than many of you will know. I will learn from it. I have always said that a heavy sword makes a very strong arm. I intend to take this experience with me to my new team, to help me be stronger -- a better player and, hopefully, a better person. At the end of the day, that is the challenge we all need to wrestle with.

"I look forward to the bright future ahead, but will never forget my time with the Philadelphia Flyers. For this time and this experience, I am grateful."
Bryzgalov will be a free agent, able to sign with a new team on July 5. No matter where he signs -- assuming it's in the NHL -- he will be guaranteed at least one visit back to Philadelphia next season with the new scheduling. That should be fun.
You'll notice that Bryzgalov didn't thank the media in his statement. A lot of players on their way out will do that, but it's hard to blame Bryz for being sad to leave them behind (and vice versa).
While they might not be as ready to admit it, I'm sure the people in Philly will miss you, too, Bryz. They don't get much more entertaining than him.
Buffalo's 20-year-old phenom pulls off the highlight of the night against Vancouver

The North American love affair with Edmonton's superhuman center continues to grow

The defending Western Conference champion Predators are also heating up early in the year
The Oilers' young star remains seriously unfair

David Kelly, a Toronto-born hockey analyst, has strong advice for Edmonton vs. Chicago game...

Gary Bettman says otherwise, for the time being, but Houston could be primed for a team