Ilya Bryzgalov unsure if he'll play against next season
Ilya Bryzgalov has been good for the Wild but the free agent after this season isn't sure if he'll be back in Minnesota next season, or anywhere else for that matter.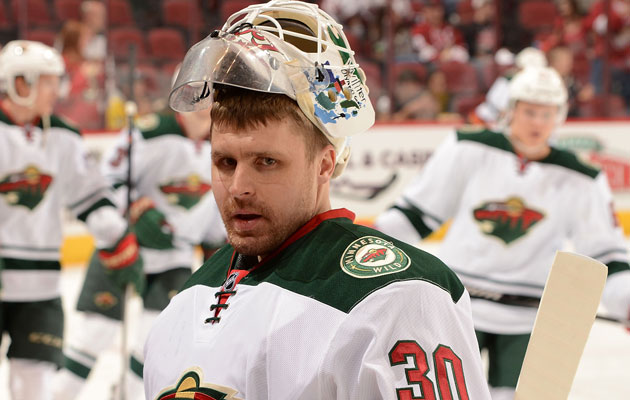 More NHL: Trades | Scores | Standings | League Leaders | Odds  | Power Rankings
Ilya Bryzgalov seems to have found a good spot for himself in Minnesota. He's been strong with the Wild, yet to lose a game in regulation with a 5-0-3 mark and a .920 save percentage. The trade from Edmonton has worked out well for everybody involved.
Still, that doesn't mean Bryzgalov will be back in Minnesota next season after free agency hits this summer. In fact, he might not be back at all, we could be seeing the final games of Bryzgalov's NHL career.
That's at least an option right now for the 33-year-old.
Asked Bryzgalov about upcoming free agency. "It doesn't mean anything because I'm not sure I want to play next year. Maybe yes, maybe no."

— Chad Graff (@ChadGraff) April 6, 2014
While it would leave a humongous big hole in the goalie personality department in the NHL, would it be that much of a surprise? Even with his success in Minnesota, it's been a tough couple of seasons, mostly in Philadelphia. Not to mention he's set for a long time with the buyout money from the Flyers.
Another issue is where Bryz might fit in Minnesota. If Josh Harding returns to health, they'd have him, Darcy Kuemper as well as Niklas Backstrom. Kuemper appears to be the future and Harding was excellent this season when available.
And there's the fact that Bryzgalov is Bryzgalov; that is to say he's his a bit unusual and definitely unique.
The team tweeted on Monday that Shaw would be re-evaluated in 7-10 days

The Montreal forward was hospitalized after taking a Zdeno Chara slap shot to the head

Tampa Bay is still No. 1 and Vegas is still up there, but a few others are finally catching...
Army filed an opposition to the use of 'Golden Knights' on the last day that it was permitted...

The NBC rinkside reporter is hoping to return in time for the 2018 Olympics

Here's who wade the cut for the 2018 NHL All-Star Game on Jan. 28 at Amalie Arena in Tampa...