Ilya Bryzgalov: 'What I lived through this season I wouldn't wish to an enemy'
Ilya Bryzgalov had a rough season, made rougher by the fans in Philadelphia.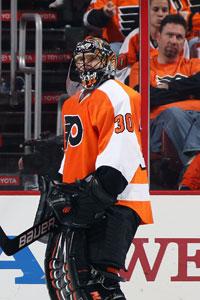 The fans weren't overly pleased with Bryz this season. (Getty Images)
It only took one season into a nine-year contract for Ilya Bryzgalov to start feeling the heat of the Philadelphia faithful. So don't worry Philly fans, your legacy held up this season.
The notoriously tough town to play in was not too kind to Bryzgalov this season. His warm welcome didn't last long at all. Philly fans are very serious about their sports and have high expectations, especially for the Flyers. So when Bryzgalov flat-out stunk for parts of his first season between the pipes for the black and orange, the Phillyphiles let him know they disapproved.
Now he has let them know he has feelings too.
After turning down the Philadelphia media on move-out day earlier this week, Bryzgalov did speak to a Russian reporter and shared the trials and tribulations of the year.
"What I lived through this season I wouldn't wish to an enemy," he told Natalia Bragilevskaya of SovSport (translation via Puck Daddy). "I need to keep working. I understand the fans. They paid their money and want the show. But many forget that we are not robots, but living people. We have feelings, worries.
"I got very tired this season, to be honest. Now I know what it's like to be a goaltender in Philadelphia. Maybe from the outside it looks like there's nothing to it. You only realize it on your own."
This is the part where you have to be fair to the Philadelphia fans. Bryzgalov was disappointing this season. They paid a big price to bring him to the Flyers and he didn't deliver. For most of the season his save percentage was below .900. I can't think of many hockey cities that are going to be OK with that, let alone Philly.
He didn't build up enough good graces for the fans to be enamored with him in Philly and overlook the shortcomings.
"It is difficult. Wherever you come, whatever you open -- my face is everywhere. Everyone is talking about me. 'Bryzgalov played well,' 'Philadelphia won, but Bryz made a mistake again,' 'Yes, he wasn't scored against but could have been' ... Guys, but who doesn't make mistakes? And how many [pucks] did I catch before then? But very few notice that. People are so concentrated on the negative that they only see the bad in me. But I think that you need to be kinder to each other."
My thought on this. Unfortunately, that comes with the territory of being a goaltender. The exception to the rule is what you give up, not what you save. When you stop 92 pucks out of 100, focusing on the eight you didn't get becomes much more common.
We all know Philadelphia fans have one tough reputation. It's a true sports city in that they hold high standards and will love you when you win but won't accept the losing. Don't perform the way you are expected to, they won't be happy.
Fact is a lot of fans can't sympathize with the players. They see the massive amount of money the players are being compensated and can't sympathize with them when they struggle. That's where I'll agree with Bryzgalov. People forget these guys are people too and all that money doesn't make them impervious to pain/frustrations.
And we know that by admitting frustration with the Philly fans is only going to incur their wrath further. It won't garner any sympathy from them, but instead it will be seen as soft, as a weakness and further proof he can't hack it in their city.
The criticism has been high from the get go, and coming from high places, too. Like GM Paul Holmgren, who said Bryz's job is to stop pucks, it's not Comedy Central.
Perhaps the comedy was a way for Bryzgalov to deal with the pressure he was feeling this season? It might be his release. Maybe this summer he'll find a better way to deal with it all.
He better, he has a contract with the Flyers for eight more years.
For more hockey news, rumors and analysis, follow @EyeOnHockey and @BrianStubitsNHL on Twitter and like us on Facebook.
Stacia Robitaille says Donald Trump told her in an elevator that she was coming home with...

Vladislav Yeryomenko was the Teddy Bear Toss goal scorer for the Calgary Hitmen

The Golden Knights are finally getting their No. 1 goalie back after a 25-game absence
Washington has won four straight, and the Kings are also on a tear right behind the Lightn...

The NHL says it's only interested in expanding to Seattle, but here's a look at all the moving...

The NHL says it is only looking toward Seattle for the next expansion team