Ilya Kovalchuk had career worthy of Hall of Fame in NHL
Even if he never plays another hockey game, Ilya Kovalchuk still has a Hall of Fame resume.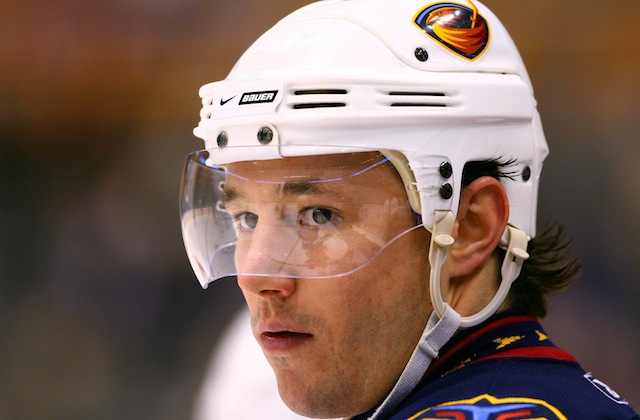 More NHL offseason: Rumors | Top 50 Free Agents | Buyout Tracker | Trade Tracker
With his retirement announcement on Thursday, it's quite possible the NHL has seen the last of Ilya Kovalchuk.
No matter what you think about his decision to leave the NHL at age 30 or his impending contract with the KHL (it's coming), it's impossible to deny that the league lost one of its most entertaining and dynamic players. Given that he spent most of career -- including his best years -- in Atlanta playing for a terrible franchise that couldn't build a winner around him, it's probably easy to overlook just how great he was in the NHL.
He was Hall of Fame worthy.
Even if he never plays another professional or international game again (he most certainly will) and hung up his skates for good, he still has what should be a Hall of Fame resume. When I think "Hall of Fame player," I picture players who dominate the game and stand out above their peers in their given era. Short-term domination stands out more to me than the ability to hang on for a long time and rack up large career totals. I'd rather have a player who dominates for eight or nine years than a player who's very good for 15 or 20. 
That's Kovalchuk.
Consider ...
•  He scored 417 career goals in just 816 games after his debut during the 2000-01 season. Over that stretch, he was second in the NHL in goals scored, trailing only the 439 that Jarome Iginla scored with the Flames and Penguins. It's worth pointing out that Kovalchuk appeared in nearly 100 fewer games. Among the players who appeared in at least 100 games over that stretch only four averaged more goals per game. They are Steven Stamkos, Pavel Bure, Sidney Crosby, and Alex Ovechkin; Bure, the only one of the four who is retired, is in the Hall while the other three are on the fast track to it.
•  He finished his career as a point-per-game player recording 816 points in 816 games, something that only 13 other players can boast during his era.
•  He was a consistent 40-goal scorer in a defensive era and had two 50-goal seasons when few players were able to score even 30 goals in a season. Consider that from 2003-04 through 2009-10 (a span of six seasons minus the lost lockout year), easily his peak years in the league, he scored at least 40 goals every year. The only players over that stretch to have more than two 40-goal seasons were Alex Ovechkin (5) and Dany Heatley (3). Only 28 players over that stretch recorded even one 40-goal season.
And none of that even takes into account the "wow" factor of watching him play, the incredible endurance and stamina that allowed him to play more minutes than just about any other forward in the league and how lethal his wrist shot was from everywhere in the offensive zone.
But putting aside all of that, the numbers above are simply incredible. And they only take into account his NHL career.
Remember, the Hall of Fame isn't just the "NHL" Hall of Fame ... it's the "Hockey" Hall of Fame, and there are many players already enshrined who not only have less impressive NHL careers than Kovalchuk but, in the case of some older Soviet players (Valeri Kharlamov, Vladislav Tretiak), no NHL resume at all.
International play can be a factor, and Kovalchuk already has an impressive resume overseas to back up his NHL performance. He represented Russia in the Olympics and World Championships, winning back-to-back gold medals at the 2008 and 2009 World Championships. At the 2008 tournament, he scored a pair of goals in the gold-medal game against Canada -- the first goal tied the score and sent the game into overtime; the second one won the game (and the gold) for Russia.
And there's still a KHL career stands ahead of him, where he's sure to be the best player in the league for at least a few years. That will only add to the accomplishments.
There will no doubt be people who hold his decision to leave the NHL against him, viewing it as an act of betrayal or "quitting" on his team (looking at you, Jeremy Roenick).
His limited postseason resume will also surely be brought up (because rings are all that matter, you know?), even though he spent his prime years playing for a completely hopeless franchise that was constantly circling the drain. When he finally played for a real team that had some sort of commitment to putting a competitive team on the ice, he helped lead the Devils to the Stanley Cup Final just last season while leading the postseason in scoring. And he did it while playing with a major back injury.
No matter what you think of him, the NHL lost one of the best and most exciting players the league has seen in quite some time.
The city has already received approval from the NHL to file for an expansion team

Bovada says the two nicknames are favored to be used, with Rainiers coming in third place

Here's everything you need to know to watch the NHL's marquee midseason event
The expansion Golden Knights officially moved into first place in the NHL on Sunday

The former Boston Bruin was the first black player to play in the NHL

Inclement weather led to the Charlotte Checkers and Bridgeport Sound Tigers playing in front...