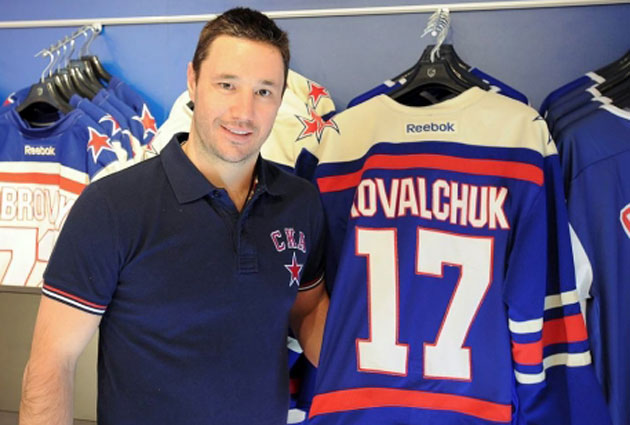 More NHL offseason: Rumors | Top 50 Free Agents | Buyout Tracker | Trades | Transactions
Ilya Kovalchuk might have retired from the NHL, but he didn't stay retired long.
The former Devils star forward who surprised the league by calling it quits on his NHL career this past Thursday has signed a four-year contract with SKA St. Petersburg of the KHL. At this point there are no indications as to what the salary will be but expectations are it will land somewhere around $15 million per season.
From the moment that Kovalchuk announced his retirement from the NHL, this move was expected. No way was a player still in his prime earning years at age 30 going to just walk away from $77 million over the next 12 years as he was guaranteed with the Devils. SKA was going to be his new team, a retirement the easiest way to hop leagues.
During the most recent NHL lockout (side note: It's really sad we have to refer to it as the "most-recent lockout"), Kovalchuk did what many others players did and went overseas to play, returning to Russia to play in the KHL. He spent his time with SKA and seemed to enjoy it so much that there were questions of whether he'd return to the NHL at all. After some delay and drama, Kovalchuk showed up at Devils camp after sticking around long enough for the KHL All-Star Game.
It's been speculated that Kovalchuk had a deal put in place then to return to the KHL on a full-time basis, the terms of this deal he signed now already agreed upon. The move has been so fast -- it was reported the move could have been announced on Thursday evening just after the retirement -- that it's hard to just dismiss the speculation.
Now this doesn't mean that we have seen the last of Kovalchuk in the NHL. It's already been noted that he could return without approval of the Devils or any other team in 2018 when he turns 35. If he does, he will not be bound to the Devils as they did not toll his contract upon the retirement. He would be an unrestricted free agent.
In his 36 games with SKA during the lockout, Kovalchuk had 18 goals and 24 assists. He then returned to North America and played 37 games for the Devils, scoring 11 goals with 20 assists.