Ilya Kovalchuk speaks, says he wants to finish season in KHL
In the latest installment of As Ilya Kovalchuk Turns, the Devils star has spoken up and made known what he wants. That's to stay in Russia for the remainder of the season.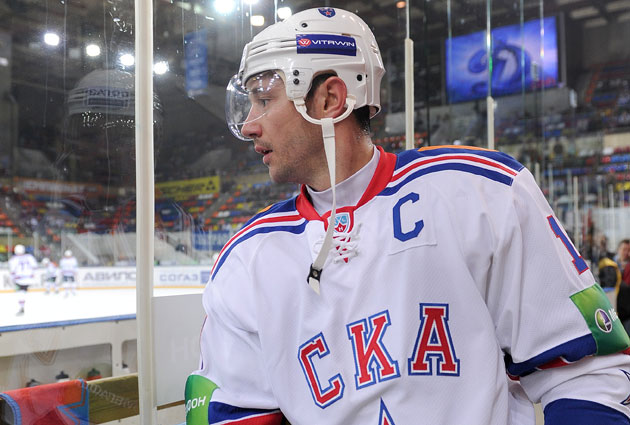 Kovalchuk was New Jersey's top scorer last season. (Getty Images)
Preview: Team-by-team | Picks | 50 things to watch | Top 50 players | All-NHL
In the latest installment of As Ilya Kovalchuk Turns, the Devils star has spoken up and made known what he wants. That's to stay in Russia for the remainder of the season.
Speaking after a 4-2 win with his SKA St. Petersburg team of the KHL, Kovalchuk said he's aware of his obligations to the Devils but if he had his way he'd get to stay. Here's the quote from Slava Malamud of Sport-Express.
"I want to stay in St. Petersburg but I have contractual obligations in the NHL, which will be hard to break," Kovalchuk said. "Right now, I can't imagine how [my staying in the KHL] can be arranged ... But I don't know anything yet."
Further, the GM of SKA is going to do what he can to keep Kovalchuk around a little longer.
In an interview with Sportbox.ru, SKA GM Alexei Kasatonov says he will "do everything possible" to keep Ilya Kovalchuk in the KHL. #NJDevils

— Slava Malamud (@SlavaMalamud) January 10, 2013
Malamud clarified one thing about this: It seems Kovalchuk's preference is to stay in the KHL for the remainder of the season, not necessarily beyond. Still, it wouldn't seem like the Devils would be OK with that.
Contractual obligations aside, are the Devils wading into some dangerous territory here? We could be looking at the point that Kovalchuk faces backlash from the fans and even potentially his teammates. Nobody takes too kindly to hearing somebody would rather spend their time somewhere else, which is what Kovalchuk is saying. He's going to be counted on even more in New Jersey now that Zach Parise is in Minnesota; they couldn't afford to play without Kovalchuk and make the playoffs, you'd figure.
Kovalchuk can hire the best sports lawyer this side of Moscow and I'm not sure he can find a way to get out of his NHL obligations. He seemed to make it pretty clear he wanted to play in New Jersey when he married himself to the team via a long-term contract. Taking a break doesn't mean he can hook up with another team while he is still trying to get a ring on his finger.
It's easy to understand where he's coming from. Kovalchuk is back in his native country and has probably come to realize he missed it. But what Kovalchuk wants and what he gets will still likely be two different things. And for the record, I'm sure that going back to New Jersey wouldn't be too bad for him -- he has a nice contract waiting and such -- it's just he is enjoying St. Petersburg. That won't stop fans and possibly teammates from getting a bit upset over it, though.
The longer this takes to resolve, the worse the situation potentially gets. At this point one of the last things the NHL would want is to have a fight with the KHL over a top player like Kovalchuk.
Interestingly, Malamud believes this is likely just a ploy by the KHL to show its teeth and Kovalchuk is willing to help. Why he would be willing to take the heat on this, I'm not sure. It's a different angle and one that isn't too far-fetched. I wouldn't put it past the KHL, I'll say that.
More from Eye on Hockey
Kovalchuk to play in KHL All-Star Game
Is Kovalchuk going to try and stay in KHL?
Datsyuk to play in KHL All-Star Game before joining Wings
For more hockey news, rumors and analysis, follow @EyeOnHockey and @StubitsCBS on Twitter and like us on Facebook.
The former Boston Bruin was the first black player to play in the NHL

Inclement weather led to the Charlotte Checkers and Bridgeport Sound Tigers playing in front...

The NHL chose the Detroit rocker as its All-Star Game entertainment and not everyone is th...
NHL fans from all over seem to agree on one thing: Hating Kid Rock

The team tweeted on Monday that Shaw would be re-evaluated in 7-10 days

The Montreal forward was hospitalized after taking a Zdeno Chara slap shot to the head