Ilya Kovalchuk to play in KHL All-Star Game as drama continues
Ilya Kovalchuk is staying in the KHL at least a few more days to play in the All-Star Game. The plot thickens for the Devils star.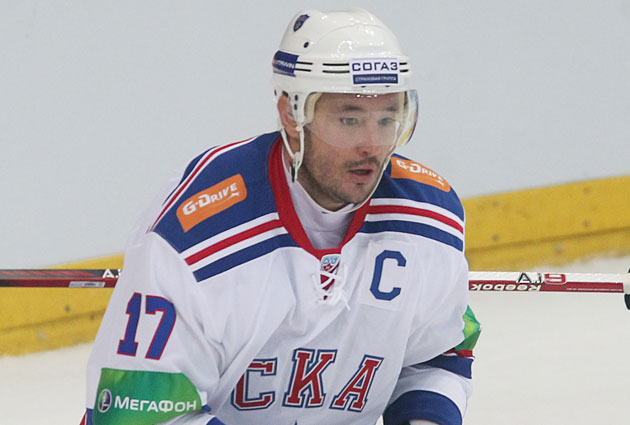 A KHL All-Star, Kovalchuk had 18 goals and 23 assists with SKA St. Petersburg in 35 games. (Getty Images)
Season preview: Team previews | Expert picks | 50 things to watch | Top 50 players
Another day, another twist in the increasingly bizarre Ilya Kovalchuk story.
As was reported on Tuesday, the Devils star who went to the KHL during the lockout is in no rush to come back to the United States. While other players like Alex Ovechkin and Evgeni Malkin came back to North America when a tentative deal was announced, Kovalchuk has stayed behind and has hardly been committal about what he wants to do.
But actions are doing some of speaking. This weekend, when training camps are supposed to open in the NHL, Kovalchuk won't be with the Devils. Instead he'll be with his KHL All-Star teammates in Chelyabinsk, Russia, as he's the only NHL player who made the revamped All-Star roster. So while his Devils teammates are undergoing bag skates to try to get in shape in a hurry, Kovalchuk will be taking leisurely skates in an exhibition game for the fans. Wait, maybe he's onto something here.
Still, we can't read too much into it. A tentative deal might have been enough to convince the other players to return to North America, but Kovalchuk said on Tuesday that he's waiting to see the ratified CBA. In the meantime, there's no deal and KHL vice president Vladimir Shalaev spoke with Pavel Lysenkov of Sovietsky Sport to further explain (via Tom Gulitti).
"The CBA will not be signed until Sunday," Shalaev told Lysenkov. "So Kovalchuk [has] no employment relationship with the NHL, and he is going to Chelyabinsk. ... We are disappointed that all the other NHL stars were quick to go to North America. ... Will Kovalchuk play in the KHL till the end of this season? Do not hurry up. Wait till Sunday ..."
Nothing can be completely straightforward in this situation, can it? There's always some kind of cliff-hanger in there, like the one Shalaev finished that thought with.
OK, we take that back, there is one person who will be forthright and stick to one story -- Devils GM Lou Lamoriello.
"I'm just going with the same, that I have no reason to believe he won't be here," Lamoriello told Gulitti. "I don't even know what day the ratification is. I don't even know when we start, yet. There's too many unknowns to make any decisions, so I'm not even getting into anything."
In the end I still believe this will be much ado about nothing -- or at least very little. We're probably just looking at a matter of Kovalchuk missing the first two days of training camp, but when camps are likely only going to be at most six days long, that's a pretty big chunk. At least it is in the case of Kovalchuk, we know he's in game shape since he's been playing in the KHL.
But there continues to be some lingering doubt that perhaps Kovalchuk could stay in the KHL despite the agreement between the two leagues to respect player contracts. In a Sportsdaily.ru story translated via Google, KHL President Alexander Medvedev explains that there might be some wiggle room.
As far as I know, the possibility of termination of the contract does not provide a hockey player. But in this case, during the lockout, the contracts were broken, and new conditions may not match the old. In such a situation, there is a legal opinion that the player can make their own decision: accept his new contract terms or to exercise the right to play another hockey in another league. ... But for people who are interested in the situation, I want to clarify that the player has the right to decide whether to accept his new contractual rules NHL or take the opportunity to play hockey here.
It seems to be more wishful thinking than anything.
Point is, right now Kovalchuk isn't hurting anybody, he's just making Devils fans worry that perhaps he will stick around in the KHL longer than the All-Star Game, even if that's unlikely to happen. Right now I'd still put my fictional money on Kovalchuk coming back to the Devils after the All-Star Game but if he doesn't then this could erupt into an international incident -- of the sporting and trivial kind, not the political kind, of course.
For more hockey news, rumors and analysis, follow @EyeOnHockey and @StubitsCBS on Twitter and like us on Facebook.
Vegas ascends to the top of the league, but plenty of formidable contenders are right on their...

SportsLine's Mike McClure, a DFS pro with more than $1M in winnings, gives optimal lineup...

Smith-Pelly confronted the fans from inside the penalty box before they were escorted out
The NHL will be a no-show in Pyeongchang, and it could be the norm for future Olympics

David Kelly has nailed his past 15 NHL picks and 23 of 26 predictions

Tampa Bay has been a little too goalie dependent lately, but it remains the head of the pa...