Is Ryan O'Reilly worth the hype?
Is Colorado Avalanche restricted free-agent Ryan O'Reilly worth the hype and a big contract? Yes. Yes, he is.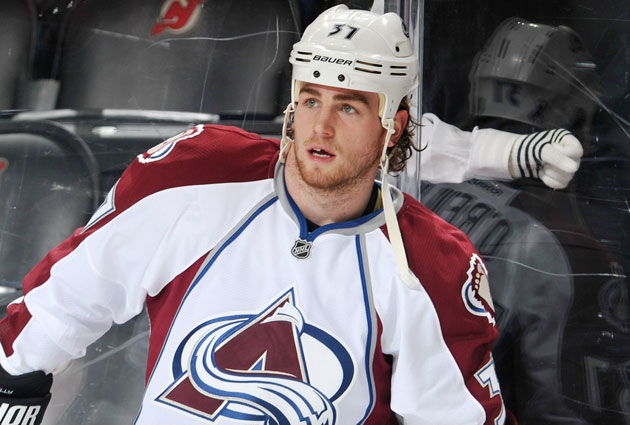 Is Ryan O'Reilly worth the hype and a huge contract at this point? Sure, he is. (Getty Images)
More NHL: Scores | Standings | Odds | Fight-O-Meter | League Leaders | Rumors
We just went through this a few weeks ago with P.K. Subban and the Montreal Canadiens, but do the Colorado Avalanche realize how good Ryan O'Reilly is? And if they do, why does he remain unsigned and why are they running the risk of losing their top center?
They have to realize how good the 22-year-old center is, and that makes the current situation with him and the Avalanche all the more frustrating.
O'Reilly's situation in Colorado has been one of the NHL's bigger stories in recent weeks. The two sides remain at odds in their quest to settle his contract, which leaves him unsigned as the last of the NHL's restricted free agents for 2013. The Denver Post reports he's seeking $4 million per year on a short-term deal and $5 million per year on a long-term deal. As the days and weeks pass, his name has started to pop up in trade rumors. It's possible his time with the Avalanche has already ended.
It's maddening to watch because the Avalanche are playing hardball with one of their best young players, and the 29 other general managers in the league are too afraid to play within the rules and take advantage of the situation and sign him to an offer sheet. Instead, some GM will probably give up more valuable assets (the Avs reportedly want an NHL roster player and a top prospect) in a trade than they would if they just signed him as an RFA and only lose a couple of draft picks.
A team could sign O'Reilly for as much as the $5 million per year that he's reportedly seeking on a long-term deal and only have to surrender first- and third-round picks. If that first-round pick is near the end of the round or even near the middle, it should be a no-brainer for a general manager looking for a top two-way center whose best days are ahead of him.
But is he really that good? And is he really worth the hype that's surrounding him?
Well, yes. Yes, he is.
TSN's Scott Cullen published an excellent analysis of O'Reilly's trade value on Friday and how rare it is to find a player who has put up the type of numbers that he has at the age of 20. Of the hundreds of active players in the NHL, only 19 recorded more points before their age 21 season than the 107 that O'Reilly has recorded. Players this good offensively at his age are a pretty rare breed.
But what makes that offensive production -- especially his 19-goal, 37-assist season a year ago -- so impressive is the fact he's already a strong defensive player and takes on the task of playing against opponents' best players. Using the metrics at BehindTheNet, we see that the only forward on the Avalanche roster to face tougher competition than O'Reilly was his linemate, rookie sensation Gabriel Landeskog.
Of the 368 forwards who appeared in at least 40 games last season, only 65 faced tougher competition than O'Reilly.
Again, keep in mind that he was only 20 years old. Most 20-year-olds not only don't produce at that level against that sort of compeition, many aren't even in the NHL yet.
If you don't like numbers and prefer names and faces, just look at the forwards whom he saw his most ice time against (via hockeyanalysis.com): Jarome Iginla, Jonathan Toews, Shawn Horcoff, Taylor Hall, Ales Hemsky, Ryan Getzlaf, Henrik Sedin, Justin Williams, Anze Kopitar, Olli Jokinen, David Backes, Jordan Eberle, Dany Heatley, Alex Tanguay, Bobby Ryan, Corey Perry, Radim Vrbata, Curtis Glencross, Patrick Sharp, T.J. Oshie.
There are some big-time players on that list. It's a huge test for a player that young, and O'Reilly passed with flying colors. In most cases, the Avalanche outshot and outscored their opponents with him on the ice against the above players. Overall, the Avalanche gave up fewer goals with O'Reilly on the ice during 5-on-5 play (2.18 per 60 minutes) than they did with him off the ice (2.44 per 60 minutes) and two full fewer shots (25.3 per 60 minutes with him vs. 27.3 per 60 minutes without him).
And it's worth repeating that he still led the team in scoring.
The Avalanche still have two players who, in theory, should be capable of manning their top two lines in Paul Stastny and Matt Duchene, but neither are as good as O'Reilly.
A player whom they appear to be ready to lose.
For more hockey news, rumors and analysis, follow @EyeOnHockey and @Agretz on Twitter and like us on Facebook. Also, subscribe to our YouTube Channel.
Rage is all the rage in Montreal

Buffalo's 20-year-old phenom pulls off the highlight of the night against Vancouver

The North American love affair with Edmonton's superhuman center continues to grow
The defending Western Conference champion Predators are also heating up early in the year

The Oilers' young star remains seriously unfair

David Kelly, a Toronto-born hockey analyst, has strong advice for Edmonton vs. Chicago game...