It's Stanley Cup or bust for Penguins
The pressure on the Pittsburgh Penguins to win it all this season is even greater -- if that's possible -- following Wednesday night's acquisition of veteran Jarome Iginla.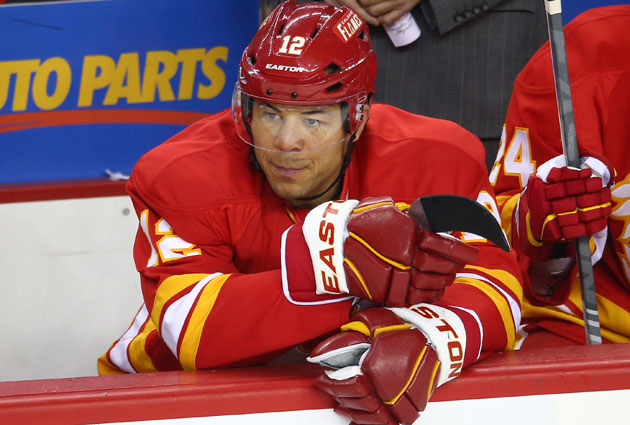 More NHL: Scores | Standings | Odds | Fight-O-Meter | League Leaders | Rumors
The Pittsburgh Penguins have lost in the first round of the playoffs two years in a row.
Since winning the Stanley Cup in 2009, they have won exactly one playoff series (an opening round win against the Ottawa Senators in 2010) and have been eliminated by a lower-seeded team in three straight postseason series.
There were injuries along the way, yes. And at times against Montreal in 2010 and Philadelphia in 2012, their goaltending completely abandoned them (they badly outplayed the Canadiens in 2010, for example, only to lose in seven games because Jaroslav Halak outdueled Marc-Andre Fleury).
But none of that will be acceptable this season. It could very well happen, but it won't be acceptable.
Not with the roster that they already had and not after their shopping spree over the past week that saw them land two of the top players available in Dallas' Brenden Morrow and Calgary's Jarome Iginla.
They also picked up San Jose Sharks defenseman Douglas Murray, though his impact won't be anywhere near as large as the ones from Iginla and Morrow.
And they still have salary cap space to add more players if they see fit.
The Penguins already had a team that boasted two of the top three players in the NHL in Sidney Crosby and Evgeni Malkin, a 40-goal sniper in James Neal, and a perenial Norris Trophy contender in Kris Letang. Not to mention the second leading scorer in the NHL at the moment in Chris Kunitz and the always underrated Pascal Dupuis. After the past week, their top three lines will include some combination of Crosby, Malkin, Neal, Iginla, Morrow, Kunitz, Dupuis, Brandon Sutter and Matt Cooke.
I don't know if there is a team in the NHL that can match that.
Expectations were already high, especially as they ride their current 13-game winning streak. Now they're going to be absolutely out of control. Anything less than a trip to the Stanley Cup Final, and perhaps even winning the whole thing, will be viewed as a massive disappointment. And probably rightfully so. 
Sure, once you get into the playoffs a lot of crazy things can happen in a short series. Hot streaks, a slump by a goaltender, a run of bad luck. But nobody is going to want to hear that if the Penguins make another early exit this spring. Especially after general manager Ray Shero not only became a buyer at the deadline but managed to get some of the biggest names available without giving up anything off his NHL roster and, really, only one of his top prospects (defenseman Joe Morrow, sent to Dallas).
Before the additions of Morrow and Iginla, the Penguins were already the highest scoring team in the league (for a second straight year) and by a wide margin.
They were already a popular Stanley Cup pick and a team that was under pressure to win it all. Now they're clearly going all in and, in the process, put a major target on their backs.
Let's see what they do with it.
Sign up now, and your name can be under the Golden Knights' skates, too!

Pittsburgh coach Mike Sullivan says the team also respects players' right to protest

Some familiar faces are back, but a cap-strapped summer left Chicago a little shakier than...
The Pittsburgh Penguins will put politics aside and visit the White House out of 'respect'...

NBC will reportedly be devoid of NHL game broadcasts between Feb. 7-26

The Winnipeg winger suggests Trump is going after 'the principles the U.S. was founded on'