It's time for the Penguins to sit Marc-Andre Fleury
The Penguins have to consider starting Tomas Vokoun over Marc-Andre Fleury in Game 5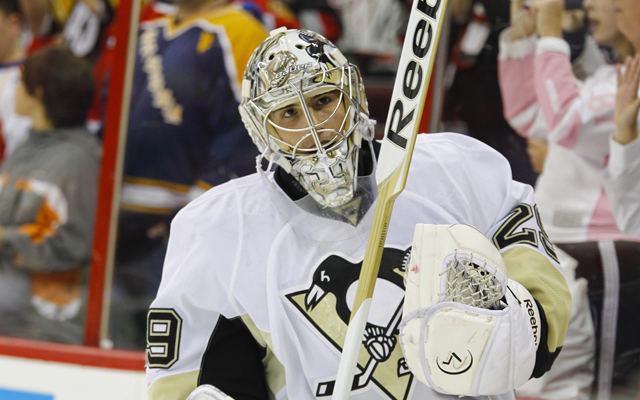 More NHL Playoffs: Scores | TV Schedule | Expert Picks | Odds | Mock Draft | Rumors
After an abysmal playoff performance last season against the Philadelphia Flyers, the first move the Pittsburgh Penguins made this offseason was to go out and get a proven, veteran goalie to back up (and perhaps push) their starter, Marc-Andre Fleury.
That goalie was Tomas Vokoun, and the Penguins wasted no time in giving him a two-year, $4-million contract not long after acquiring his free-agent rights from the Washington Capitals for a seventh-round draft pick. That is a huge cap hit for a No. 2 goalie -- it's one of the highest in the league -- and no team is going to spend that much money on a backup goalie if it isn't going to at least consider using him in a playoff series when the starter is struggling.
And to say that Fleury is struggling through the first four games of Pittsburgh's Eastern Conference quarterfinal series against the New York Islanders would be a laughable understatement.
The situation reached what has to be rock bottom during Pittsburgh's 6-4 loss in Game 4 after Fleury gave up six goals on just 24 shots. After posting a shutout in Game 1, he's now allowed 14 goals in the past three games. Somehow, the Penguins actually won one of those games. It's kind of amazing when you think about it.
The thing is, this isn't a new problem for the Penguins or for Fleury. And it wasn't a new problem last year when it started to get some attention.
Fleury's regular-season numbers have always been right around the league average. He's never really been as bad as his harshest critics would have you believe, and he's never been anywhere near as good as his most vocal supporters would have you believe.
But in the playoffs? He's been an absolute mess, even as a goalie with a Stanley Cup ring to his credit (and even in that situation he was arguably better in the playoffs the year before when Pittsburgh lost in the Final than the year they actually won).
Heading into this postseason, Fleury was 26th out of 27 goalies in playoff save percentage dating back to the start of the 2009-10 playoffs (minimum seven games played), standing ahead of only Sergei Bobrovsky. That is not anywhere close to being good enough. And it's not getting any better in this series.
It's not like Vokoun is some run-of-the-mill backup goalie. He's been one of the best goalies in the NHL over the past seven years and there shouldn't be any fear in Pittsburgh when it comes to turning to him.
Not all of the Penguins' shortcomings in this series are on Fleury. As a team, they're clearly slower than the younger, more aggressive Islanders. The defense has been a never-ending comedy of errors both in terms of defensive zone coverage, defensive zone exits, and managing the puck.
But Fleury isn't helping things. At all. When you're paying a goalie $5 million a year and expecting him to be "the guy" and hyping him up to be an elite goalie (though, that's more on the national perception of him and the way he's covered in the media) than the organization itself) you have to expect him to make some big saves from time to time. That's not happening. Even worse, some of the goals the Islanders have scored in this series have been beyond inexcusable (just as some of the ones the Canadiens, Lightning, and Flyers scored in the previous postseason series were).
Like this one by Casey Cizikas in the third period to finish off the Penguins in Game 4:
The goalie has been the one common denominator over the previous three years when the Penguins lost to lower-seeded teams (and in the first-round in each of the past two).
You don't pay a backup goalie what the Penguins are paying Vokoun if turning to him in a situation like this isn't a legitimate option. And if you're not going to turn to him now, when will you? Time is running out in the series and if the Penguins wait any longer it might be too late.
Running Fleury back out into the crease in Game 5 on Thursday night after the way he's played in this series (and in his prevous three playoff series) would be nothing more than putting your head down and continuing to ram it into a brick wall hoping for something to finally change.
He's not the only problem, but he is a big one. And he isn't playing like one of the solutions, either.
David Kelly, a Toronto-born hockey analyst, has strong advice for Edmonton vs. Chicago game...

Gary Bettman says otherwise, for the time being, but Houston could be primed for a team

Here's what you might have missed across the NHL on Wednesday night
Ovi breaks down doors in Virginia

Winger also says he will no longer raise a fist during the anthem after his protest started...

Here's what you might have missed across the NHL on Tuesday night