Jack Capuano to return as head coach for the Islanders
A last-place finish in the Metropolitan Division won't result in Jack Capuano being replaced as the Islanders coach. He'll be back for next season.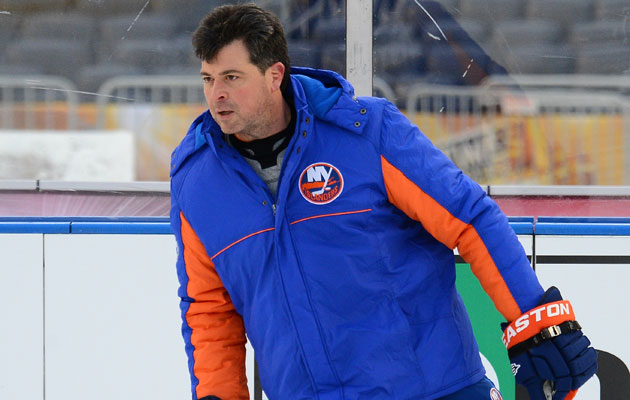 More NHL Playoffs: Schedule, TV listings | Expert Picks | Bracket | Scores | Odds
It's the first day of the offseason for half the teams in the NHL, which means it's a day a lot of teams say goodbye to their head coach for good. The New York Islanders will not be one of them.
Despite taking a big step back this season and missing the playoffs after breaking a postseason drought in 2012-13, the Islanders will be keeping head coach Jack Capuano, GM Garth Snow told Arthur Staple of Newsday.
Garth Snow tells Newsday that Jack Capuano "will be back next season." Story to come. #Isles

— Arthur Staple (@StapeNewsday) April 14, 2014
It's a mild surprise to see Capuano sticking around in Long Island for a fifth season. He has a record of 118-120-39 in his 277 games behind the Islanders bench and this season the Isles just finished eighth in the eight-team Metropolitan Division.
The Islanders finished 34-37-11, the same exact record they had in 2011-12, the most recent 82-game season. Throwing out the lockout season and all of its eccentricities with a small sample size, there was no improvement there. For a guy who was thought to be on a hot seat entering last season, it's a slight surprise he's sticking around.
At the same time, though, it's not such a surprise because this is the Islanders we're talking about here. They don't change often with their structure, GM Garth Snow has been on the job for years now and it's not like he has the best resume to show for it.
Of course Capuano was hindered this season by the loss of John Tavares but even before that, the Islanders were well on their way to missing the playoffs. How much of that is actually on Capuano is always tough to tell but not many coaches would be able to win with the goaltending and defense that Capuano was handed.
Still, after a disappionting season like the Isles just had, somebody usually takes the fall. Not Capuano, not this time.
The Pittsburgh Penguins will put politics aside and visit the White House out of 'respect'...

NBC will reportedly be devoid of NHL game broadcasts between Feb. 7-26

The Winnipeg winger suggests Trump is going after 'the principles the U.S. was founded on'
League gets excited about exhibition matches in Beijing and Shanghai

NHL players are still disappointed they won't be going to skate in PyeongChang

With Artemi Panarin in the mix and a Vezina winner headlining the defense, Columbus can be...