James van Riemsdyk taking off in Toronto after trade from Flyers
Judging trades 13 games after they happened can be difficult to do, more often than not that's just not enough time to give an adequate appraisal. But sometimes, it's just so obviously good to one side it's tough to ignore. Such is the case with the James van Riemsdyk-Luke Schenn trade.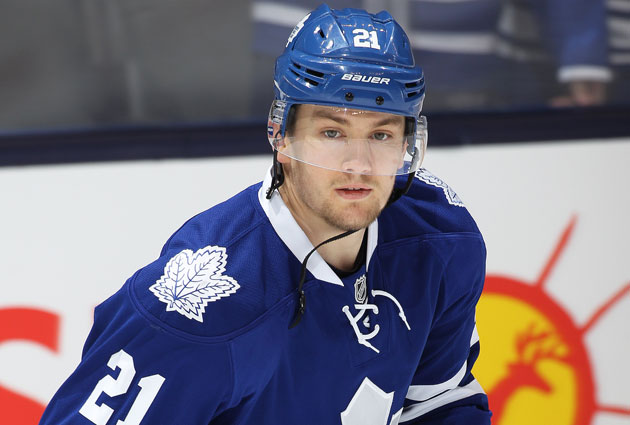 JVR has fit in nicely with Toronto, wouldn't you say? (Getty Images)
More NHL: Scores | Standings | Odds | Fight-O-Meter | League Leaders | Rumors
Judging trades 13 games after they happened can be difficult to do, more often than not that's just not enough time to give an adequate appraisal. But sometimes, it's just so obviously good to one side it's tough to ignore.
There were certainly bigger acquisitions last offseason than the Toronto Maple Leafs trading Luke Schenn to the Flyers for James van Riemsdyk. The question that's starting to emerge is: Was there a better one? That would be from Toronto's perspective, of course.
It's impossible to not see how good van Riemsdyk has been since getting out of Philadelphia. He's showing everybody why he was taken second overall in the 2007 draft. Let me put it this way: In this shortened season he's on pace to break his career high of 21 goals, which he had in 2010-11. He has eight goals through the first 13 games now, which is good enough for a tie for fifth-most in the league.
Schenn, meanwhile, hasn't really been missed in Toronto (especially by the fans). It had become clear he wasn't a fit with them moving forward -- probably because the mistakes piling up -- and so he was made available. That's when the Flyers and Leafs executed a trade of one underwhelming high prospect for another.
The difference then -- which is becoming even more clear now -- is van Riemsdyk was more of an underwhelming player because of injuries and other such issues more than just disappointing play the way Schenn was in Toronto. From the start it seemed like a great fit with JVR in Philly; he grew up in New Jersey and was another young star to add to the Flyers' growing offensive stable. But it quickly became the case of a guy just needing a fresh start.
He got it thanks to now-fired Leafs GM Brian Burke. Burke took a lot of heat over the years for some of his trades, particularly one involving a certain guy named Phil Kessel. But this move that he made in what turned out to be one of his final acts as Leafs GM was a straight steal.
Summing up the trade, there is no better representation than this little gem put together by a Leafs fan. (Warning: You might not want to stay on the page too long. I hear Kelly Clarkson songs on repeat can cause serious medical issues.) It's a website "Schennce you've been gone" with a loop of van Riemsdyk blowing by Schenn for a goal in Monday night's win.
The Clarkson-less version of the goal. You're welcome.
Funny how it works out that way sometimes. It just adds to the picture seeing Schenn flat on his stomach as JVR goes by and beats Brian Boucher for the goal.
You can't deny the play from van Riemsdyk in the early going has been a large reason why the Maple Leafs are one of the biggest surprises in the league. They have won four games in a row, are 8-5-0 on the season and seem to be getting better with every game. That was all done while Kessel was struggling to score goals (but not points) and Joffrey Lupul is sitting on the sideline with an injury. So to pick up that scoring slack you've had van Riemsdyk at the top of the list.
Now I don't want to completely dump on Schenn here. The Flyers had a need for help on the defensive end so they saw a chance and took it. Schenn has certainly had a few ugly plays here and there -- this goal from JVR being one -- but he's been all right for them on the blue line. He has been playing more than 20 minutes per night on average.
He's just not really missed in Toronto. At all. If you're not clear on that yet just check the Toronto Sun:
Schenn just wasn't a big price to pay for the Leafs to get van Riemsdyk. He had pretty clearly worn out his welcome in Toronto and like JVR, needed a fresh start somewhere else. He was expendable and in return they got themselves a pretty darn good player.
At the moment, he's a pretty darn great player. And things are going great for the Leafs.
This is the time we bring a sobering reminder to the table, though. Don't forget the Maple Leafs did this last season, too, started like gangbusters only to look busted by the end of the season. But they also didn't have van Riemsdyk on their team (nor did they have competent goaltending, but that's another story for a different day).
They also didn't have some polished prospects the way they do this season. Guys like Nazem Kadri, a guy many thought belonged on the big club much sooner than this season but has seemed to excel with a slower pace to the NHL. Damien Cox notes that maybe all that patience is finally paying off (perhaps another little "thank you" to Burke).
There are probably a few things Toronto would like to take back from the Burke era. Guaranteed, the JVR-Schenn trade is not on that list.
For more hockey news, rumors and analysis, follow @EyeOnHockey and @StubitsCBS on Twitter, subscribe to our YouTube account and like us on Facebook.
Stacia Robitaille says Donald Trump told her in an elevator that she was coming home with...

Vladislav Yeryomenko was the Teddy Bear Toss goal scorer for the Calgary Hitmen

The Golden Knights are finally getting their No. 1 goalie back after a 25-game absence
Washington has won four straight, and the Kings are also on a tear right behind the Lightn...

The NHL says it's only interested in expanding to Seattle, but here's a look at all the moving...

The NHL says it is only looking toward Seattle for the next expansion team