Jamie Benn named new captain of Dallas Stars
When Brenden Morrow was traded last season, the Stars' captaincy opened up. On Thursday it was filled with the appointment of Jamie Benn.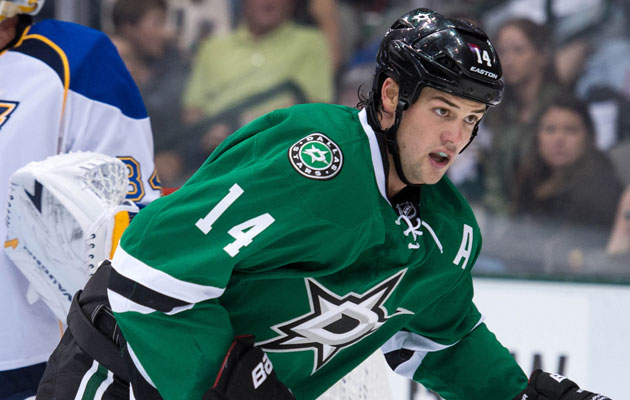 More NHL offseason: Rumors | Top 50 Free Agents | Buyout Tracker | Trades | Transactions
For the first time in a long time, the Dallas Stars named a new captain on Thursday, selecting All-Star forward Jamie Benn to wear the C.
"I'm deeply humbled and honored to be named the captain of the Dallas Stars," Benn said. "I look forward to representing this organization, my teammates, our fans and this great city in our pursuit to bring another Stanley Cup to Dallas."
The Stars' captaincy became vacant last season when longtime captain Brenden Morrow was traded to Pittsburgh near the deadline, ending his long tenure with the club. Morrow wore the C from 2006 until he was traded.
Now Benn becomes just the sixth captain since the Stars moved to Dallas and only the fourth since 1995. Like Morrow, Derian Hatcher also had a long run with the C and sandwiched in between them was Mike Modano's stint. Given Benn's age he has a chance to have another long run leading the team on the ice.
Benn, just 24, is arguably the face of the franchise now (and has been already) just four seasons into his NHL career. Last season he had 12 goals and 21 assists after missing the start of the season trying to get a new contract worked out. Eventually he agreed to a five-year, $26.25 million contract.
Benn isn't known to be one of those in-your-face captains, he's a bit quieter and will surely be a lead by example type. With is game growing every year -- and yet his reputation as one of the most underrated players in the league remaining -- he should fit the role of captain well.
"In a very short period of time, Jamie Benn has gone from being an exciting up-and-coming player in the NHL, to being a cornerstone of the franchise," GM Jim Nill said. "He has steadily grown as a player and as a person. He conducts himself each and every day in a professional way and continually leads by example. We fully believe that he will be a driving force in getting this team to the next level -- and now he's our captain."
His progression to captain is natural, though, given that he was already wearing an A as an alternate captain for the Stars. The new alternate captains will be Ray Whitney and Stephane Robidas.
Here's a pretty cool behind-the-scenes look at Nill informing the team before the press conference of the decision.
Sign up now, and your name can be under the Golden Knights' skates, too!

Pittsburgh coach Mike Sullivan says the team also respects players' right to protest

Some familiar faces are back, but a cap-strapped summer left Chicago a little shakier than...
The Pittsburgh Penguins will put politics aside and visit the White House out of 'respect'...

NBC will reportedly be devoid of NHL game broadcasts between Feb. 7-26

The Winnipeg winger suggests Trump is going after 'the principles the U.S. was founded on'