Jaromir Jagr on verge of more history, nearing 700th career goal
The ageless Jaromir Jagr is closing in on another milestone: He is two goals away from being the seventh player to score 700, chasing that while the Devils chase the playoffs.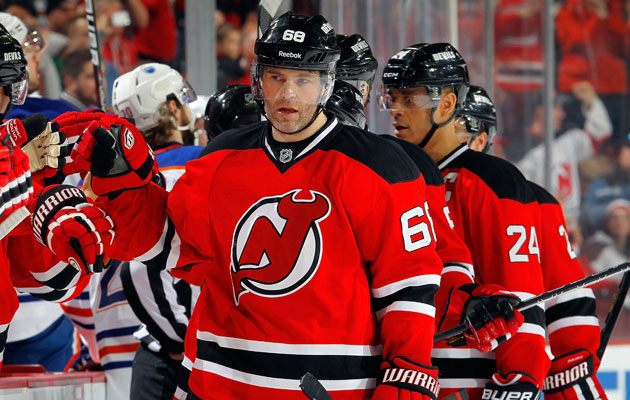 More NHL: Scores | Standings | League Leaders | Odds | Injuries | Power Rankings
Forget the playoff chases that are about to take place in the NHL, first comes the chase of history. Rather rare history.
Jaromir Jagr has scored 17 goals in 59 games this season and has racked up 49 points, 16 more points than anybody else on the offensively challenged Devils. That has moved Jagr up to seventh place all time in goals. It has also left him two shy of joining the 700 club.
Only six players in NHL history can say they scored 700 goals; Wayne Gretzky (894), Gordie Howe (801), Brett Hull (741), Marcel Dionne (731), Phil Esposito (717) and Mike Gartner (708). Indeed, reaching 700 career goals is kind of a big deal.
Most career NHL goals
Player
Goals
Wayne Gretzky
894
Gordie Howe
801
Brett Hull
741
Marcel Dionne
731
Phil Esposito
717
Mike Gartner
708
Jaromir Jagr
698
Mark Messier
694
Steve Yzerman
692
Mario Lemieux
690
At this point it's an inevitability. The Devils still have 23 games to go, starting Thursday night against Columbus. Even if Jagr starts to look fatigued -- Ha! -- you can rest assured he'll score at least two the remainder of the season. Probably a few more than that.
Jagr once again represented the Czech Republic at the Olympics earlier this month, and it's no stretch at all to say he was their best player. His form was great, he remained tough on the puck and was one of just a couple of bright spots for a Czech team that had a very disappointing tournament.
Back to that fatigue angle. Jagr was back to practicing with the Devils on Tuesday and said he didn't feel great after taking a few days off. For a workaholic like him, a break like that can build up rust quickly. But in classic Jagr spin, he said Tuesday that he believed the extra games in Sochi will help his 42-year-old body down the stretch (via NJ.com).
"Actually I think those games in the Olympics will help me," Jagr said. "Because I played those games I think it's going to be better for me than for guys that took a rest. That's my opinion."
Considering this is the guy who was taking extra skates with weights after playoff games last season in Boston, there's little reason to doubt it. Jagr is hardly the electric goal scorer he once was, but he's still on pace to exceed 20 this season and lead the team.
The incentive is there too. The Devils are seventh out of eight teams in the Metro right now but they're still just five points back of third-place Philadelphia, three back of the last wild card spot held by Detroit. It's a very difficult task to try and catch the playoff positions, especially with so many teams in the conversation, but it's doable. As the offensive leader in New Jersey, Jagr will push because he has to.
With it all but a guaranteed Jagr hits 700, next comes wondering where he could finish on the all-time list. Certainly Gartner is within reach, possibly this season but he would have to go on a tear to finish. Everybody else on the list is just a matter of longevity, which Jagr seems to have plenty of.
In no way has Jagr looked like he is too old to be competitive. Without him the Devils would probably be locked in to the lottery process. He joked Tuesday about wanting to play for the Czech Republic in 2018 and 2022 at the Olympics too. At least I think it was a joke ...
"[This] was just experience for me to really hit my peak in 2018," Jagr said with a smile. "I'll be on the fourth line in 2022. The checking line."
Jagr has been wishy washy about his future but most often the sentiment he expresses is he wants to keep playing so long as there is a spot for him. Does he have four years left? Who knows, but if he wants it, it would be wise not to bet against him. Even at a modest 15-20 goals per season, even Brett Hull at 741 would be within reach with just two seasons.
When you have this conversation about Jagr and the all-time records, you can't help but wonder how different it would look if he hadn't played in Europe for four seasons. While 36 years old is past most players' prime, Jagr was still looking pretty good and had strong numbers in the KHL and in the Czech Republic.
Considering he had 25 goals in his last NHL season before going to Europe, you're talking about Jagr losing potentially 100 goals in his NHL career by playing elsewhere for four seasons. With that he would be sitting right on the tail of Mr. Hockey and nearing the 800 club. Add in the fact that he missed a lot more time because of the NHL's wonderful labor issues and, well, maybe he'd be nearing the Great One.
There are plenty of other caveats to consider when you look at Jagr's pursuit of 700 goals such as his longevity or working against him, the era of dwindling scoring which he has played a good chunk of his career in. He's had a lot work in his favor and a lot work against, so when Jagr gets that 700th goal appreciate it for what it is; one of the NHL's all-time greats joining rare air.
NHL players are still disappointed they won't be going to skate in PyeongChang

With Artemi Panarin in the mix and a Vezina winner headlining the defense, Columbus can be...

The league's crackdown on faceoff infractions and slashing penalties isn't without some cr...
Joffrey Lupul spent last season on long-term IR but seems to be saying he's healthy

Early playoff trouble has been evident, but the Wild tout an offense capable of making another...

Why walk with skate guards when you can rollerskate instead?