Jaromir Jagr says agreement in place to remain with Devils
Jaromir Jagr says he has an agreement in place to play for the Devils again, he said after the Czech Republic's practice on Tuesday for the World Championships.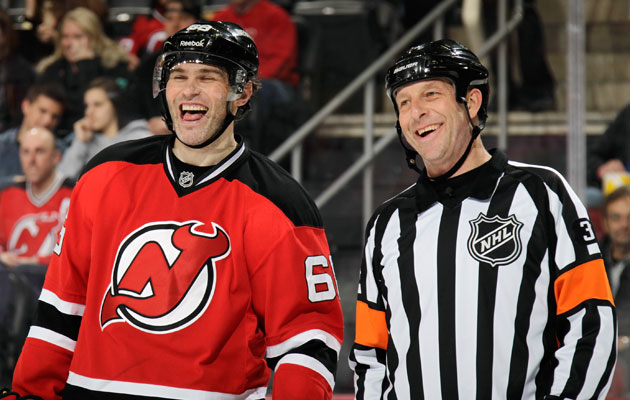 More Playoffs: Schedule, TV listings | Expert Picks | Bracket | Scores | Odds
Jaromir Jagr has been very open about enjoying his time with the New Jersey Devils and wanting to return for another season. From the sounds of it, he's going to get his wish.
Even at 42, Jagr can't play enough hockey so he is joining the Czech Republic national team for the World Championships in Belarus. After practice on Tuesday he said that a deal is just about done to make him a Devil once more.
Jaromir Jagr said after practice w/ national team he will continue in #njdevils team. He said he already has agreement with the club.

— Roman Jedlicka (@jedli) April 29, 2014
Hey, why not? All Jagr did was lead the Devils in points this with 67, 14 more than anybody else on the team. He played all 82 games, averaging more than 19 minutes per game. He fit right in with coach Peter DeBoer's team and their puck-possession tendencies.
Not to mention he really enjoyed playing in New Jersey. About the only thing that seemed possible of derailing the relationship was DeBoer being fired or the Devils missing the playoffs. The latter of those two options happened but Jagr is still committed to returning from the sounds of it. They were close and he knows they can be closer, felled by the shootout as much as anything.
Before last season Jagr signed a one-year deal with the Devils for $4.55 million. Considering how well that all worked out, you can probably expect to see a deal in the same range.
With another season, Jagr will also continue his climb up the NHL leaderboards. He currently has 1.755 career points, tied with Steve Yzerman for sixth all time. Assuming he plays a full 82 games, he would very likely pass Marcel Dionne and Ron Franchis as well to move into fourth all time. He'll need a couple more seasons if he wants to catch Gordie Howe (1,850) and Mark Messier (1,887) for second all time.
The 32-year-old forward tells the media he expects to be back on the ice for the Devils op...

It seems it's all as wild as it sounds, with Canadian actor Zack Ward heading a 'West Coast...

Lots of moving parts may be the biggest hurdle for Carey Price and Co., a defensively geared...
The Penguins have some fun with the names of some Ducks linemen

Rookie Tyler Wong scores a hat trick to lift the NHL's newest team in its exhibition debut

Depth is a concern, but Edmonton is all in on its young, speedy stars with Stanley Cup pot...