Jaromir Jagr talking to Montreal Canadiens
Jaromir Jagr's agent says he would love to play for the Montreal Canadiens and has had talks with general manager Marc Bergevin.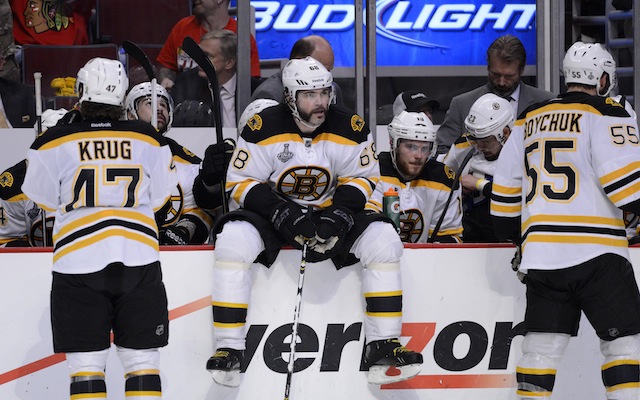 More NHL offseason: Rumors | Top 50 Free Agents | Buyout Tracker | Trade Tracker
We know that Jaromir Jagr is going to play in the NHL during the 2013-14 season, we just don't know where.
One team that seems to be emerging as a favorite, at least in Jagr's eyes, is the Montreal Canadiens.
Jagr's agent, Petr Svoboda, told TVA sports that he has been in contact with Canadiens general manager Marc Bergevin and that the interest between the two sides is mutual, but that the decision is now up to the Canadiens.
Montreal managed to get an early start on free agency this past week when it agreed to terms with Danny Briere on a two-year, $8-million contract after he was bought out by the Philadelphia Flyers.
"Jaromir liked what he saw in Montreal this year," Svoboda told TVA (translation via Sean Gentille), "He would like to contribute to their success."
The Canadiens finished the regular season as the No. 2 seed in the Eastern Conference, winning the Northeast Division title only to lose in the first round of the playoffs when they were upset by the Ottawa Senators.
Jagr, who will turn 42 in February, split last season with the Dallas Stars and Boston Bruins, scoring 16 goals to go with 19 assists in 45 games.
Even with his age and the fact that he was held without a goal in 22 playoff games for the Bruins, he still seems to have something left in the tank and would be a fine addition to the lineup of any contender, including a Montreal team that needs a lot of help on the wing.
Back in April, Jagr told WEEI in Boston that he tried to sign with the Canadiens this past offseason.
"I had never played in Canada, so I would like to try it," Jagr said. "The Canadiens went in a different direction, so that's OK. I feel like Canada lives more for hockey, so I wanted to try it at the end of my career, how it is to play in Canada."
Jagr's agent told TVA this weekend that he's planning on taking his time when it comes to making a decision.
The 32-year-old forward tells the media he expects to be back on the ice for the Devils op...

It seems it's all as wild as it sounds, with Canadian actor Zack Ward heading a 'West Coast...

Lots of moving parts may be the biggest hurdle for Carey Price and Co., a defensively geared...
The Penguins have some fun with the names of some Ducks linemen

Rookie Tyler Wong scores a hat trick to lift the NHL's newest team in its exhibition debut

Depth is a concern, but Edmonton is all in on its young, speedy stars with Stanley Cup pot...